Applications are now open for Spring/Summer 2024 programs. For Fall 2024 progams onwards you can sign up to the Newsletter to receive an alert when applications open.
The Application and Payment systems will be closed from the 20th December to 3rd January as part of the Institutional Holiday Closure. SlideRoom will remain open for portfolio submissions.
Questions please contact the Admissions Office or call 403 762 6180.
Program Information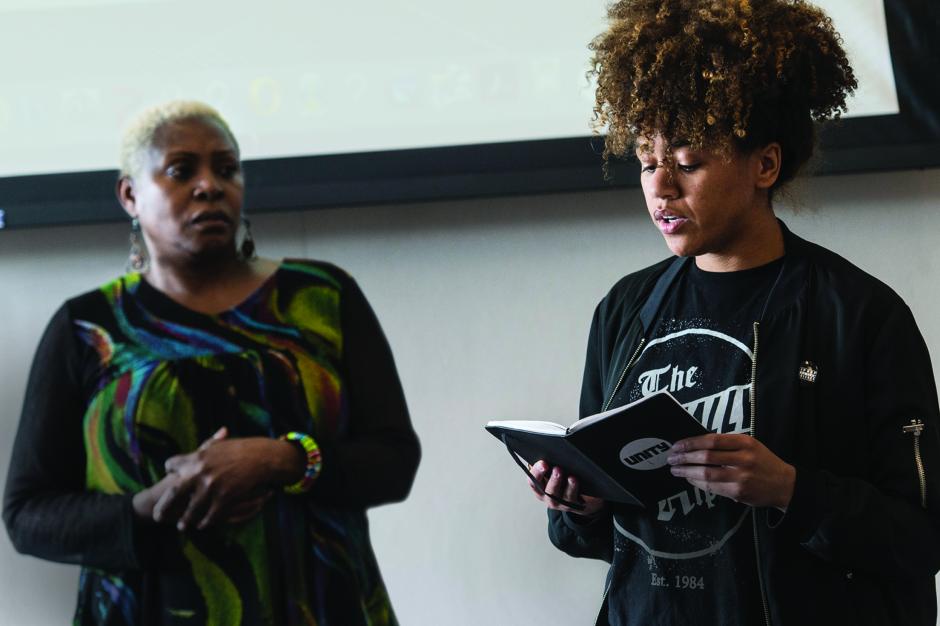 Overview
Banff Centre's Spoken Word program is the first of its kind, offering an unrivalled setting for artists to explore and develop their voices and career paths. 
This intensive residency provides space to write and time to develop strong performance dynamics. Participants will benefit from mentoring, performance opportunities, studio recording time, access to special events, and engagement with a vibrant network of international artists – all amidst the breathtaking Canadian Rockies.
World-class faculty present challenging workshops on topics from the spoken word tradition such as history, composition, performance, multimedia, production, business, musicality, orality, sound, spirit, language, body, and theatre. 
What does the program offer?
The two-week program offers dedicated time to develop a specific project with guidance from faculty mentors, as well as a place to connect with other artists in the field of spoken word. 
Daily workshops explore a vast array of topics from writing techniques and elocution to project funding and tours. One-on-one editorial assistance from experienced writers supports project development and long table discussions address current topics in spoken word. 
Each participant works from a private studio hut nestled in the forest and has access to writing and audio equipment. In addition, there is the option to work closely with an audio engineer on studio basics and individual recording leading to a takeaway demo. There are also opportunities for performance practice, peer feedback, open mic, and a final public performance at Banff Centre. 
The most powerful benefits of this residency are the networking and profound camaraderie that emerge among the artists, as well as the instilled confidence that can lead to a higher level of professionalism in the arts.
Who should apply? 
The program is open to emerging, mid-career, and established spoken word artists seeking a professional and artistic development opportunity to take their creation, production, and performance skills to the next level.  
We welcome applications from artists working in any form of performative writing including poetry, storytelling, theatre, hip hop, dub, or interdisciplinary work. Please submit your most accomplished print, audio, and video support material; it does not need to relate to your project proposal. Applications from artists working in English, French, or other languages are welcome.
What's Included
Your program fee includes a single bedroom on the Banff Centre campus for the duration of your program.
Get connected with other artists on campus and focus on your projects in a creative environment while we take care of the day-to-day essentials.
Using a credit-based system to dine on campus, our flexible meal plans allow you to select meals according to your own needs during your stay.
The Regular Flex meal plan includes $30 credit per day, equivalent to lunch and dinner in Vistas Dining Room.
Enjoy special artist rates for ticketed performances or complimentary access to events.
Enrich your experience and get to know other artists on campus by taking advantage of the activities and support provided by our Participant Resources team.
Fees & Financial Assistance
Application fee: $65
*Financial Aid of up to 50% of the Program Fee is available for this program. 
If you would like to be considered, please complete the Financial Aid section when uploading your supporting materials.
Help fund your experience at Banff Centre! View a compiled list of national and international opportunities here.
How to Apply
Adjudication
Participants are selected by impartial adjudicators on the basis of their submitted material. In addition to artistic merit, consideration will be given to the likelihood that the artist's work will benefit from the program.  
Applicants will be notified of their status as soon as adjudication is complete.
Note: All programs, faculty, dates, fees, and offers of financial assistance are subject to change. Program fee is subject to applicable taxes. Non-refundable fees and deposits will be retained upon cancellation. Any other fees are refunded at the discretion of the Banff Centre. The application deadline is 11:59 p.m. Mountain Standard Time.