Please note, this program will be taking a hiatus in 2020. Sign up for our Media and Production newsletter at banffcentre.ca/emails to stay up to date.
Program Information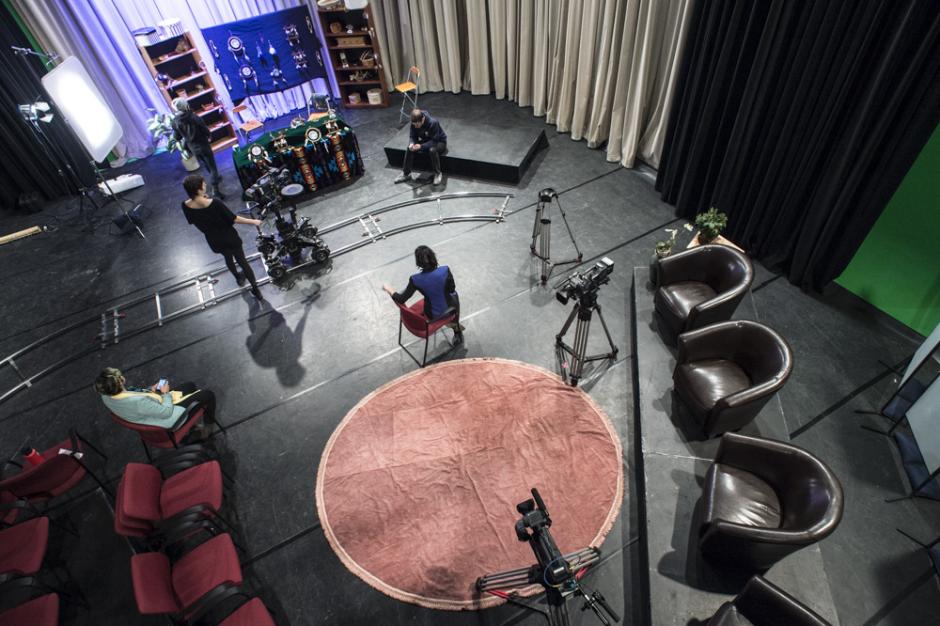 Overview
Story Studio is a new program presented by the Alberta Media Production Industries Association (AMPIA) and Banff Centre for Arts and Creativity, in partnership with the Government of Alberta and Alberta Film. Born out of Story Summit, this two-and-a-half-day program addresses new approaches to storytelling, innovating with technology, and developing sustainable, creative production and business models for media content.  
Participants will have the opportunity to connect with experts on the forefront of digital media and learn alongside peers in the industry to strengthen tools and knowledge to advance their careers – all in Banff Centre's unrivalled mountain setting. 
What does the program offer?
This program offers an immersive experience in learning and inspiration. Participants will have access to keynote presentations, panel discussions, hands-on workshops, tabletop discussions and master classes in pitching, directing, aspects of camera and light, post-production, production design, and acting.  
Participants will also have the opportunity to learn from and engage directly with industry experts from a wide variety of disciplines within digital media arts. Sessions will be led by AMPIA members in collaboration with industry experts and Banff Centre faculty.
Who should apply?
Post-secondary students and entry-level producers, writers, actors, and directors are encouraged to register. Mid-level and senior media professionals looking to gain experience working with new techniques and new technologies are also encouraged to attend. 
Itinerary
Day 1 - Friday, March 8, 2019
Welcome! Orientation, Intros, and Itinerary
Keynote CMF Future Trends
Keynote Rachel Talalay
Opening Reception
Day 2 - Saturday, March 9, 2019
Morning Breakout Sessions:
Craft

Storytelling: Camera and Light

Narrative

The Producer (Talk with Avi, Indie Film) 
The Product (Talk with Avi, Indie Film)

Documentary

Future of doc (CMF)
Fast Horse (Alex Lazarowich)
Doc Distribution Nothern Banner

Lunch
Afternoon Breakout Sessions:
Craft
Narrative 

The Money (Indie Film)
Script to Budget with Linda Ambury 
The Promotion (Indie Film)

Documentary

Doc Speaker Storytelling 
Doc Sales/Hustle (Adam Scorgie)
NFB and Storytelling

Closing Panel: Bell Media Drama TV and Feature Film
Day 3 - Sunday, March 10, 2019
Pitch Sessions (scheduled for filmmakers) with Raven Banner, Indiecan, Distriber, NFB
Morning Breakout Sessions:
Craft

Building a Blocking and Lighting Plan

Narrative

Distribution Raven/Northern Banner
Lawyering it Up: Working with Entertainment Law

Documentary

Documentary Panel Discussion 
Demo: Documentary and Technology

Lunch
Cultural Diversity and Creative Storytelling 
Distribber Working with Netflix and your Distribution
Closing Panel: Failing Forward (talking about overcoming failure) 
Closing Reception
Fees & Financial Assistance
Registration fee: $35 (not included in prices above).
Students and AMPIA members must provide proof of membership in registration process to receive discounted prices. Customization on number of room nights may be possible upon availability and request.   
How to Apply
All programs, faculty, dates, fees, and offers of financial assistance are subject to change. Program fee is subject to applicable taxes. Non-refundable fees and deposits will be retained upon cancellation. Any other fees are refunded at the discretion of the Banff Centre. The application deadline is 11:59 p.m. Mountain Standard Time.