Storytelling Body: Mask Performance with the Wonderheads
Please note, this program is now full and we are accepting waitlist applications. For inquiries, contact: Registrar_Theatre@banffcentre.ca
Program Information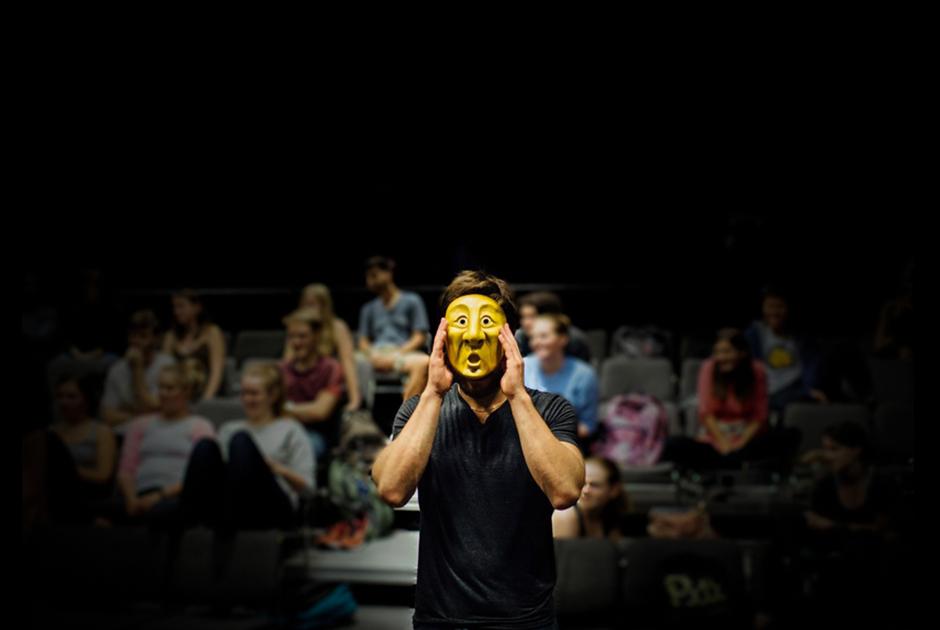 Program Overview
Journey into the world of visual storytelling and mask performance with Victoria-based physical theatre company the WONDERHEADS.
WONDERHEADS is a multi-award winning theatre company whose work is performed in full-face mask — a wordless, whimsical form rarely seen on North American stages. 
What does the program offer?
Participants will learn clarity and economy of physical expression, improve body awareness, and gain a greater understanding of what it means and how it feels to bring a fully realized character to life through mask exploration and articulate gestural investment.
The workshop will begin at 9 a.m. on Friday, March 6, and conclude no later than 5 p.m. on Sunday, March 8. There will be an optional, informal meet and greet in the evening on Thursday, March 5.
This workshop is presented by Theatre Alberta, Banff Centre for Arts and Creativity, and the Canadian Academy of Mask and Puppetry as part of Theatre Alberta's Workshops by Request: Rocky Mountain Series.
Who should register?
This workshop is intended for any/all theatre practitioners with an interest in mask and physical theatre performance and creation.
Please note this program is not adjudicated; applicants will be accepted on a first come, first served basis or waitlisted if full. 
What's Included
When applying, choose between staying in a single or a shared bedroom on the Banff Centre campus for the duration of your program.
Get connected with other artists on campus and focus on your projects in a creative environment while we take care of the day-to-day essentials.
Using a credit-based system to dine on campus, our flexible meal plans allow you to select meals according to your own needs during your stay.
The Full Flex meal plan includes $40 credit per day, equivalent to breakfast, lunch, and dinner in Vistas Dining Room.
Enjoy special artist rates for ticketed performances or complimentary access to events.
Enrich your experience and get to know other artists on campus by taking advantage of the activities and support provided by our Participant Resources team.
Fees & Financial Assistance
Banff Centre Application Fee: $35
A non-refundable deposit of $100 towards the workshop fee will be charged upon registration. An additional fee of $100 will be charged to residents outside of Alberta.
Room packages listed above include the workshop fee and are based on a four-night stay with a full meal plan at Banff Centre for Arts and Creativity. 
Please specify your dates of arrival and departure, and your required meal plan, in part two of the application process. You will be billed accordingly. 
Banff Centre reserves the right to cancel a program up to seven days prior to the program start date if enrolment is insufficient. If the program is cancelled all program fees will be refunded upon cancellation. Please note that Banff Centre is not liable for any personal/travel expenses incurred.
Current Theatre Alberta members who are residents of Alberta can apply for financial assistance to cover 25% to 75% of the workshop fee. To apply for financial assistance please visit the Theatre Alberta website or contact jake@theatrealberta.com. The deadline to apply for financial assistance is February 11, 2020.
How to Apply
Adjudication
Please note this workshop is not adjudicated; applicants will be accepted on a first come, first served basis.
The application deadline is February 19, 2020, 11:59 p.m. Mountain Standard Time. 
All programs, faculty, dates, fees, and offers of financial assistance are subject to change. Program fee is subject to applicable taxes. Non-refundable fees and deposits will be retained upon cancellation. Any other fees are refunded at the discretion of the Banff Centre. The application deadline is 11:59 p.m. Mountain Standard Time.