Applications are now open for Spring/Summer 2024 programs. For Fall 2024 progams onwards you can sign up to the Newsletter to receive an alert when applications open.
The Application and Payment systems will be closed from the 20th December to 3rd January as part of the Institutional Holiday Closure. SlideRoom will remain open for portfolio submissions.
Questions please contact the Admissions Office or call 403 762 6180.
Technical Direction Practicum
Program Information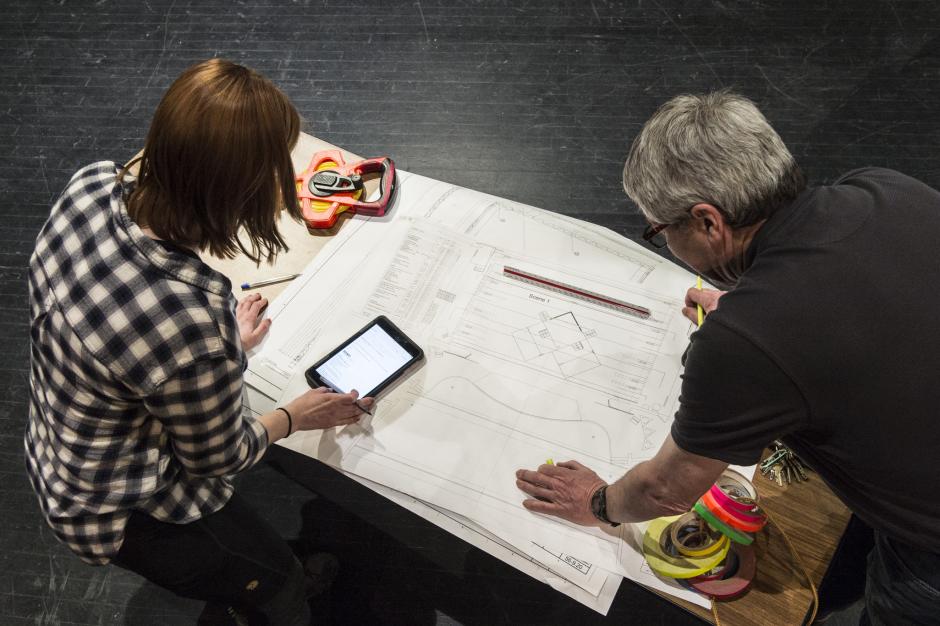 Overview
Reinforce and hone basic skills and practical problem solving while working with a wide range of systems in a safe, inclusive environment.
You will be responsible for setting your own goals and learning objectives as part of the program, with encouragement and support from a network of mentors. These mentors will provide insight into the demands of the workplace with advice and guidance on how to advance within the industry. 
What does the program offer?
While living in the picturesque Canadian Rockies, you will learn the core skills required to become a technical director, while helping to ensure the smooth delivery of Banff Centre production needs. This will include attending meetings, adjusting or creating show paperwork, updating drawings, and taking a leadership role on Banff Centre produced productions from time to time. 
You will work through individual projects and gain practical experience in a professional environment while incorporating industry standards of safety and conduct. You will define your learning outcomes with support from your mentors. You will also have opportunities to engage with visiting artists to expand your knowledge base and professional network.  
Who should apply?
Are you an emerging professional looking to develop your skills and capabilities, with an interest in specializing in technical direction as a profession? We are seeking applicants with formal theatre technical training from an accredited institution, or equivalent work experience with a passionate interest in the performing arts industry.
Applicants will be able to demonstrate strong organizational aptitude, be computer literate, and have an interest in exploring theatre, music, and live performance technologies. 
Participants will be required to supply their own Class 1, C.S.A. approved safety footwear, prescription safety eyewear (if applicable), and show blacks in good repair and free of logos. 
What's Included
You are eligible for Banff Centre housing (based on availability). You are responsible for your own room and board costs. Current rates for Banff Centre accommodation are $8.06 / day (shared) or $16.12 / day (single) and will be deducted from the living allowance.
As space is extremely limited, Banff Centre housing is available for practicum participants only. 
You will receive a living allowance of $61 per day.
Note that financial assistance and stipend awards are considered taxable income for Revenue Canada.  
Enjoy special artist rates for ticketed performances or complimentary access to events.
Enrich your experience and get to know other artists on campus by taking advantage of the activities and support provided by our Participant Resources team.
Fees & Financial Assistance
Application fee: $65
*The weekly program fee is covered 100% by financial assistance.
Successful applicants will receive a daily living allowance while part of the program. Practicums are responsible for their own room and board costs but are eligible for subsidized Banff Centre housing based on availability (see What's Included for more information).
How to Apply
Adjudication
Participants are selected by impartial adjudicators on the basis of their submitted material. In addition to technical merit, consideration will be given to the likelihood that the technician's career will benefit from the program. 
Applicants will be notified of their status as soon as adjudication is complete.
Eligibility
Shorter timeframes may be available for specific productions.
International applicants: Government of Canada international visitor visa regulations limit participation to no longer than six months.
All programs, faculty, dates, fees, and offers of financial assistance are subject to change. Program fee is subject to applicable taxes. Non-refundable fees and deposits will be retained upon cancellation. Any other fees are refunded at the discretion of the Banff Centre. The application deadline is 11:59 p.m. Mountain Standard Time.