Truth and Reconciliation Through Right Relations - Online
Program Information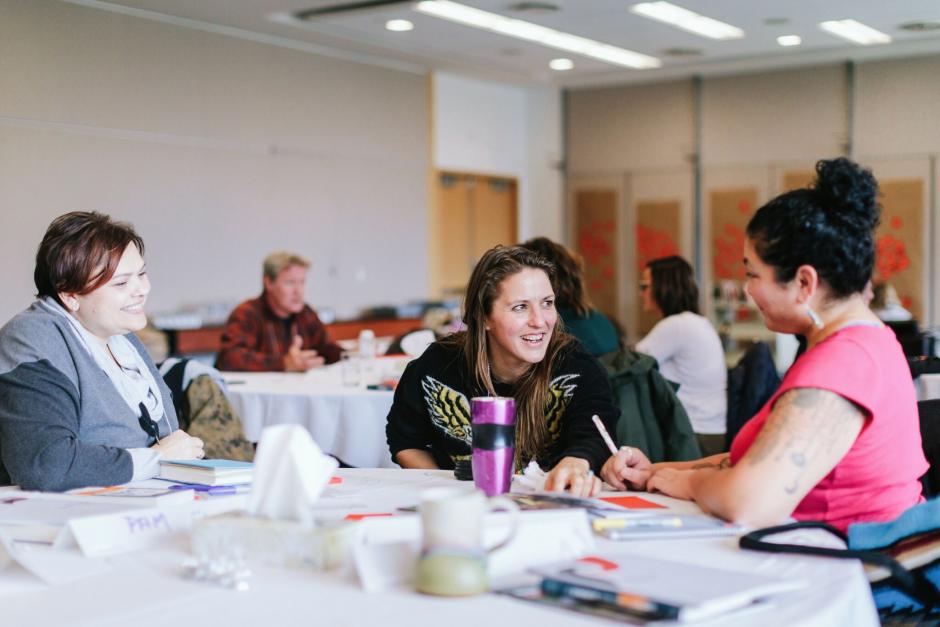 Overview
To honour the 5-year anniversary of the Banff Centre Truth and Reconciliation Summit and the beginning of the Truth and Reconciliation through Right Relations Program. We will ignite through the past, present and future of the truth and reconciliation movement in Canada, while renewing and way making through the wisdom of our community stories.
The program will awaken a deeper understanding of our shared history, conceptual meaning of reconciliation, and the role we all can play when we:
Engage in meaningful conversations about truth and reconciliation

Take responsibility through learning about wise practices and Indigenous strengths

Commit to action, to achieve reconciliation in our own lives, communities, and organizations.
Please note, this introductory program does not count as credit towards the Certificate of Indigenous Leadership, Governance, and Management Excellence.
What does the program offer?
This online intensive provides a space for engaged, participatory learning through ceremony, the land, elders teachings, knowledge sharing, application of theory and tools, case clinics, storytelling and deep listening,; individual reflection group dialogue and sensemaking, while balancing asynchronous and synchronous learning.
The Truth and Reconciliation through Right Relations program will equip participants with k(new) knowledge to:
Have an awareness of the United Nations Declaration of Indigenous Peoples (UNDRIP) and the Truth and Reconciliation Commission's (TRC) process, principles and Calls to Action 

Advance the dialogue on building and sustaining right relations

Communicate through deep listening

Create change through collective leadership and partnership building

Share Indigenous ways of knowing

Empower individuals to take action on reconciliation in their own lives, families and communities

Increase greater respect, understanding, and meaningful connections between Canada's citizens
Who Should Apply?
This online program is ideal for all people creating change within Truth and Reconciliation in Canada, those beginning or deepening the work they are visioning, engaged and committed to.  Those interested in creating and improving right relationships with Indigenous peoples and their businesses, communities and organizations. This includes municipal, territorial, provincial, and federal government employees, not-for-profit executives and board members, corporate executives, post-secondary educators, and teachers.  
"(This) program is a not-to-be-missed opportunity to shift your awareness, deepen your understanding, and open you to innovative ideas for participating in this great work. The program is deeply engaging and transformative - I don't believe it is possible to walk out the same as you walked in."
-Shekinah Veitch, Shell Canada Limited
Itinerary
This online program will be a combination of live sessions, work offline at home doing readings and reflection. The program will be grounded in wise practice seed stories, oral teachings, and community dialogue.  
We will create introduction videos, utilize online platforms for collaborative learning, and have opportunities to reflect on and apply tools for transformation and change, standing together in our collective vision and commitment
 
What's Included
Use of Zoom for live sessions.
Electronic workbook for course materials.
Along with daily Elder and Facilitator presentations, required pre, program, and post materials or supplies will be provided to participants. There will be limited required reading and video viewing assignments for each day of the program.
Use of Dropbox for sharing materials.
Fees & Financial Assistance
Financial assistance is available for Indigenous peoples or non-Indigenous peoples working for Indigenous organizations only. Past participants of the Truth and Reconciliation Through Right Relations program may register again, however will not be eligible for financial aid.
In order to be considered for financial assistance, please ensure that you select "Yes" to 'I would like to apply for financial assistance' during registration, and then log into your Student Portal to complete your funding application form within 48 hours of submitting your initial registration.  We strongly recommend timely submission of the funding form, in order to be considered. Note that we reserve the right to cancel registrants who select 'No' to financial assistance if payment and confirmation of attendance is not received within 7 days of  registration.  
Banff Centre will issue official tax receipts for eligible tuition fees and all financial assistance and awards as required by the Income Tax Act. You will receive a T2202 (Tuition and Enrolment Certificate) for eligible tuition fees paid and a T4A (Statement of Pension, Retirement, Annuity, and Other Income) for applicable financial assistance and awards.
How to Apply
If you have requested financial assistance,please ensure that you log in to your Student Portal within 48 hours of registration, to submit your funding request form.
If you do not require financial assistance, please ensure that you log in to your Student Portal and complete confirmation of attendance and full payment as soon as possible, but no later than 7 days from completing step 1.
Note that non-completion within the timelines stated may result in your place being offered to the waitlist.
All programs, faculty, dates, fees, and offers of financial assistance are subject to change. Program fee is subject to applicable taxes. Banff Centre reserves the right to cancel a program up to seven days prior to program start date if there is insufficient enrolment, and in this case all fees will be refunded. Please note that Banff Centre is not liable for any personal/travel expenses incurred.
Contact us

For more information please contact: