Learn more about Banff Centre's COVID-19 Vaccination Requirements and on-campus measures here.
Please subscribe to our mailing list to keep informed on upcoming programs.
Truth and Reconciliation Through Right Relations
Program Information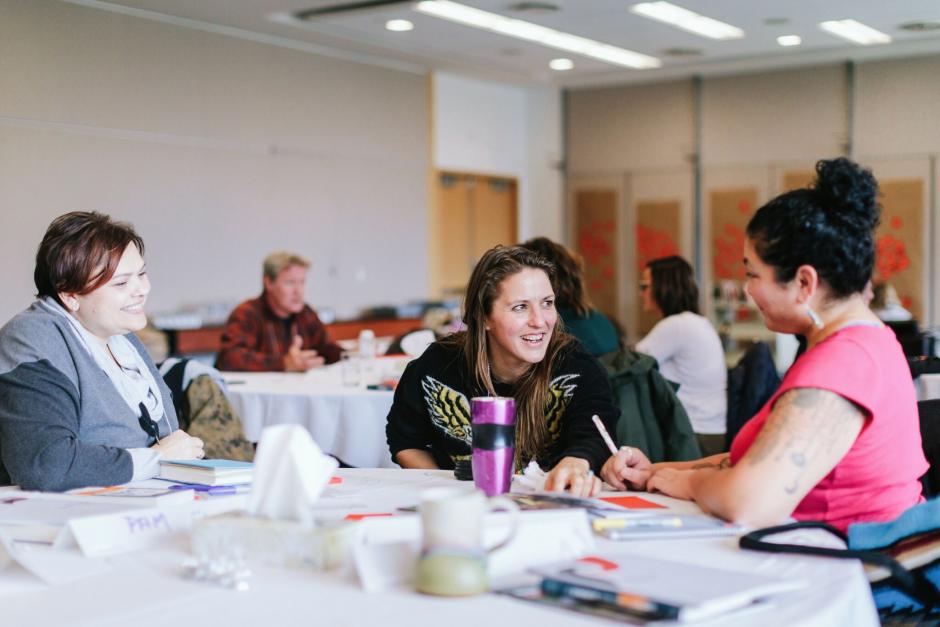 Overview
In response to the Truth and Reconciliation Commission's Calls to Action,  Indigenous Leadership at Banff Centre for Arts and Creativity is committed to better understanding the truth of Canada's shared history with Indigenous peoples. This includes creating a dialogue between Canadians, and  inviting each of us to enter into a respectful relationship with one another as we work toward shared purposes.
The Truth and Reconciliation through Right Relations program will develop a deeper understanding of our shared history, the meaning of reconciliation, and the role Canadians play in improving our relationship by:
Raising awareness of Canada's shared history with Indigenous peoples
Engaging in meaningful discussion about reconciliation
Inspiring us to take individual responsibility through learning  existing reconciliation wise practices
Inviting participants to take action to achieve reconciliation in their own lives, communities, and organizations
What does the program offer?
This intensive experiential program involves learning through ceremonies, lectures, outdoor walks, creative arts practice, application of theory, individual reflection, and group activity.

The Truth and Reconciliation through Right Relations program will equip participants with new knowledge to:
Understand the United Nations Declaration of Indigenous Peoples and the Truth and Reconciliation Commission's process and Calls to Action 
Build relationships with Indigenous communities
Advance right relations
Communicate through deep listening
Create partnership opportunities
Share Indigenous ways of knowing
Empower individuals to take action on reconciliation in their own lives
Increase greater respect, understanding, and meaningful connections between citizen
Who should register?
This program is an ideal fit for those who work with and are interested in improving and creating new relationships with Indigenous people, businesses, communities and organizations. This includes municipal, territorial, provincial, and federal government employees, not-for-profit executives and board members, corporate executives, post-secondary educators, and teachers.  
"(This) program is a not-to-be-missed opportunity to shift your awareness, deepen your understanding, and open you to innovative ideas for participating in this great work. The program is deeply engaging and transformative - I don't believe it is possible to walk out the same as you walked in."
-Shekinah Veitch, Shell Canada Limited
Support of the design and development of this program by: Imperial Oil Foundation.
About Banff Centre Leadership Programs
Banff Centre Leadership programs integrate the power of the arts, the wisdom of Indigenous practice, and the extraordinary beauty of Banff National Park to prepare and empower the next generation of leaders.
Programs help participants bring creative and reflective approaches to a rapidly changing world, and connect leaders with others who share their commitment to positive change in Indigenous communities, businesses, non-profit organizations, cultural institutions, and government.
Custom Programming
If you are interested in Truth and Reconciliation Through Right Relations as a custom program for your organization, please contact us.
What's Included
All Leadership participants who choose the Accommodation and Meal Package are provided private rooms with ensuite washrooms in one of our two onsite hotels, the Professional Development Centre or Lloyd Hall. Room upgrades may be available upon request at an additional cost.
All of your meals from the start to the end of your program are included; most of your meals will be at Vistas Dining Room, but there may be some special dining events scheduled as well. Please also feel free to visit the Maclab Bistro, Le Café, Three Ravens Restaurant and Wine Bar, but note that these outlets are not included in your meal plan, and thus will be at additional cost.
The Sally Borden Fitness and Recreation Centre is located in the lower floor of the Sally Borden Building, and provides all guests with access to our swimming pool, hot tub, steam room, climbing gym, fitness centre, spin studio, and gymnasium. Massage and physiotherapy appointments may also be booked ahead of time.
Enjoy free parking, wifi, and access to the Walter Phillips Gallery while you are a guest at Banff Centre. Our Participant Resources team is also available to assist you with medical support or event information. See our Events Calendar to learn more about what's going on at Banff Centre while you're onsite.
Fees & Financial Assistance
Additional nights' accommodation may be available; please contact us for details.
The above fees do not include applicable taxes, such as GST, the Alberta Tourism Levy, and the Tourism Improvement Fee as needed.
Group Savings
Enroll four members of your organization or community in a program and your fifth member will receive a free tuition. Special restrictions may apply.
 
Financial Assistance
Financial Assistance may be available to subsidize some of the costs to attend your program. We encourage you to apply for funding if your attendance is dependent on financial support. Over two thirds of our program participants receive funding. Canada Council Travel Grants and Canada-Alberta Job Grants (or provincial job grants) are also an option to apply for to support your attendance.
Call our toll-free number for more details at 1.888.255.6327
How to Apply
All programs, faculty, dates, fees, and offers of financial assistance are subject to change. Program fee is subject to applicable taxes. Non-refundable fees and deposits will be retained upon cancellation. Any other fees are refunded at the discretion of the Banff Centre. 
Banff Centre reserves the right to cancel a program up to seven days prior to program start date if there is insufficient enrolment. All fees will be refunded. Please note that Banff Centre is not liable for any personal/travel expenses incurred.
Please note, our programs are filled on a first come, first served basis. Please register early to secure a confirmation on your spot. 
Contact us

For more information please contact: