Program Notice
Online programs coming soon.
We will be offering 14 programs online from September to December 2020, featuring two programs per discipline in Literary Arts, Visual Arts, Music, Performing Arts, Indigenous Arts, and Indigenous Leadership. Details about these programs, including information about applications and admissions, will be available soon.
If you would like to be among the first to know about or new programs, please subscribe to our newsletter. In the meantime, you can browse a sampling of previous programs to learn more about our offerings.
Banff Centre's facilities and spaces remain closed due to the COVID-19 pandemic; we look forward to reopening as soon as it is safe to do so.  If you have any questions about specific programs, please contact registrars_office@banffcentre.ca.
Truth and Reconciliation Through Theatre
Program Information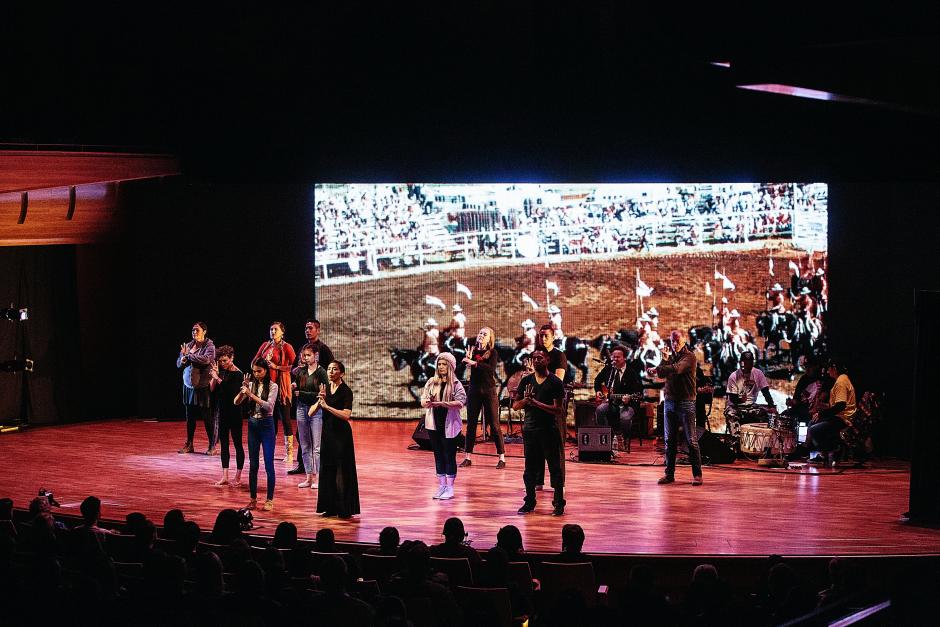 Overview
Performing arts educators will be guided through the creation process of Calgary's ground-breaking production of Making Treaty 7 and discuss its impact on audiences and artists. Mr. Twigg will provide resources for connecting educators to their local Indigenous communities, including treaty experts, elders, historians, and artists. Participants will be empowered with tools and exercises to help their students learn and express their understanding of their local treaty, First Nations' relationship to traditional lands, and the content of the Truth and Reconciliation Commission.

What does the workshop offer?
Gain information and resources to confidently explore the true history of the land you and your students call home, using theatre as a tool to give the next generation a complete picture of Alberta's origins. We want every educator, whatever your background, to feel you can appropriately and sensitively explore this subject matter with your students.

Who should apply?
Performing arts educators from any/all ancestries who want to feel better informed about the subject matter of the Truth and Reconciliation Commission, with an emphasis on healing and moving forward. Whether you teach theatre/drama in junior or senior high school, in a post-secondary institution, or for an extracurricular program- this workshop is for you. 
Part of Theatre Alberta's Workshops by Request: Rocky Mountain Series
What's Included
When applying, choose between staying in a single or a shared bedroom on the Banff Centre campus for the duration of your program.
Get connected with other artists on campus and focus on your projects in a creative environment while we take care of the day-to-day essentials.
Using a credit-based system to dine on campus, our flexible meal plans allow you to select meals according to your own needs during your stay.
The Full Flex meal plan includes $38 credit per day, equivalent to breakfast, lunch and dinner in Vistas Dining Room.
Enrich your experience and get to know other artists on campus by taking advantage of the activities and support provided by our Participant Resources team.
Enjoy special artist rates for ticketed performances or complimentary access to events.
Fees & Financial Assistance
A non-refundable registration fee of $135 will be charged upon registration.  Banff Centre reserves the right to cancel a program up to 7 days prior to program start date if there is insufficient enrolment. If the program is cancelled all registrants will receive a full refund of any program fees paid. Banff Centre is not liable for any personal/travel expenses incurred. 
*subject to availability. If you are interested in staying at the Banff Centre on the night of November 20, please contact the Office of the Registrar for details and availability. 
Current Theatre Alberta members who are residents of Alberta can apply for financial assistance to cover 25-75% of the tuition fee. Visit http://www.theatrealberta.com/rocky2016/ for details on how to apply for financial aid. 
Help fund your experience at Banff Centre! View a compiled list of national and international opportunities here.
How to Apply
While this program is not adjudicated, we request support materials to support program planning and design.
Note: All programs, faculty, dates, fees, and offers of financial assistance are subject to change. Program fee is subject to applicable taxes. Non-refundable fees and deposits will be retained upon cancellation. Any other fees are refunded at the discretion of The Banff Centre.