Program Information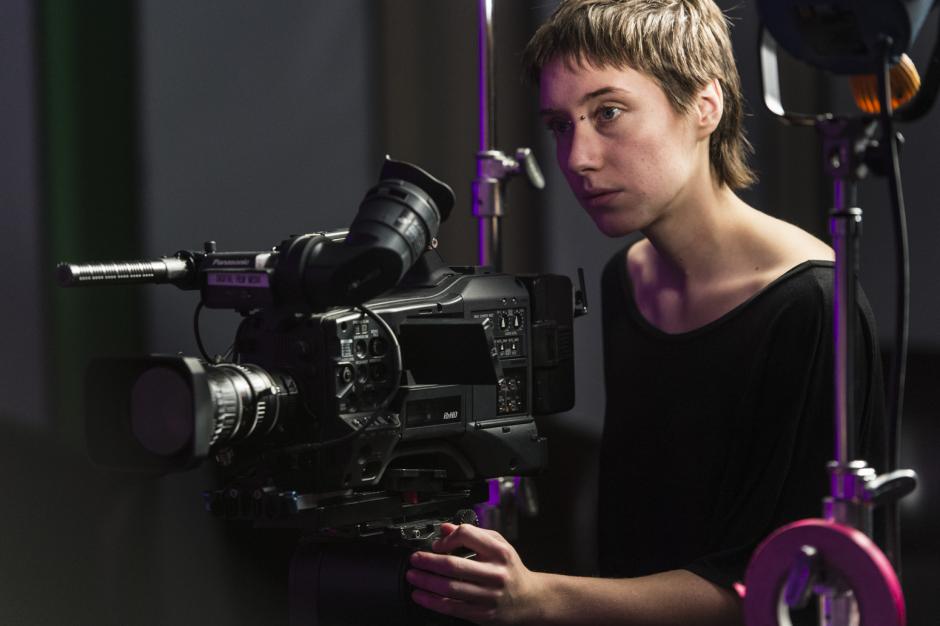 Overview
Working closely with Media + Production staff and artists, the Video Practicum will assist with a variety of projects from inception and development through to completion and delivery.
Over the course of the program, practicum participants will collaborate with producers, directors, camera operators, sound recordists, and video editors on a range of project genres including (but not limited to): marketing/promotional, documentary, and live capture.
What does the program offer?
Practical skills are matured through hands-on video production, including studio and location set-up, lighting, assisting the camera crew, and operating camera. These skills will be applied to a range of production and program styles. 
Organizational, logistical, and diplomacy skills are exercised through assistance to the camera crew. Duties include loading/unloading grip and camera equipment, marking and operating clapperboards, keeping meticulous and accurate camera notes and production reports, transcribing, charging batteries for camera and accessories, offloading camera media, and ensuring ongoing communication between production and post-production crews. 
Practicum participants will also have the opportunity to attend formal Banff Centre lectures, workshops, and events, and expand their personal artistic network.
Who should apply?
Do you have a keen interest in the craft of video/filmmaking, a willingness to learn, and a desire to broaden your experience? If yes, we'd love to hear from you! 
As well as being passionate about filmmaking, you'll have a production background, a good understanding of the production process, and experience working with a camera team and videographers. You'll have an understanding of film and television lighting for studio and location scenarios and will be familiar with a variety of HD video cameras including professional broadcast and DSLR, with a keen interest to excel in an EFP (Electronic Field Production) workflow.
Previous experience working with sound recordists and video editors is an asset. The successful applicant will have strong organizational abilities, excellent interpersonal communication skills, and will be highly computer literate with experience in Microsoft Suite.
What's Included
You are eligible for Banff Centre housing (based on availability). You are responsible for your own room and board costs. Current rates for Banff Centre accommodation are $8.06 / day (shared) or $16.12 / day (single) and will be deducted from your living allowance. 
You will receive a living allowance of $425 per week.
Note that financial assistance and stipend awards are considered taxable income for Revenue Canada.  
Enjoy special artist rates for ticketed performances or complimentary access to events.
Enrich your experience and get to know other artists on campus by taking advantage of the activities and support provided by our Participant Resources team.
Fees & Financial Assistance
Application fee: $65
*The weekly program fee is covered 100% by financial assistance from Banff Centre.
You will also receive a weekly living allowance while part of the program (see What's Included for more information).
How to Apply
Adjudication
Participants are selected by impartial adjudicators on the basis of their submitted material. In addition to artistic merit, consideration will be given to the likelihood that the artist's work will benefit from the program.
Applicants will be notified of their status as soon as adjudication is complete.
Eligibility
As this program exceeds six months in length, enrolment is limited to Canadian citizens and permanent residents of Canada. This is due to changes made by the Government of Canada to international student visa regulations, effective June 1, 2014. 
All programs, faculty, dates, fees, and offers of financial assistance are subject to change. Program fee is subject to applicable taxes. Non-refundable fees and deposits will be retained upon cancellation. Any other fees are refunded at the discretion of the Banff Centre. The application deadline is 11:59 p.m. Mountain Standard Time.