Applications are now open for Spring/Summer 2024 programs. For Fall 2024 progams onwards you can sign up to the Newsletter to receive an alert when applications open.
The Application and Payment systems will be closed from the 20th December to 3rd January as part of the Institutional Holiday Closure. SlideRoom will remain open for portfolio submissions.
Questions please contact the Admissions Office or call 403 762 6180.
Visual Arts Residency: Meeting for Teas
Program Information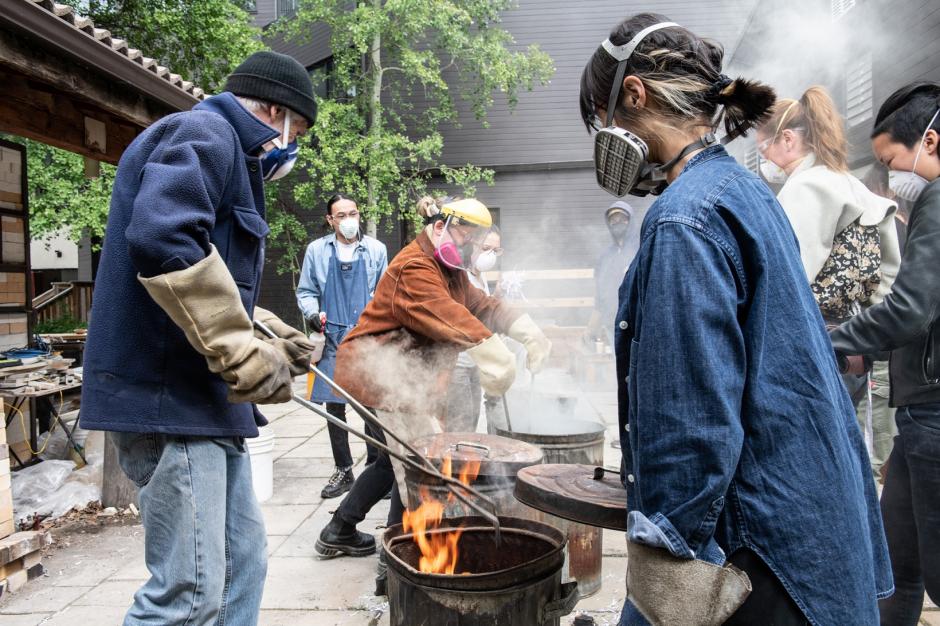 Overview
It is widely accepted that after water, the most popular drink in the world is tea. Grown, harvested, brewed, and consumed for millennia by vast cultural groups around the globe, tea is both a material substance and immaterial concept. Rituals and practices around the preparation and drinking of tea are deeply imbedded within the social, political, spiritual, religious, and natural landscapes and histories of Asia, Europe, North America, of Indigenous and non-Indigenous peoples. Through systems of labour and commodification, tea production and trade are inextricably linked to the history and process of colonization, yet also have the potential to contribute to decolonizing actions through inter-cultural sharing, community building, and friendship.
Visual Arts Residency – Meeting for Teas is an invitation to visual artists, working in any discipline or medium, to engage in research, creation, and studio practice that considers tea, in all its material and/or immaterial forms, as a site or starting point, for social engagement, inter-cultural exchange, identity, relationship and community building, decolonization, material transformation, and conceptual exploration.
In this thematic residency, participants will engage in a far-reaching dialogue on the social, historical, and contemporary aesthetic associations of tea to gain access to and explore cultural processes and attitudes. Led by Wayne Baerwaldt and Jennifer Crane, with guest faculty Karen Tam and Adrian Stimson, Visual Arts Residency – Meeting for Teas offers the opportunity to consider side-by-side notions of new materialism, inclusivity, performativity, and other forms of representation related to tea. The residency will examine a complex making and sharing process that has been closely tied to lived experience and expand the limits of the current discussions of tea sharing to include tea's chemical properties, medicinal qualities, and its potential as a community-building medium.
What does the program offer?
This program offers a structured space where visual artists come together to create work and discuss the pertinent theme. Through peer interaction, discussion groups, studio work, formal lectures, and studio visits from world-renowned visiting faculty, participants gain new ideas and insights that can be applied to creative exploration and professional development of their work.
Who should apply?
This residency is for visual artists at all stages of their careers who have completed formal training at the post-secondary level, or who have equivalent experience and recognition from their peers through informal, specialized training such as mentorships, self-study, and traditional knowledge and practices. 
Banff Centre invites applications from anywhere in the world, and artists of all ages (18+), backgrounds, gender identities, and expressions.
Fees & Financial Assistance
Application fee: $65 ($35 for applicants who identify as Indigenous).
*Financial Aid of 100% is available to cover tuition, and 50% is available to offset food and accommodation costs.
Application fees are not refundable.
Banff Centre will issue official tax receipts for eligible tuition fees and financial assistance and awards as required by the Income Tax Act. You will receive a T2202 (Tuition and Enrolment Certificate) for eligible tuition fees paid and a T4A (Statement of Pension, Retirement, Annuity, and Other Income) for applicable financial assistance and awards.
Help fund your experience at Banff Centre. View a compiled list of national and international opportunities here.
How to Apply
Adjudication
Adjudication is based on artistic merit, the potential impact of the program on artists' practice and careers, project feasibility and the capacity of Banff Centre to help realize the project, and the project's fit with Banff Centre's values and strategic directions as described in its strategic plan. Banff Centre respects the need for artists to plan ahead for their visit; applicants will be notified as soon as adjudication is complete.  Priority will be given to applicants who have not attended a Visual Arts Program at Banff Centre within the last three years.
International Applicants
Banff Centre welcomes domestic and international applicants for this program. Please note, Banff Centre programs do not meet Canadian Student Visa eligibility requirements, you must obtain a Visitor Visa to enter Canada. Accepted individuals are responsible for identifying and complying with the immigration requirements to enter Canada as a visitor from their country of origin. Current wait times to receive a visa are much longer than normal, so applicants who require a Visitor Visa should check the current expected processing times prior to applying.
Eligibility
Applicants must be ages 18+ at the time of the program start date.
All programs, faculty, dates, fees, and offers of financial assistance are subject to change. Program fee is subject to applicable taxes. Non-refundable fees and deposits will be retained upon cancellation. Any other fees are refunded at the discretion of the Banff Centre. The application deadline is 11:59 p.m. Mountain Standard Time.