Learn more about Banff Centre's COVID-19 Vaccination Requirements and on-campus measures here.
Please subscribe to our mailing list to keep informed on upcoming programs.
Write Over Here - Fall 2021
Indigenous Arts | Online & In-Person
Program Information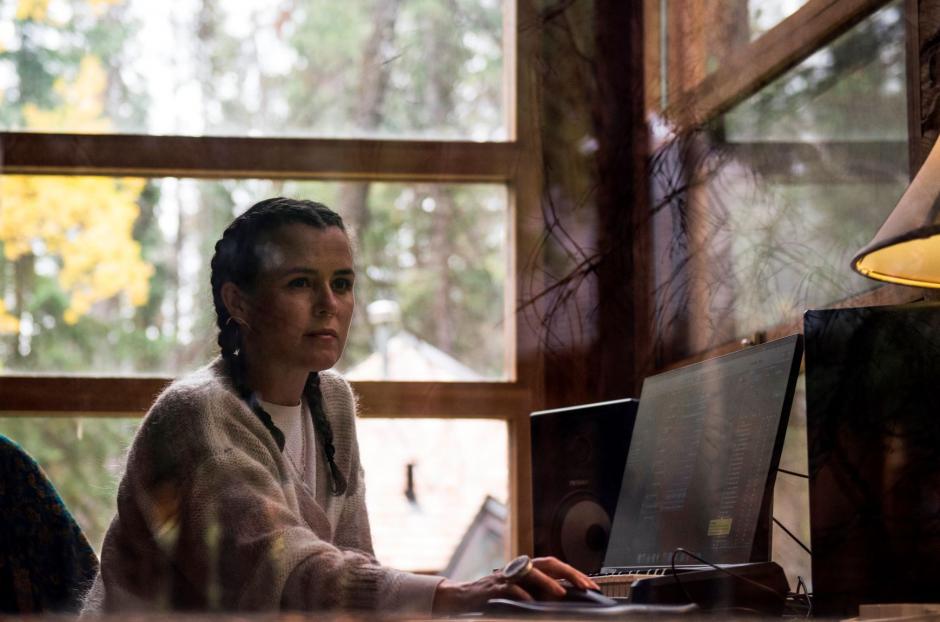 We are sorry to have to announce that the Write over Here program has had to be postponed until 2022. 
The program was designed to be a mixture of on-line and on-campus. Unfortunately, the recent surge in Covid infections, driven by the highly infectious Delta variant, is impacting a small number of our programs.   Unfortunately, in the case of Write Over Here, we not been able to secure sufficient on-site faculty for this program. 
Please click here for other programs that are still running. 
Overview
This 3-week self-directed Indigenous Arts residency will invite writers to engage in an active writing program, both in their community and on the Banff Centre campus. Online gatherings during the community phase will be scheduled to bring everyone together to connect and share.
Participants will be able to choose to participate either online from their community or on campus for the first two weeks.  The final week will see all participants meeting on campus to share readings and have deeper discussions of their process. Faculty will engage all writers throughout their time, as needed and scheduled, while this space allows for writers to put the time aside in their own capacity but still engage in their writing practice.
What Does the Program Offer?
This residency offers writers a combination of lectures from faculty, open social spaces to connect, open spaces to review and provide feedback to each other's work, faculty office hours and readings. Writers will deepen their artistry and technical application with literary mentorship from faculty of various writing genres, create peer relationships and expand their professional networks, and have the opportunity for possible collaborations following their time at Banff Centre.
Who Should Apply?
This program welcomes Indigenous writers from across Canada. 
Please note: As we re-open campus and welcome artists back to programming in a safe and mindful way, we have made the difficult decision to restrict recruitment for on-campus programs to those currently residing in Canada. We continue to monitor the situation closely and look forward to the future relaxation of travel measures that will allow us to welcome international artists once again.  
Itinerary
This three week residency is a balance of self-directed writing time, intermixed with faculty that offer insight into their creative process with opportunity for participants to perform and showcase. Four Indigenous Literary Arts faculty are invited for a final week long instruction, offering a group workshop and one-on-one sessions. 
Week One: Online or In-Person (11 - 16 Oct)
(participants choosing to complete the full program in-person will check in on 10th October)
Participants will have the opportunity to engage with the Literary Arts Faculty and Elder by signing up for one-on-one online sessions with faculty, and attend faculty group workshops. Peer collaboration can begin here, however this week is aimed at getting acquainted with the online system and what it has to offer.
Week Two: Online or In-Person (17 - 23 Oct)
(participants choosing to complete the first week online and the remainder of the program in-person will check in on 16th October)
Participants will begin with online morning gatherings to welcome and say thank you to visiting faculty, as well as check in with needs and questions. Literary faculty will offer an online group workshop, and one-on-one sessions are booked with faculty. Peer collaborations begin taking place through sharing readings with each other.
Week Three: In Person On Campus (arrive in Banff Sunday 24th October for programming 25 - 29th October. Everyone departs campus 30th October)
Participants will begin with a welcome to new faculty, say thank you to guest faculty, and check in with needs and questions for the week. Faculty will offer one-on-one review sessions, and peer collaborations take place through shared readings.
This program will conclude with a final event, where participants will share their works  from the past three weeks. 
 
What's Included
Combination of lectures from faculty, open social spaces to connect, open spaces to review and provide feedback to each other's work, faculty office hours and readings
Your program fee includes a single bedroom on the Banff Centre campus for the duration of your program.
Get connected with other artists on campus and focus on your projects in a creative environment while we take care of the day-to-day essentials.
Using a credit-based system to dine on campus, our flexible meal plans allow you to select meals according to your own needs during your stay.
The Full Flex meal plan includes $40 credit per day, equivalent to breakfast, lunch and dinner in Vistas Dining Room.
Fees & Financial Assistance
Application fee: $65 ($35 for applicants who identify as Indigenous)
Please note that as of September 1, our application fee reverted to the pre-pandemic level of $65. All applications received on or before August 31 will be charged at $25.
*Financial Aid of 100% is available for this program. 
Please note that fees listed apply to three week in-person program. Fees will vary according to arrival date selected.
If you would like to be considered, please complete the Financial Aid section when uploading your supporting materials to SlideRoom.
Please note: Banff Centre will issue official tax receipts for eligible tuition fees and financial assistance and awards as required by the Income Tax Act. You will receive a T2202 (Tuition and Enrolment Certificate) for eligible tuition fees paid and a T4A (Statement of Pension, Retirement, Annuity, and Other Income) for applicable financial assistance and awards.
How to Apply
Adjudication
Participants are selected by impartial adjudicators on the basis of their submitted material. In addition to artistic merit, consideration will be given to the likelihood that the artist's work will benefit from the program. Applicants will be notified of their status as soon as adjudication is complete.
All programs, faculty, dates, fees, and offers of financial assistance are subject to change. Program fee is subject to applicable taxes. Non-refundable fees and deposits will be retained upon cancellation. Any other fees are refunded at the discretion of the Banff Centre. The application deadline is 11:59 p.m. Mountain Standard Time.