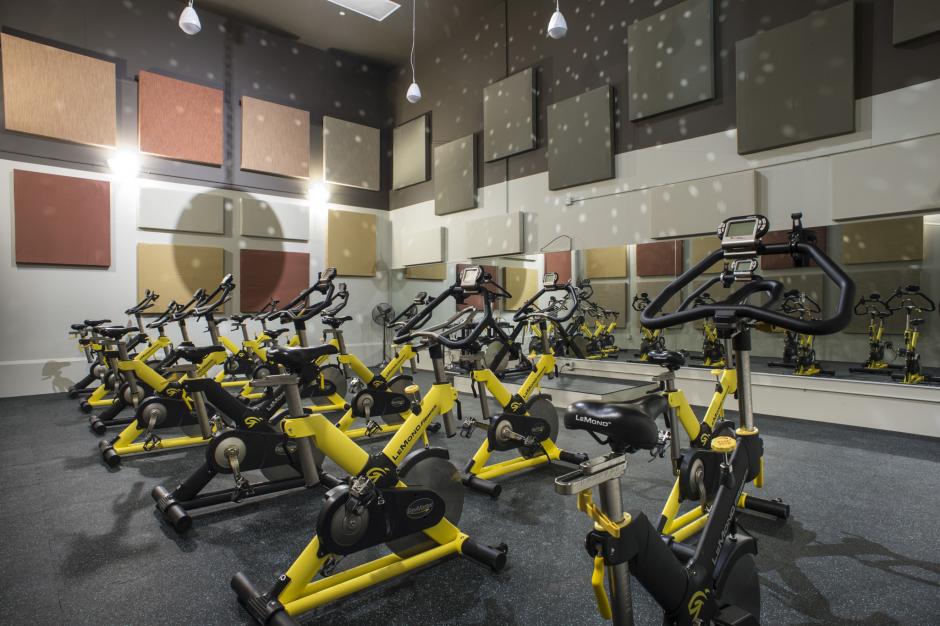 Welcome to the Sally B spin studio
The great sound and big screen TV will get you in the mood to ride!
The Sally B offers a variety of high energy, motivating classes in a non-competitive environment.  Our instructors are all passionate and unique and although we embrace their creativity, all spin classes are based on the principles of outdoor cycling.Indoor cycling makes the fitness benefits of riding a bike available to all - we welcome the experienced rider along with novice and encourage all to be the master of their own ride.  We want participants to work at an intensity that is appropriate to meet their training and fitness goals, while respecting the bodies limits and needs. Join The Sally B spin community .... and ride on!
Classes - Schedule and Information
SUMMER 2019
Spin 60 - Monday
5:15 - 6:15 pm
Spin 60 - Wednesday **May 29 - last class until fall 2019**
5:30 - 6:30 pm
Drop in spin class rate is $15 (60 min class) $20 (90 min class). 
All spin classes are included with a Sally Borden Fitness and Recreation Performance Plus Membership. 
Non-members and Simply Access members are welcome drop in .  
  For class descriptions and current schedule details - please see the daily Calendar at the bottom of the Sally Borden main page.     
Private Spin Class
Organize your own private spin class. Whether you are looking to meet specialized training needs or just want a class specifically designed for your gang of friends, colleagues or training buddies. Times are based on studio and instructor availability.
For more information, please contact Jeannette Earl at 403.762.7523 or email jeannette_earl@banffcentre.ca.