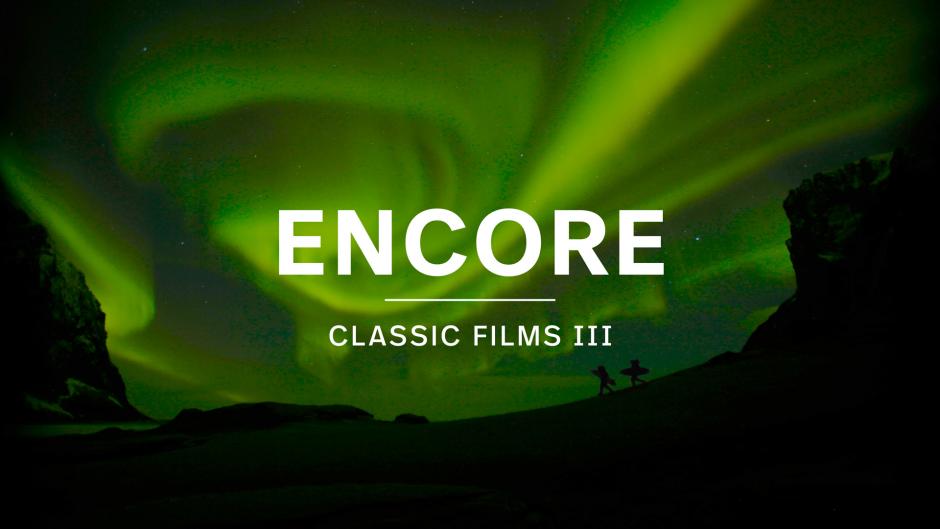 Encore: Classic Films III
Take a trip down memory lane, and to remote corners of the world!
Don't miss our collection of much-loved Festival and World Tour films from the past decade. Whether it's the first time you're seeing these films, or the tenth, these staff and audience favourites have enduring appeal. Be a part of the gripping adventures and timeless stories (again)!
Enjoy surfing above the Arctic circle, climb as many routes as you can in 24 hours and re-live ski legend JP Auclair's all-time descent down the streets of Nelson, B.C. plus more!  The Classic Films III program brings back those all those warm and fuzzy feelings you had watching these great Banff films the first time.
Available for rent/viewing:
December 8, 2021 - October 23, 2022
Price: $15 CAD / $12 USD
The program has a 3-day rental period (time starts ticking once you unlock the program). 
Encore Classics III - Film Program
All.I.Can: The Short Cut -Tour Edit
Stunning time-lapse sequences, creative visuals, great skiers, and deep powder are highlights of this excerpt from the award-winning feature film that looks at snow sports and the environment.
Awards:
Full-Length Film: Best Feature Film (2011)
At the ripe old age of 90, Yvonne Dowlen has been ice skating for as long as she can remember. Edges is a celebration of a life lived well.
North of the Sun (Nordfor Sola)
Tucked between the cold Atlantic Ocean and the rocky slopes of a remote, arctic island, two young Norwegian adventurers discover their own private playground. They build themselves a cabin out of flotsam while clearing the beach of debris, then spend the long winter skiing and surfing in the haunting low light.
Director:
Inge Wegge, Jørn Nyseth Ranum
Awards:
Grand Prize (2013), People's Choice (2013), Audio Post-Production (2013)
WildWater (Tour Edit) - Classic Collection
When ordinary people share a singular passion, the extraordinary emerges. WildWater is a journey into the mind and soul of white-water and an exploration of places only river-runners can go — places of discovery, solitude, and risk. It's a visually stunning feast for the senses, and an expedition into new ideas.
Showdown at Horseshoe Hell
How hard can it be? 24 Hours of Horsehoe Hell is a climbing competition that has you climbing day and night and racking up points for your climbs as you go. You just have to beat Alex Honnold.
Producer:
Pete Mortimer, Josh Lowell
Production Company:
Sender Films, Big Up Productions
Awards:
Radical Reels People's Choice (2015)