A distinct aggregation / A dynamic equivalent / A generous ethic of invention: Six writers respond to six sculptures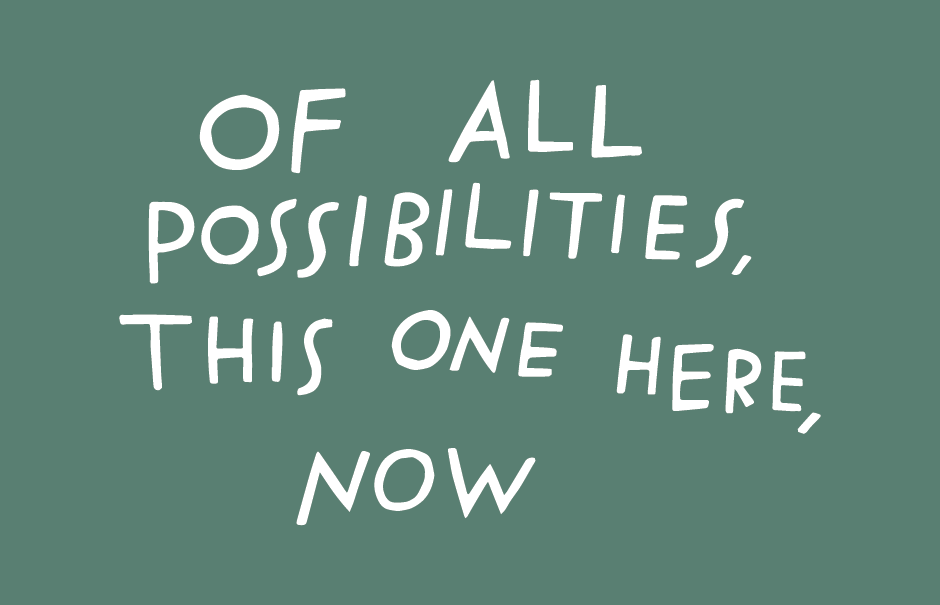 Now extended until March 31, 2021
A distinct aggregation / A dynamic equivalent / A generous ethic of invention: Six writers respond to six sculptures
A project by Aislinn Thomas with Anna Bowen, Angela Marie Schenstead, Crystal Mowry, Laura Burke, Catherine Frazee, Nicole Kelly Westman, and Shannon Finnegan
This commissioned work is available in two formats: as a sound-work available to sign out from the Walter Phillips Gallery front desk during regular gallery hours or streamed via the embedded SoundCloud widget below; and through a broadsheet featuring audio transcriptions of each response as well as text drawings from the collaborative series, A seat at the table, a slice of the pie, the result of a dialogue between Aislinn Thomas and Shannon Finnegan about the practice of visual description. Click the link for the broadsheet: A distinct aggregation / A dynamic equivalent / A generous ethic of invention: Six writers respond to six sculptures PDF (983kb)
Within conventional museum contexts, audio description is generally understood as a means of creating access to visual art through the alternate modality of sound. Containing careful visual description with language aimed at objectivity, audio descriptions form a secondary alternative to experiencing the work in visual form. The politics of this mode of access are taken up extensively by scholar Georgina Kleege, who has argued that "[a] picture may be worth a thousand words, but the assumption seems to be that those thousand words – or even a million words – will not do justice to the picture. This holds even though ekphrasis, or poetry that describes visual art, has been around at least since Homer."(1) In contrast to standard conceptions of audio description, Kleege invites a re-imagining of its potential; where it might be "elevated from its current status as a segregated accommodation outside the general public's awareness and launched into the new media – a literary/interpretative form with infinite possibilities."(2)
Similarly, Kitchener-based artist Aislinn Thomas considers museological accessibility measures such as audio description as a conceptual space for creative acts. For the commissioned work, A distinct aggregation / A dynamic equivalent / A generous ethic of invention: Six writers respond to six sculptures, Thomas invited writers living across Canada to each respond to a respective work in Banff Centre's public art collection. The resulting poetic interventions serve as points of entry to the works beyond the visual, with responses by each author composing a downloadable audio work. In a further translation between modalities, the work also encompasses a broadsheet with transcriptions and collaborative text drawings by Thomas and Brooklyn-based artist Shannon Finnegan, offering a visual point of access.
In assembling texts which propose different possibilities for the integration of visual description within the realm of the poetic, A distinct aggregation / A dynamic equivalent / A generous ethic of invention serves as an invitation into questions of functionality in relation to audio description. In her response to Peter von Tiesenhausen's Vessel/Enclosure (1984), Anna Bowen's Catch describes the subtly-evolving relationship between the hand-bent willow sculpture and the groundcover it has rested upon for decades, which expands into a meditation on the daily vibrant, creaturely exchanges also taking place at the site. Angela Marie Schenstead offers poetic reflection on three ungulates – elk, moose, and caribou – whose antlers are the visual referents for the steel, white powder-coated benches that form Brian Jungen's The ghosts on top of my head (2010-2011). While Jungen is of Dane-zaa and Swiss descent, the title of Schenstead's response, ᒨᓴᐧ     ᐋᐧᐋᐧᐢᑫᓯᐤ     ᐊᑎᕁ, incorporates her family's Cree language. A resident of Banff for over a decade, Schenstead's response speaks to potential resonances with the title of Jungen's work and the absence of the caribou in Banff National Park since 2009; as well as the death of a number of elk which took place near the Banff townsite in 2013. (3)
Crystal Mowry's In Time responds to Barry Cogswell's Dolmen Structure #5. The text draws on the synchronicity of Cogswell's reference to dolmens or monuments made of stone, believed to have been used in prehistoric Brittany to mark the site of a grave, with what Mowry identifies as "the age of the oldest known lichen"; the small, composite organisms which can be found throughout the forests surrounding Banff and that are the same colour as the sculpture's surface. Bridging, Laura Burke's reflection on Hugh LeRoy's Papillon (1979), invites a myriad of potential associations for this archway composed of stones, bound and suspended together by wire casing. In Welcome, Catherine Frazee's response to John McEwen's Stelco's Cabin (1984), questions of hospitality, belonging, and their relationship to access are present in a narrative that also invites critical reflection on the various potential modes of experiencing McEwen's work beyond the visual.
The final text, I am sorry I didn't call – a poem for a now-vacant site, is unique in the sense that it is not a response to a work in the permanent collection. Upon receiving the invitation, Nicole Kelly Westman chose to respond to Sharon Moodie's I don't want a massage, I want a miracle (1989-2017); a work produced by the artist on Banff Centre's campus, but never formally acquired. The work was removed due to attrition and vandalism in 2017.      
Troubling assumptions around the assumed primacy of an 'original' work over 'secondary' forms of access; the poetic versus the didactic; and the pleasures and limitations of site-specificity from a standpoint of physical accessibility; A distinct aggregation / A dynamic equivalent / A generous ethic of invention might also be understood as aligned with a feminist approach to poetic ekphrasis: activating polyvocal exchange between people and works in expanded interrelation. (4)
---
It is our hope that everyone who desires to is able to experience this work. We recognize that access is a contextual and dynamic process and are here to help you navigate your access. Please contact Walter Phillips Gallery: walter_phillips_gallery@banffcentre.ca / 1.403.762.6281
Georgina Kleege, More Than Meets the Eye: What Blindness Brings to Art. (New York: Oxford University Press, 2018), 73.
Ibid, 108.
C. Derworiz, "Eight elk die after falling through thin ice in Banff National Park," Calgary Herald (2013, December 11).  Retrieved from http://www.calgaryherald.com/news/alberta/eight after falling through thin Banff national park/9157297/story.html; Banff National Park, "Caribou 101: A primer,"  Parks Canada Agency & Government of Canada, 2017, April 01. Retrieved from https://www.pc.gc.ca/en/pn-np/ab/banff/decouvrir-discover/faune-wildlife/caribou/initiation-primer
For further discussion of feminist ekphrasis, see B.K. Fischer, "Shake Forth a Nest: Feminist Ekphrasis and the Example of Louise Bourgeois," Los Angeles Review of Books, (August 9, 2014).  Retrieved from: https://lareviewofbooks.org/article/feminist-ekphrasis-example-louise-bourgeois/