A Dance That All Began With an Underwater Dream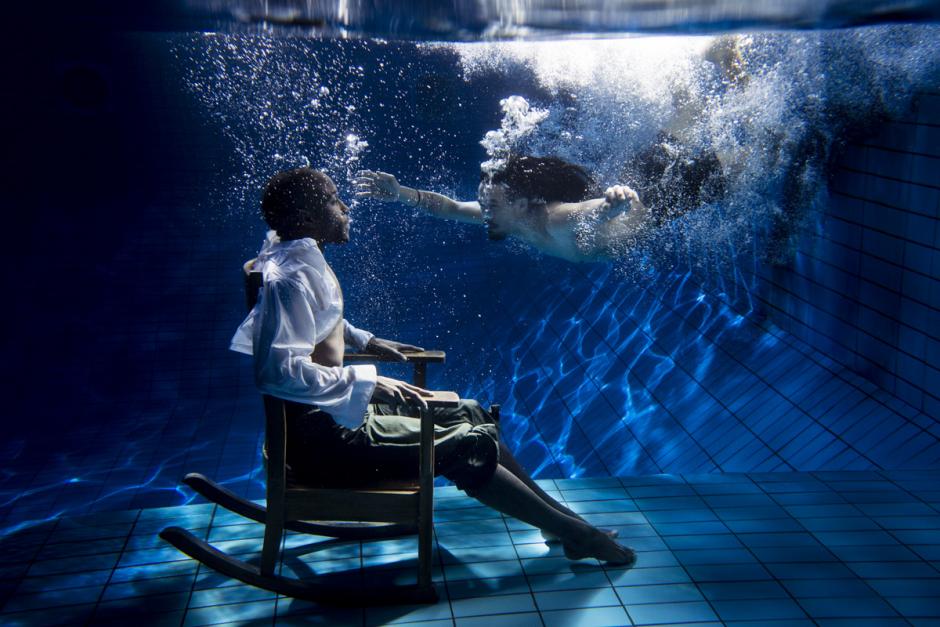 "I had a dream one night," Aszure Barton explains. "I dreamed I was underwater sitting in a rocking chair."
On a Friday evening in early May, that surreal dream became a reality. Barton, an Alberta-born choreographer who is a rising star on the international dance scene, sat at the bottom of Banff Centre's Sally Borden swimming pool. Fully clothed. In a rocking chair. As air bubbles wreathed her body and her red hair spiralled above her face, Donald Lee, the head of the Centre's Photo Services department, bobbed nearby, adjusting the settings on camera equipment he had specially ordered for this shoot.
The images Lee captured were part of the creative process for Barton's latest work, Awáa: PROJECT XII, which premiered at the Canada Dance Festival in Ottawa on June 8.
"Awáa explores the nature of the masculine and the feminine, the sharp and the curved, earth and water," Barton says. "Water is grounded in sensation, it suggests the womb, motherhood, and also a sense of time slowing down."
Barton, along with seven dancers from her company, Aszure Barton & Artists, spent 10 weeks at Banff Centre from March through to June. 
"I crave the opportunity to create without limitations – to begin with an initial seed and then create something out of nothing. This residency gave me the chance to do that," Barton says.
On a practical level, that meant that when Barton decided to follow her dream and experiment with the idea of capturing, and then projecting, images of dancers moving under water as part of Awáa, the Centre delivered – bringing multidisciplinary resources and expertise to the table.
Barton is quick to point out that experimentation like the pool shoot is at the heart of her creation process, and of Awáa. "I didn't begin with a plan. I began by selecting the collaborators I wanted to work with here in Banff." The dancers function as co-creators, contributing their own ideas and methods of expression to the work.
"I might give the dancers a single word, or a colour, or a sensation and ask them to work with that," Barton says. "It can be a challenging process. Your brain has to be turned on all the time. We work together each day from 10 a.m. to 10 p.m. To be able to spend that much time together on the creative process gets you deep into your artistic voice and the work becomes much richer."
Dancer Andrew Murdock, who has worked with Barton since 2007, admits this collaborative model demands commitment, and a willingness to embrace change. 
"The one constant with Aszure is change. Her method is based on discovery in real time – finding an idea and acting on it. One of the things that sets her apart is her endurance for being creative, and as dancers we have to match that stamina."
On a typical day the dancers might explore a sequence of movements. "We record video and take notes as we go, and over time we accumulate material. The result is like a patchwork of different phrases and movements, which is assembled at the end to form a cohesive whole," Murdock explains.
Similarly, the development of the music for Awáa was an organic process. Composers Lev Zhurbin and Curtis Macdonald worked with the dancers in Banff, bringing newly-created music to rehearsals.
"I sketch something, and bring a recording to their studio," says Macdonald. "They listen as they rehearse, which gives them a chance to absorb it, and then we have a dialogue about how it's working." 
Macdonald, a New York-based alto sax player and sound artist who is an alumnus of the Centre's jazz program, describes his composition for Awáa as a cross between music and sound design, blending the sounds of nature, including recordings made at Lake Minnewanka and along the Bow River, with traditional instrumentation.
Barton's intensely collaborative approach to creation has earned her kudos and commissions across the dance world. She has created works for the National Ballet of Canada, American Ballet Theatre, Houston Ballet, the Martha Graham Dance Company, Les Ballets Jazz de Montreal, and in 2005, she was chosen by Mikhail Baryshnikov as the first resident choreographer at New York's Baryshnikov Arts Centre. She was a Paul D. Fleck Fellow at Banff Centre, and in 2009 she created Busk, co-commissioned by the Centre, in Banff.
Born and raised in Edmonton, Barton originally trained in ballet but was always more drawn to the creation of dance than the performance. Today, at 36, she is one of the most in-demand choreographers of her generation. The last few years have brought a whirlwind of activity with commissions and performances spanning from Australia to the Netherlands. Her Banff residency provided a welcome oasis, and a homecoming of sorts.
"My journey over the past decade has been so fast – wonderful but intense. We are all moving so quickly that it is easy to lose a sense of self. Banff is like home to me. Kelly [Robinson, the Centre's director of Theatre Arts] believes in me, and for me, the more I am trusted, the further I can grow," Barton says.
Following the Ottawa premiere, Awáa returned to Banff for a second performance on June 30. Those two performances were not an exact match – another characteristic that distinguishes Aszure Barton's choreography. "It is impossible for us not to influenced by the landscape in Banff," says Barton.
"Every show is a little different," Murdock adds. "Aszure is constantly challenging us. She says, 'be open, be vulnerable'. Inspiration is a process – a give and take – never a product. That's why her best work is created here. She is a rebel, she follows her own path, and that is why she thrives in Banff."
Awáa is a co-production of The CanDance Network Creation Fund, National Arts Centre, Danse Danse, Canada Dance Festival, Le Grand Théâtre de Québec, La danse sur les routes and Banff Centre. It is supported by the Dance Section of the Canada Council for the Arts and Banff Centre's Performing Arts Residency program. 
Aszure Barton returned to Banff Centre in July as the winner of the 2012 Koerner Foundation Distinguished Guest Artist in Choreography to work with dancers in the Centre's Professional Dance Program to create another new work.