New Director of Dance Training: Alejandro Ronceria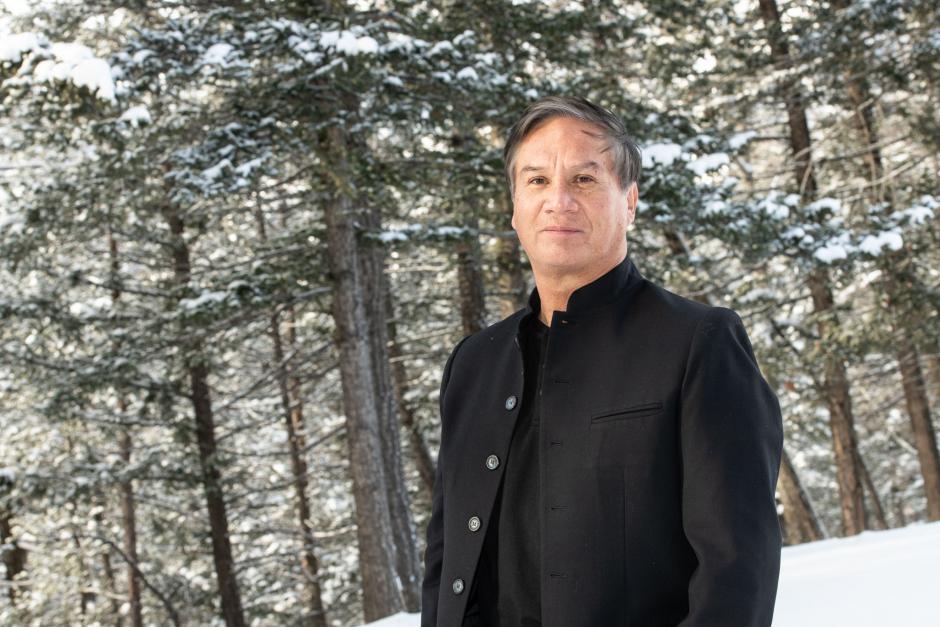 February 3, Banff, AB – Banff Centre for Arts and Creativity is thrilled to announce Alejandro Ronceria as its new Director of Dance Training Programming. Alejandro's dance roots began in Bogota, Colombia in classical ballet and modern dance.  Very early as a choreographer, he began to draw on his mixed Indigenous and Spanish ancestry to develop his dance practice, experimenting with traditional and contemporary approaches to form.  Alejandro brings impressive Canadian and international experience as an artistic director, choreographer, dramaturge, educator and producer.
Banff Centre is excited to witness the creativity that Alejandro will bring to its dance programs in the coming years and thrilled to embrace to wealth of experience and knowledge that Alejandro brings to the team
Janice Price, President and CEO
Banff has always felt like a second home for me and my practice. It was truly memorable to lead the first Indigenous dance program in North America established at Banff, which helped to develop the careers of many talented dance artists making a difference today. I am honoured to be directing dance training programs at Banff Centre. In movement, the circle is a powerful shape; I see this role as the completion of a beautiful circle.
Alejandro Ronceria, Director of Dance Training Programming
In taking on this role, Alejandro is rekindling a long relationship with Banff Centre that began in 1996 as co-founder and head of 'The Aboriginal Dance Program,' which was the first International, Indigenous dance program in North America, where he developed an annual curriculum for emerging and professional dancers, supervised programs, conducted senior choreography and self-scripting workshops, and collaborated with the theatre department, faculty teachers and guest artists. He was co-creator, co-director, and choreographer for Banff Centre productions such as Dances Around Fire in 1998, Dances for a New Century in 1999, and 'Bones' in 2000. Ronceria returned to the Banff Centre in 2019 and developed and directed the "Intercultural Indigenous Choreographers Creation Lab", an intensive creation lab for choreographers. Recently, he was also on the panel of adjudicators for the 2021 Banff Centre Clifford E. Lee Choreography Award. 
When looking for a new Dance Director for Banff Centre, we thankfully did not have to look far. Alejandro has all of the qualities Banff Centre is looking for in a Director at this time, including opening to new and non-traditional styles of dance.
Mark Wold, Dean of Arts and Leadership Programming
When I was designing a new Dance residency for Indigenous Arts it seemed fitting to look back at what made Indigenous Dance at Banff Centre integral to so many Indigenous dancers and choreographers. Alejandro was and remains a large part of that community. It makes complete sense to welcome him back to leading the Dance programming across all Banff Centre. Such a great step forward for all of us!
Reneltta Arluk, Director of Indigenous Arts
More about Alejandro Ronceria:
Alejandro Ronceria – Alejandro Ronceria is a Toronto-based Artistic Director, Choreographer, Producer and Educator with a career that spans over 30 years of experience in Canada and abroad. Internationally acclaimed for the creation and direction of original cultural experiences in dance, he has helmed the artistic direction of significant national and international cultural productions including choreographer for the Welcome from the Indigenous segment, for the official opening of the 2010 Canadian Winter Olympic Games. Recent projects include "Amalgama" City of Toronto dance commission for the Pan-American Games (2015), artistic director  "Adaka Festival Gala" in the Yukon (2019) as well as director/dance dramaturge for "Kateri Tekakwitha", a multidisciplinary production with composer Barbara Croall and the McGill Chamber Orchestra in Montreal (2019).
Recognized as a pioneer in Indigenous dance worldwide, Ronceria was Program Director of the first Aboriginal dance program in North America, at The Banff Centre for the Arts from 1996- 2000. The ground-breaking program brought together diverse Indigenous/Inuit dancers from across Canada, the USA, Mexico, New Zealand and Greenland, an incubator that developed a bold new generation of Indigenous dance artists and served as a model for various schools for Indigenous dance internationally. One of the program's productions included "Bones" the first Canadian Aboriginal Dance Opera (2001), in collaboration with Sadie Buck and choreographed by Ronceria. Recently Ronceria returned to the Banff Centre and developed and directed the "Intercultural Indigenous Choreographers Creation Lab", an intensive creation lab for choreographers
As well as directing, Ronceria is an inspired educator, experimenting with new methodologies, guest teaching and leading master classes in choreography and movement. Very active also as a Dance Dramaturge, he has worked with numerous independent choreographers. Ronceria is the first recipient of York University's MFA in Dance Dramaturgy and the first to hold this degree from a Canadian university. Ronceria was also an early pioneer in dance and new media in Canada and directed several dance and performing arts films including "A Hunter Called Memory" which world premiered at TIFF 1996, followed by an international premiere at Sundance.
He continues to explore the intersection of dance and new media and often incorporates new technologies in his productions. Born in Bogota, Colombia, Ronceria is classically trained and danced for the National Ballet of Colombia and National Opera Company of Bogota. He continued his classical training in the Soviet Union, New York and Montreal and moved to Canada in 1984. He danced for Canadian contemporary choreographers like Jean-Pierre Perreault and Karen Jamieson before premiering his first major solo work "The Jaguar Project" at the DuMaurier World Stage Festival in 1991. With the Jaguar Project, Ronceria began to explore his mix raced heritage (Indigenous/Spanish) as an artist, leading to a lifelong passion for new forms of dance, pushing boundaries of traditional Western dance frameworks and creating space for emerging diverse artists
More about Dance Programming at Banff Centre:
Dance programs at Banff Centre provide a rare space for today's curious professional dance artist. Dance programs encourage research, sharing, and questions around topics such as the creation process, training, somatic practices, and the future of contemporary dance.
Banff Centre has been training artists since 1933 in the Canadian Rockies. Dance programs started here in the late 1940s when Gweneth Lloyd and Betty Farrally, co-founders of the Royal Winnipeg Ballet, initiated a six-week summer program with a focus on ballet training. In those formative years, Dance programs expanded to include public presentations as part of the Banff Summer Arts Festival as well as touring to cities across western Canada.
In 1972, under Arnold Spohr's direction, the program evolved through cross-county auditions and scholarships. A decade later, in 1982, Brian Macdonald was appointed head of dance and ballet, and, with his wife Annette Av Paul as associate, served in this role until 2002. Dance programs flourished at Banff Centre over the following decades, featuring performances every season and innovative residencies to train choreographers, dancers, and dance companies.
Notable residencies in dance over Banff Centre's history include the following companies: O Vertigo, Compagnie Marie Chouinard, Joe Ink, PPS Danse, Ballet Jörgen, Ballet BC, Decidedly Jazz Danceworks, Sylvain Émard Danse, BJM Danse, Alberta Ballet, Red Sky Performance, Kaha:wi Dance Theatre, Royal Winnipeg Ballet, Kidd Pivot, Wen Wei Dance, Beijing Modern Dance Company, and Aszure Barton & Artists.
Banff Centre is active in presenting touring dance companies and has become an important stop for national and international companies touring Western Canada. Among many others, Banff Centre has hosted Toronto Dance Theatre, Grupo Corpo, Compagnie Käfig, Sampradaya Danceworks, 605 Collective, Montréal Danse, Bboyizm, Out Innerspace Dance Theatre, Tara Cheyenne Friedenberg, Holy Body Tattoo, National Ballet of Cuba, Heidi Strauss, Louise Lecavalier, Ballet Kelowna, Northwest Dance Projects, and Ballet BC.
From 2014 to 2019, internationally respected choreographer and dance artist Emily Molnar was Artistic Director of Dance, guiding Banff Centre's dance initiatives in collaboration with the dance community, and including programs, partnerships, commissions, residencies, workshops and other forms of professional development related to dance. Banff Centre thanks her for her contributions and wishes her best of luck in her role as Artistic Director of the Nederlands Dans Theater.
About Banff Centre for Arts and Creativity:
Founded in 1933, Banff Centre for Arts and Creativity is a learning organization built upon an extraordinary legacy of excellence in artistic and creative development. What started as a single course in drama has grown to become the global organization leading in arts, culture, and creativity across dozens of disciplines. From our home on Treaty 7 territory in the stunning Canadian Rocky Mountains, Banff Centre for Arts and Creativity aims to inspire everyone who attends our campus – artists, leaders, and thinkers – to unleash their creative potential and realize their unique contribution to society through cross-disciplinary learning opportunities, world-class performances, and public outreach.
Land Acknowledgement:
We acknowledge, with deep respect and gratitude, our home on the side of Sacred Buffalo Guardian Mountain. In the spirit of respect and truth, we honour and acknowledge the Banff area, known as "Minhrpa" (translated in Stoney Nakoda as "the waterfalls") and the Treaty 7 territory and oral practices of the Îyârhe Nakoda (Stoney Nakoda) – comprised of the Bearspaw, Chiniki, and Wesley First Nations – as well as the Tsuut'ina First Nation and the Blackfoot Confederacy comprised of the Siksika, Piikani, Kainai. We acknowledge that this territory is home to the Shuswap Nations, Ktunaxa Nations, and Metis Nation of Alberta, Region 3. We acknowledge all Nations who live, work, and play here, help us steward this land, and honour and celebrate this place.