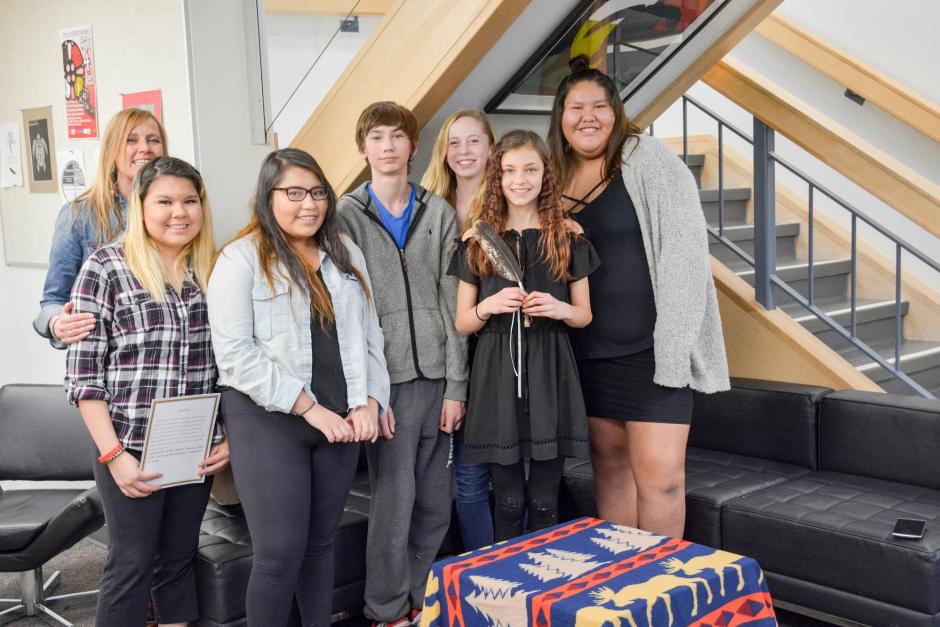 This article originally appeared in the 2018-19 issue of Buffalo Mountain Drum magazine. Pick up a copy on campus. 
The patchwork quilt. Many of us have one in our closets. They can be simple, functional uses of scrap fabric or gifts to honour weddings and births. No two quilts are the same, and yet they share a deep commonality. Somebody stitched each square together with love. You see a patchwork quilt in someone's home and you understand.
Oilfields High School is located in Black Diamond, Alberta, about a half-hour southwest of Calgary. Approximately 35 First Nations, Métis, and Inuit students attend the school, about one third from the Stoney Nakoda Nation in nearby Eden Valley. Up until 2015, these Indigenous students felt isolated from the rest of the school population: set apart from the mainstream, 35 against hundreds, a microcosm of the world outside.
Darlene Cox, First Nations Métis Inuit Success Coach for Foothills School Division, knew this wasn't a healthy situation for any student.
"It begins with youth," she replied, when asked how she thought reconciliation would take hold in Oilfields High School. "The kids get to decide how their lives will go. It's my job to give them opportunity."
The opportunity Darlene gave the school was to bring the kids — Indigenous and non-Indigenous students alike — together to tell the story of this land from pre-contact to present day through an interactive workshop called the Blanket Exercise.
In the Blanket Exercise, participants spread blankets across the floor, creating a giant patchwork quilt representing all of Turtle Island, and the participants stand upon the blankets representing all peoples. Artifacts such as moccasins, beadwork, and Métis sashes are handed out to some, and others read scrolls with quotes from Indigenous youth, artists, activists, Chiefs, the Truth and Reconciliation Commission of Canada, Indian Act, British North America Act, and Royal Commission on Aboriginal Peoples. Bit by bit, as the scrolls are read and blankets are taken away, the fabric literally unravels beneath the participants' feet. Friends and relatives who lose their ancestral lands are cast outside the frame. Those who remain are disconnected from the people and the land that once held them together, until finally all that remains are blankets folded so small that only one person can stand — scattered shreds that bear no resemblance to time immemorial, the gaps between too wide and random to even try to mend.
It's a visceral demonstration of how a culture is destroyed through assimilation. But there is learning, healing, and ceremony during each Blanket Exercise, beginning with a smudge and ending with a circle talk to allow participants to share their experience. "The adults get pretty emotional," Grade 8 Jorja says with a small smile. "The kids just process, especially if there are Indigenous kids in their school."
Through the transformations she's witnessed within her school, Darlene knows reconciliation is within reach. Healing is happening. The gaps between are shrinking. This is particularly evident when students are confronted with hotly divisive issues such as the Colten Boushie case, which might normally have ripped Indigenous and non-Indigenous students further apart, yet now there are relationships and dialogue.
"We do this work so that people can share the insights they have learned, of the healing of our shared past that needs to happen in order to move forward," explains Darlene. "This is just as important for Indigenous as non-Indigenous participants. The healing needs to happen on and off reserve." The quilt may look much different in the generations ahead, but these acts of reconciliation are helping students reconnect to their own stories and ancestry, one piece at a time.
Darlene attended Banff Centre's Truth and Reconciliation Summit in 2016 with three students from Oilfields High School. The Blanket Exercise is their answer to the Truth and Reconciliation Commission's Call to Action 63.3.