Decolonizing the Narrative Conversation Series: Joely BigEagle-Kequahtooway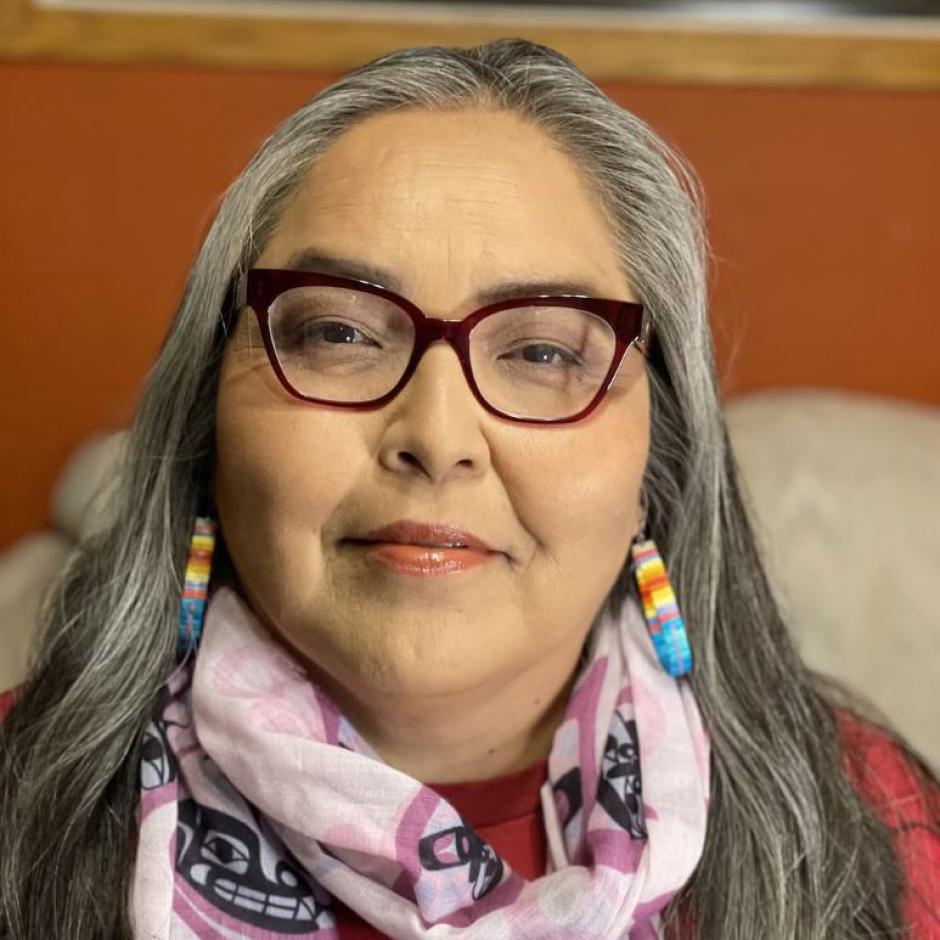 Decolonizing the Narrative Conversation Series is an online conversation session that invites leading Indigenous Art creators to talk about their practices and processes, facilitated by Reneltta Arluk, Director of Indigenous Arts at Banff Centre.
The Conversation Series engages an Indigenous lens in the various arts forms of Literary Arts, Film and Media Arts, Digital Media, Visual Arts, and Performing Arts including Theatre, Dance, and Music with Opera, Singer/Songwriter, and Classical Music. Explore and deepen your understanding of how Indigenous artists are using their arts discipline as a tool to decolonize artistic process and creation.
Joely BigEagle-Kequahtooway
Rematriate: Bringing Back the Matriarchs
Joely grew up in Treaty 4 territory. She is a buffalo artist. Everything she creates revolves around bringing back the buffalo mentally, physically, spiritually and emotionally. She believes we are responsible for creating compasses for our future generations to follow, just as our ancestors did for us. 
Joely will be sharing how matriarchs have been a main inspiration in her artistic practice and research around buffalo and how important it is to acknowledge our past as we create new futures. Indigenous peoples all over the world are searching for ways to decolonize and planning for the next seven generations is underway. "How will the next 1000 years be mapped out for Indigenous peoples?" is a question Joely seeks to answer through her art.
This session takes place over two days:
October 19:  Joely BigEagle-Kequahtooway does a presentation of her work.
October 20: Be part of a conversation with Joely BigEagle-Kequahtooway and Janine Windolph. This second session is the space intended for your questions and comments.
Sessions may share experiences and ask difficult questions.
These are registration only and questions and answers will remain unrecorded.
With support from:

Meet Joely BigEagle-Kequahtooway
Joely BigEagle-Kequahtooway is an interdisciplinary artist whose main source of inspiration is Tatanga aka Buffalo. She is a fashion and textile designer, visual artist, beader, storyteller and co-founder of the Buffalo People Arts Institute. She comes from a long line of Buffalo hunters and is Nakota/Cree/Saulteaux from the White Bear First Nations - signatory to Treaty 4.
She has degrees in Civil Engineering from the University of Calgary and Mathematics from the First Nations University of Canada. She loves to incorporate mathematics and geometry in her artwork and is inspired by the perfect symmetry in nature.
Her mantra envelopes everything Buffalo as it connects her to ancestral memories, the land and is the manifestational glue that keeps her world together
Meet Janine Windolph
Janine Windolph (Atikamekw/Woodland Cree) is the Acting Director of Indigenous Arts at Banff Centre Arts and Creativity. Windolph is known as an Interdisciplinary artist: filmmaker educator, curator, and storyteller. She has a Master of Fine Arts Interdisciplinary in Indigenous Fine Arts and Media Production. 

Filmography includes Stories Are In Our Bones (Director/Writer) Lifegivers: Honoring Our Elders and Children (Director/Writer), The Land of Rock and Gold (Director/Writer/Producer), Ayapiyâhk ôma niyanân "Only us, we are here at home" (Production Mentor/Narrator), From Up North (Producer), The Beacon Project: Stories of Qu'Appelle Valley (Production Support/Storyteller /Producer), and RIIS from Amnesia: Recovering the Lost Legacies (Co-Director and Co-Producer).