Decolonizing the Narrative Conversation Series: Marjorie Beaucage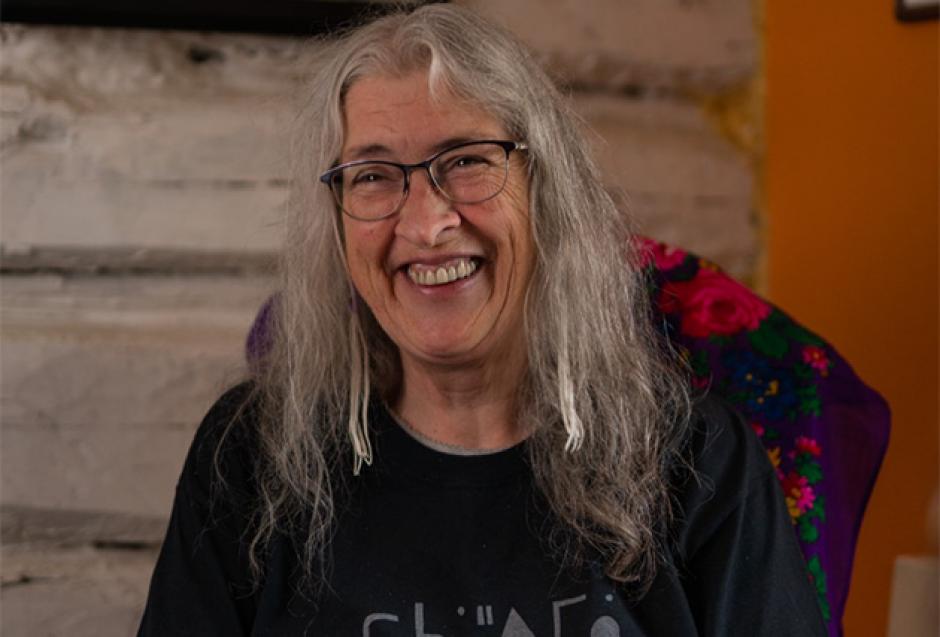 Decolonizing the Narrative Conversation Series is an online conversation session that invites leading Indigenous Art creators to talk about their practices and processes, facilitated by Janine Windolph, Director of Indigenous Arts at Banff Centre.
The Conversation Series engages an Indigenous lens in the various arts forms of Literary Arts, Film and Media Arts, Digital Media, Visual Arts, and Performing Arts including Theatre, Dance, and Music with Opera, Singer/Songwriter, and Classical Music. Explore and deepen your understanding of how Indigenous artists are using their arts discipline as a tool to decolonize artistic process and creation.
Marjorie Beaucage
Movements of My Life
"Homeland. Spirituality. Women. Social Action. Relationships. Story Medicine. Eldering These are the movements of my life. I have moved and been moved throughout my life.. Seeking my purpose, making my way, choosing my paths, trailblazing where the path did not exist. Seeking change. Not playing according to old rules when a whole new way is needed. Refusing to be caught by guilt apathy or despair. What is the shape of the new order? Dreaming and wooing new combinations for justice making. Forming new relations. Being imaginative, irrational, spontaneous, beyond the pragmatic and realistic. Losing my bonds. Midwife to my Self. Memories… what do I re-member… what is real… possible histories, dreams, fantasies…Still, memories are steppingstones from times past… sifting through my past lives and uncovering truths, lessons, confessions, insights… understanding who I am… what have seven decades of living taught me? To recollect is to re-enter and transform…Each of us has a value perspective… an "authority" within… and it is revealed in the stories we tell."
This session takes place over two days:
December 21:  Marjorie Beaucage does a presentation of her work.
December 22: Be part of a conversation with Marjorie Beaucage and Janine Windolph. This second session is the space intended for your questions and comments.
Sessions may share experiences and ask difficult questions.
These are registration only and questions and answers will remain unrecorded.
With support from:

Meet Marjorie Beaucage
Marjorie Beaucage is a Two-Spirit Métis Auntie, filmmaker, art-ivist and educator, a land protector and a water walker. Born in Vassar, Manitoba, to a large Métis family, Marjorie's life's work has been about creating social change, working to give people the tools for creating possibilities and right relations. Whether in the classroom, community, campsite or the arts, Marjorie's goal has been to pass on the stories, knowledge and skills that will make a difference for the future. For Marjorie, story is medicine.
As a Two-Spirit Métis Elder, Marjorie takes on the tough topics that need to be discussed. Her work is focused on giving voice to, and creating safe cultural spaces for, traditionally silenced or excluded groups. Marjorie is known on the local, regional and national levels as one who speaks truth to power, and who holds space for difference. Her 40+ films and videos embody this vision of the world.
She has been a Grandmother for Walking With Our Sisters; the Elder for OUT Saskatoon; and the Elder-In-Residence for the University of Saskatchewan Student Union. She has also been called on for national research initiatives that focus on Indigenous women living with HIV, Indigenous Harm Reduction, Indigenous youth who experience sexual and gender-based violence, and posttraumatic stress. In all of these, Marjorie returns to story as medicine, to art as medicine. Marjorie says of her work, "creation is a powerful thing; whether you're making a baby or a loaf of bread or a movie, it comes from the same place. To get people to tap into that energy, that creates possibilities, so they don't get stuck in this craziness that we're in is transformative."
As a current Board Member of Chokecherry Studios, she is giving back to future art-ivists as they stand up for themselves and their community through creating art, music, writing. Her book, Movements of My Life, will be released in Spring 2023 by Kegedonce Press, and she recently created a number of harm reduction short videos during an artist residency an artist residency at PAVED Arts in Saskatoon.
Marjorie Beaucage RainbowWarrior
Meet Janine Windolph
Janine Windolph (Atikamekw/Woodland Cree) is the Director of Indigenous Arts at Banff Centre Arts and Creativity. Windolph is known as an Interdisciplinary artist: filmmaker educator, curator, and storyteller. She has a Master of Fine Arts Interdisciplinary in Indigenous Fine Arts and Media Production. 

Filmography includes Stories Are In Our Bones (Director/Writer) Lifegivers: Honoring Our Elders and Children (Director/Writer), The Land of Rock and Gold (Director/Writer/Producer), Ayapiyâhk ôma niyanân "Only us, we are here at home" (Production Mentor/Narrator), From Up North (Producer), The Beacon Project: Stories of Qu'Appelle Valley (Production Support/Storyteller /Producer), and RIIS from Amnesia: Recovering the Lost Legacies (Co-Director and Co-Producer).