Decolonizing the Narrative Conversation Series: Richard Van Camp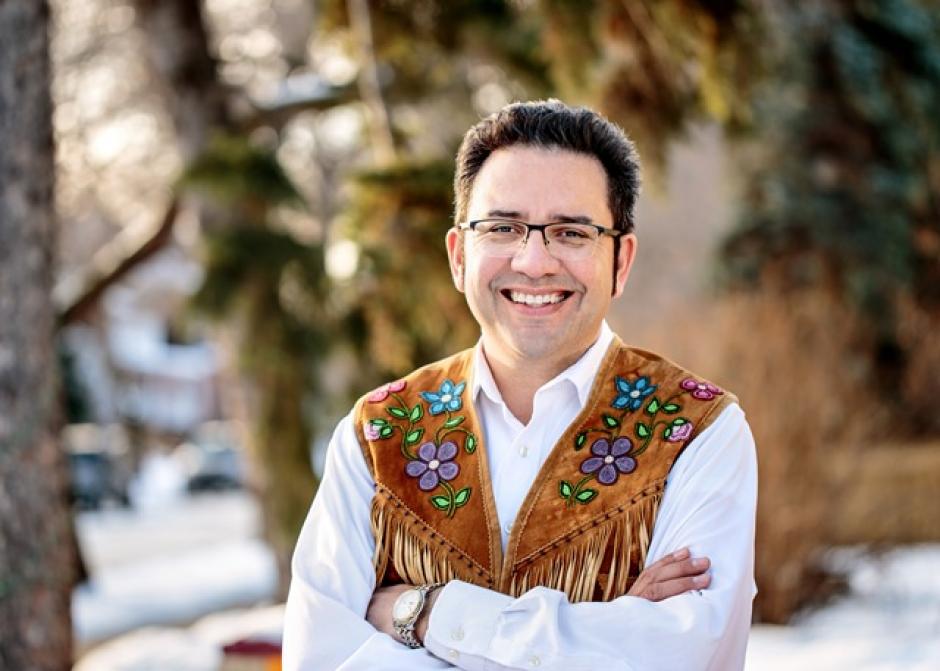 Decolonizing the Narrative Conversation Series is a monthly online conversation session that invites leading Indigenous Art creators to talk about their practices and processes, facilitated by Reneltta Arluk, Director of Indigenous Arts at Banff Centre.
The Conversation Series engages an Indigenous lens in the various arts forms of Literary Arts, Film and Media Arts, Digital Media, Visual Arts, and Performing Arts including Theatre, Dance, and Music with Opera, Singer/Songwriter, and Classical Music. Explore and deepen your understanding of how Indigenous artists are using their arts discipline as a tool to decolonize artistic process and creation.
Richard Van Camp is a Tlicho Dene storyteller and bestselling author of 27 books over 27 years in just about every genre. In this hilarious and inspiring conversation, he will share why and how he honours so much of his culture in his graphic novels, comics, short stories and novels. You'll see how he uses comics to honour traditions like respecting water, the prophecy of Deline prophet Ayah, the Tlicho ceremony of Tlicho Naowo, our Dene laws and honouring Fort Good Hope Chief Frank T'Seleie during the Berger Inquiry and more in the Moonshot series and graphic novel anthology: This Place: 150 Years Retold. Growing up in Fort Smith, NWT, Richard always wondered why he alway had to learn about other places in the south when, really, he wanted to know more about what it meant to be Dene, to be Tlicho, to be a Fort Smither. In his novella, When We Play Our Drums, They Sing!, he finally explores this frustration of starving for culture and connection to to the land and Knowledge Keepers. 
Richard has spent his adult life interviewing Elders and Knowledge Keepers and sharing what he's learned not only for himself but for his family, his community and for future generations.
"Richard is a story whisperer, they just visit him. Come join us as he delves into the worlds he is part of and creates."
-Renaltta Arluk, Director, Indigenous Arts
This session takes place over two days:
April 20: Richard Van Camp does a presentation of his work.
April 21: Be part of a conversation with Richard Van Camp and Reneltta Arluk. This second session is the space intended for your questions and comments.
Sessions may share experiences and ask difficult questions.
These are registration only and questions and answers will remain unrecorded.
With support from:

Meet Richard Van Camp
Richard Van Camp is a proud Tlicho Dene from Fort Smith, NWT. He is the best selling author of 27 books in just about every genre. His novel, The Lesser Blessed, is now a feature film with First Generation Films. Three Feathers, the movie, is based on his graphic novel with Krystal Mateus and it is the only movie ever shot in four languages: Bush Cree, Dene, South Slavey and English.
You can visit Richard on Facebook, Twitter, Instagram, SoundCloud, YouTube and at richardvancamp.com
Meet Reneltta Arluk
As Banff Centre's Director of Indigenous Arts, Reneltta is focused on fostering Indigenous culture through storytelling, and she's doing it by building a community that supports Indigenous artists, helping them discover their voice and turn their ideas into reality.
 


Reneltta Arluk, Director of Indigenous Arts, Banff Centre.
Photo by Nahanni MacKay.