Back to the Future—Breaking down walls at EQ: Evolution of the String Quartet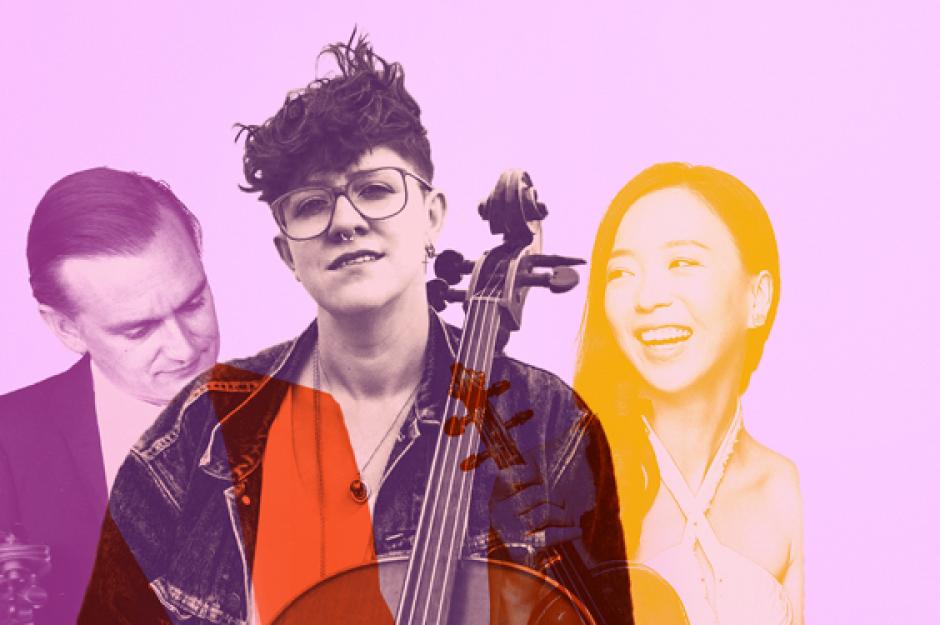 This article originally appeared in the Spring/Summer '18 issue of InStudio magazine. Read more from the issue here, or pick up a copy on campus. 
It's easy to immediately think in historical terms when one encounters "evolution" and "string quartet" together in a sentence. After all, the genre, like the rest of classical music, carries the weight of a tradition that spans centuries. Yet for Co-Artistic Directors Claire Chase and Steven Schick, the theme of their program EQ: Evolution of the String Quartet at Banff this summer reaches somewhere deeper than chronicling compositional aesthetics or innovations in performance practice.
"Evolution is an artistic, human, and spiritual rite," declares Chase of the program's premise—at once lofty and primordial. "Embracing that is what makes us alive as musicians."
Chase herself is very much alive as a musician. The leading American flutist has enjoyed an illustrious career since founding the International Contemporary Ensemble (ICE) in 2001. On top of initiating Density 2036, an ambitious 22-year commissioning project aimed a generating solo flute repertoire to honour (groundbreaking Varèse solo) Density 21.5's centenary, she made her debut at Carnegie Hall in 2010, was a 2012 MacArthur Fellow, and was the recipient of last year's Avery Fisher Prize.
Schick has commissioned or premiered over 150 new works over the past 40 years. He was Bang On a Can All-Stars' percussionist from 1992-2002 and is now a Distinguished Professor of Music at University of California San Diego, where he leads the ensemble red fish blue fish. Having performed everywhere from Lincoln Center to the BBC Proms, he's also published an acclaimed book The Percussionist's Art: Same Bed, Different Dreams, and recorded for Mode, Wergo, CRI and Sony Classical.
Rather than working within existing frameworks for chamber music programs, the pair built EQ to stimulate personal growth through challenging preconceptions. With improvisation workshops, unconventional installation-like performances, collaborations, musicological musings, open-to-the-public rehearsals, and three staggeringly different new commissions, the program promises to spark conversations around classical music's conventional wisdom. Yet, while the approach is steadfastly radical, there's ample room for tradition. Explicitly inspired by the legacy of string quartet programming at Banff, tradition—or perhaps traditions, plural—is in fact one of the program's cornerstones. It's just that for its creators, tradition is subject to the same imaginative scrutiny as everything else.
"Evolution is an artistic, human, and spiritual rite."

 
Toronto's Eybler Quartet, one of three faculty ensembles, exemplifies this complex dynamic between tradition and exploration. Since 2004, the Eybler has concerned itself with exhuming works, especially obscure ones, from the string quartet's first century—a process that places past and present in dialogue with one another. Outfitted with era-appropriate instruments strung with gut strings and tuned slightly lower (de rigeur throughout the 18th century), they've honed a warm, transparent sound and crisp, precise sense of articulation. When this combination is applied to Vanhal, Asplmayr, Dittersdorf or their namesake Joseph Leopold Eybler, all lesser-known contemporaries of Haydn and Mozart, their works magically teem with newfound life.
Unlike composers from Beethoven onwards, those writing during the earlier classical period were typically involved in performing their own works. Consequently, features such as phrasing, dynamic shapes, and bowing were customarily worked out in rehearsal, rather than notated in the score. The absence of these markings, definitive interpretations of these works, and of course the composers, leaves the quartet with considerable interpretive freedom. "When you're playing music that doesn't have those details, you have to find meaning elsewhere in the music," notes violinist Julia Wedman. It's a deeply personal journey, but Wedman is careful to also detail the meticulous analysis that informs the readings of each of these pieces.
The Eybler Quartet's process plugs it right into one of EQ's key principles: what Schick terms breaking down the "chronological wall." On one hand, it's about adopting an open, holistic attitude toward all eras of musical activity. On the other, it's about channeling history through the present. For Schick, breaking that wall down within his own thinking was a question of dislodging biases — one of the evolutionary processes he and Chase hope to engender this summer. He divulges that, at one point in his life, he would've been suspicious of traditional ensembles appending a token contemporary piece to an otherwise canonical bill. One day, the inverse dawned on him.
"When have you ever in the world of contemporary music seen anybody care about something where the ink was actually dry?"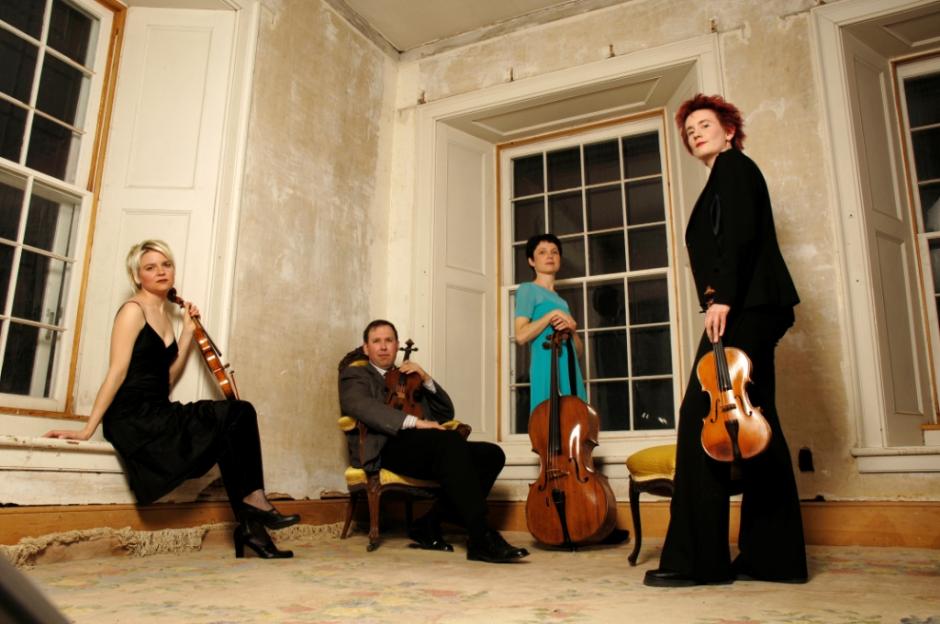 Composer and cellist Cris Derksen's vital rhythmic profile and eclectic influences stood out for the Eybler and prompted them to commission her for this summer's program. A cursory meeting in January affirmed their enthusiasm and they discovered additional common ground. "She said something like, 'When I was a student I had a difficult time playing music the way everybody else wanted me to'," recounts Wedman. "I think as period performers, we also felt like we needed to find our own voice and our own way of doing things."
Derksen rose to prominence with her Juno-nominated album Orchestral Powwow (2015), a rich, unprecedented hybrid of her Cree heritage, classical training, and immersion in various pulse-driven electronic musics. "There's a lot of space at the intersection where traditional and contemporary meet," says Derksen, remarking that "whether it's Indigenous sounds or western art music sounds, [tradition] is a nice place to pivot from."
"It's really exciting for us to work with somebody who's really listening to our style and wants to know what we think about," says Wedman, laughing heartily that in the case of the group's typical repertoire, "we talk to the composers, but they don't usually answer us."
For New York City's JACK Quartet, the act of working directly with composers isn't such a novel concept. In fact, as one of the foremost contemporary quartets in the world, they've built their career on it. While one might point to their deftness in confronting musical and physical complexity, or their musicality within unfamiliar tuning systems as their defining features, according to violist John Pickford Richards, their true ethos isn't quite so formalized.
"We thrive off a challenge as performers," he says. "I look for that in general when I digest art—I like to be pushed really far. Yet, I'm always surprised by what does challenge me."
"We talk to the composers, but they don't usually answer us."

 
This eagerness to discover paradigms beyond the well-worn markers of 'newness' (the dissonance, fragmentation, and provocation that characterized a lot of 20th century innovation) aligns them perfectly with Schick and Chase's vision of evolution. The commission from composer and percussionist Tyshawn Sorey to be unveiled during EQ is a perfect example. Sorey is a recent addition to Wesleyan University's faculty, and his softly defiant explorations along the edges of improvisation, jazz, and contemporary music earned him one of last year's MacArthur Foundation Fellowships. Richards is excited to work with Sorey partly because the composer's polymorphous output makes the outcome of the collaboration difficult to predict.
The ardent commitment to recent work still elicits questions around tradition. "I think I always used to be searching for new pieces to fall within the lineage, but now I'm not so concerned with developing the next masterpiece," Richards concedes. Certainly they've worked directly with their share of modern masters: John Zorn, Chaya Czernowin, Helmut Lachenmann, Caroline Shaw, and Steve Reich to name a few, yet the quartet technically operates a non-profit with a significant outreach component making for constant interaction with communities of emerging artists. They're also invested in pedagogy, where their aim is to demystify contemporary music and encourage stylistic and historical fluidity in younger players.
With a Grammy Award and a prestigious residency at Harvard University on its résumé, the Parker Quartet is nothing short of exemplary. Yet mainstream success doesn't mean its members have lost sight of their humble beginnings, nor has it inhibited their desire to explore. "At the very beginning we didn't have this ambition to make a career out of playing string quartets," reveals their violinist Daniel Chong. "It was purely synergy—getting along really well and feeling like our playing was compatible with each other." This natural and intuitive foundation has since matured into their signature cohesion as an ensemble. It also serves as their open-ended curatorial model—so long as it sounds good to them, they're content to plunge into music of any era. Their site showcases nimble, radiant renditions of Shostakovich, Beethoven, and Kurtág. Meanwhile, this summer they'll be teaming up with the JACK Quartet at Banff for a commissioned octet by Canadian composer Zosha Di Castri.
Bodner candidly explains, however, that their seamlessness as a unit has proven to be somewhat double-edged. "We have this extremely homogeneous sound but the weakness of that is that we have to work to make sure that all of our individual voices have their own unique role while contributing to the greater whole." She adds that it "can cause us almost to take for granted that we're just going to know what each other is talking about." Her assured vulnerability is disarming, but it demonstrates her insight into how crucial vulnerability is to artistic growth. And she's resourceful in turning those shortcomings around, noting that collaborations of various kinds have helped the group access new kinds of fruitful communication as an ensemble.
This self-awareness and desire to connect cuts directly to the precise sort of evolution Schick and Chase value — a perpetual and dynamic engagement rather than a journey that arrives at a specific destination. Inasmuch as these three quartets embody exceptional musical skill and sensitivity, perhaps more importantly they are all uncharacteristically open—prepared for learning, for conversation, and even, on some level, for conflict. According to Chase, the intention of EQ is to "put groups and individual musicians from different backgrounds together to grapple with each other, and their different versions of history, and their different versions of the future. We're so used to staying in our lanes."
"Given our current state," Schick quips, with a wry nod toward the present political landscape, "it's hard to argue for the fact that the end stage of evolution is somehow superior to some earlier manifestation."
Yet, "change surrounds us," Schick says. "We have in our hands as artists—more than almost anyone else in this culture—the tools to make change a positive attribute in society."
Summer Music is generously supported by several individuals, foundations, and endowments.