Banff Centre Artists Build Interactive Spaceship at Beakerhead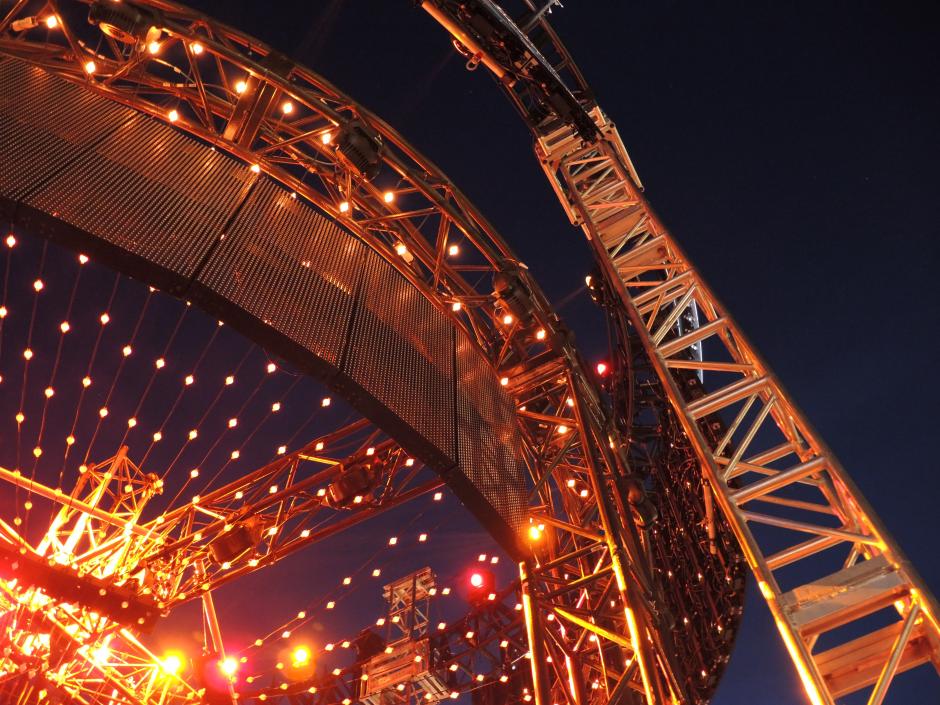 We caught up with Big Bang Residency participants Beama Visuals at the international premiere of the piece they developed right here at Banff Centre for Arts and Creativity: the BASS Ship, currently on at Beakerhead in Calgary. Read on to learn about how the team created this giant interactive spaceship, and how you can apply for the residency and funding that helped them do it.
Before you see it, you will hear it. You might even feel it rumbling the ground beneath you. From afar it looks like a lone carnival ride that, out of nowhere, was dropped on the boardwalk, lights flashing and bass music thumping. It's unexpected. It's magnetic.
It's a 30-foot-tall spaceship right in the middle of Calgary's East Village Riverwalk, after all.
The spacecraft in question is the art and production collective Beama Visual's BASS Ship, premiering at Beakerhead 2016, an annual festival smash-up of science, art and engineering in Calgary.
B.A.S.S. stands for Beama Applied Science Sector, the fictional research and development arm of the live event production team that's designed and created stages and video works for DJs and music festivals all over the world. And while Beama has done some art installations in the past, the BASS Ship is a new challenge.
"We've done a lot of public art for sure, but nothing like this," says Beama founder Dillon Butz. "This is a very large scale."
Beama was the first collective to attend the Big Bang Residency, a partnership between Banff Centre for Arts and Creativity and Beakerhead. The program supports the creation of a major new artwork that "references science, technology and collective experience." The selected team receives funding to create a piece, and a weeklong creative residency at Banff Centre where the group can find the time and space to develop the artistic side of their proposal. The program is open to international artists, engineers, architects, designers, scientists and others, and applications are currently open for next year's residency.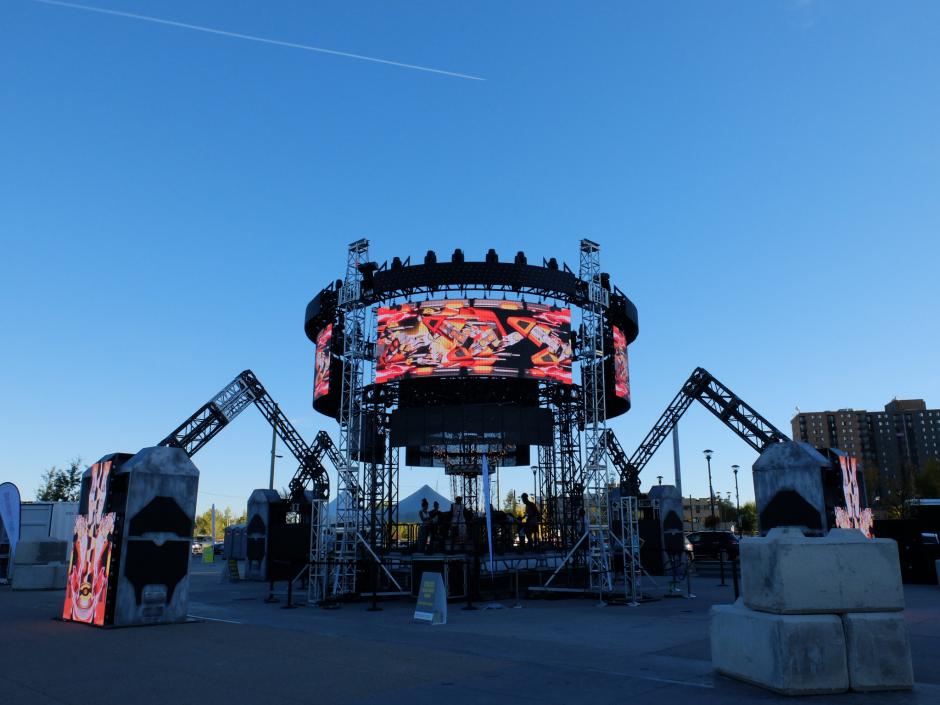 Beama arrived in Banff December 2015, and settled into the Leighton Artists' Colony's Painter House to dig deeper into the backstory of the BASS Ship.
"We had a flip sheet with a bunch of notes on it, we had a TV that was playing non-stop sci-fi, we were having debates, some arguments, some laptops open, some notepads—sketchbooks everywhere," said Beama's art director Leigh Powless of their brainstorming week in the mountains.
"Being able to go out to Banff Centre really allowed us to stretch our muscles in a different way. It's just a really incredible space to develop ideas and to have feedback from really relevant sources."
The team, made up of Powless, Butz, animator Ben Leonard and programmer Justin Dixon, took that feedback and, over the following eight months, produced this larger-than-life creation that you can step inside and experience.
All told the structure spans 68 feet wide and 30 feet tall. In the middle of the ship, between three control stations, there are hundreds of strings of LED bulbs that pulse along with the sounds, creating an "energy core," of sorts. Some 260 LED panels wrap around the outside of the structure displaying animations that visualize the sounds being played, from neon waveforms to sweeping bursts of light; and, of course, many booming speakers blast music out to the curious crowd. 
The whole structure feels like a piece of eye candy at a rave, until you step on deck and actually get to control what's happening.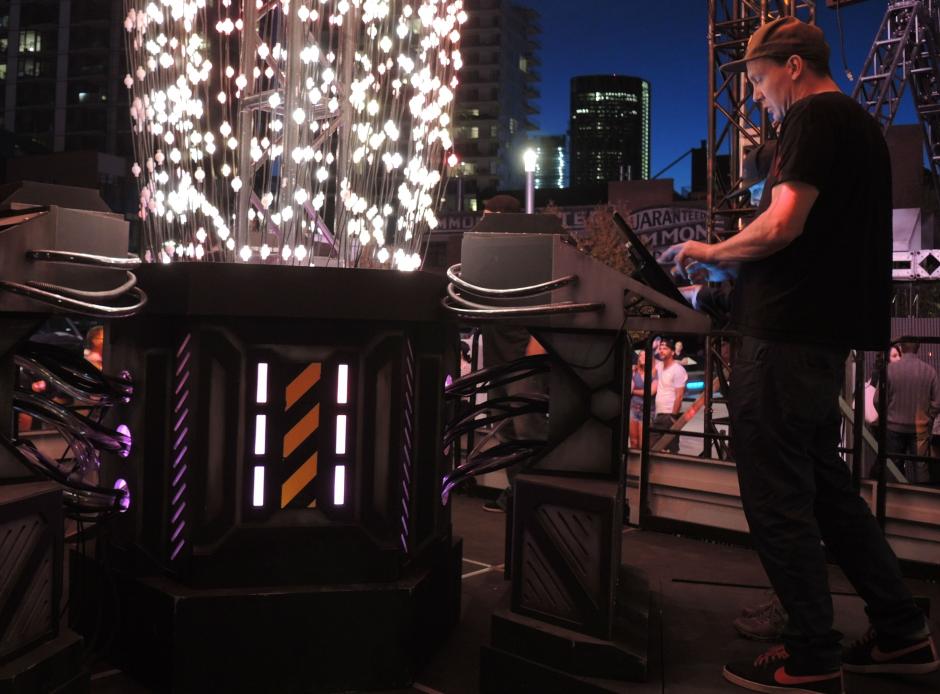 "As people trigger and sequence things, they're remixing and re-creating the audio-visual show," says Powless.
There are three control stations: the bass, the melody, and percussion. Up to three people at each station can control the ship at once, using touch screens to try and decipher a hidden pattern. Touching buttons on the screens creates a pattern of sounds, and playing with it feels like a mash-up between a drum machine and a video game. When all three stations work together to unlock the puzzle, they are rewarded with a beam of light shooting up into the sky—a transmission from earth to space.
"Sometimes adults can be a little bit shyer, so that's one of the things we're really hoping to get people past—to communicate with strangers, because you have to work together to get the transmission to go off," says Powless.
"We're trying to provide a platform for people to have that playfulness, and be inspired, and work together because we really feel like that's the kind of stuff that pushes us forward—the creative innovation that comes from bouncing ideas off of each other and having a little bit of fun."
Those feelings of fun, curiosity and wonder were apparent on the faces of everyone who stepped on the platform.
"It's kind of hypnotic," says Stephan Chan, a Calgary resident and three-time Beakerhead attendee who tried his hand at cracking the code. "It's got such a big presence on the riverwalk, you can't really avoid seeing it or hearing it."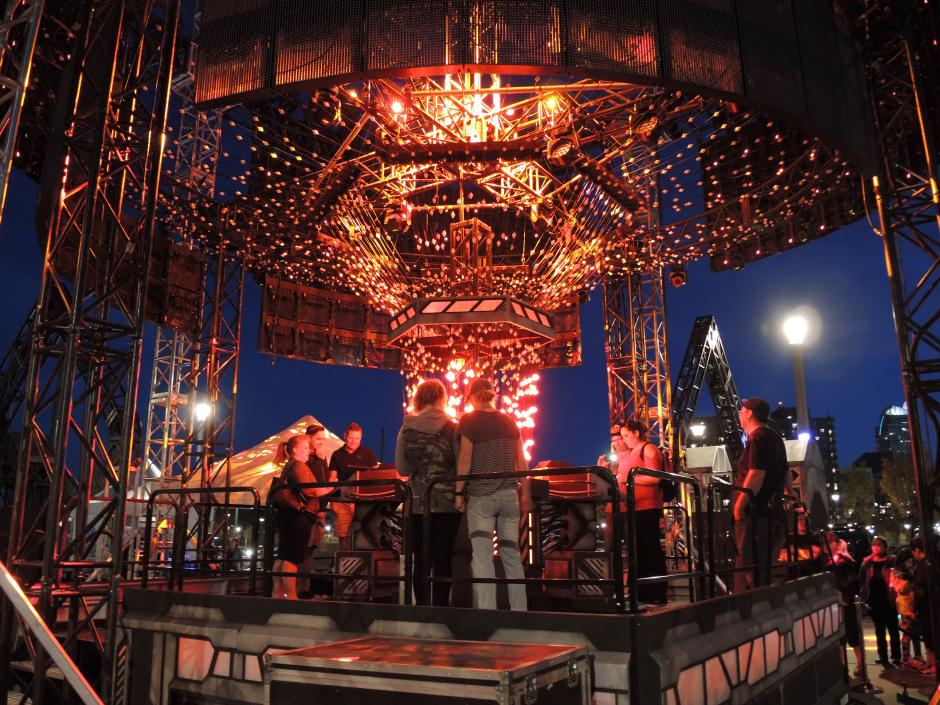 To pull off a project of this scale, support like that of the Big Bang Residency program is key, the team agrees. "We created everything from scratch," says Butz. "All the video, all the audio, all the lighting cues and all the programming and the interfaces, it's all custom made. We got really creative."
That creative control, and this type of foray into the art world is what the team hopes to see more of in their future.
"This was a really great way for us to really show what we can do as a team. It's really pushed our skills far beyond what we thought we could accomplish," says programmer and systems designer Justin Dixon.
After its premiere at Beakerhead this week, the team has plans to learn from the experience, evolve the project, and take it on tour, bringing what was once just a crazy, seemingly-impossible concept to cities all over North America.
To Powless, that's just par for the course for her and the crew.
"Beama doesn't know how to dream small."
You can try your luck at unlocking the power of the BASS Ship Friday, Saturday and Sunday at Beakerhead on the East Village Riverwalk—618 Confluence Way SE, Calgary. Learn more about Beakerhead here.