A Classical Music Legacy in the Mountains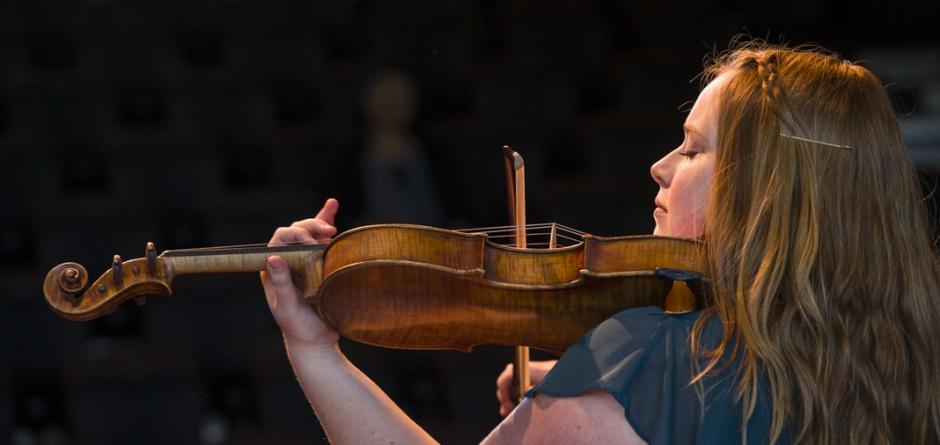 For Barry Shiffman, it all started with a snowy drive back to Banff over the winter holidays. Arts lover and philanthropist Yolande Freeze left a voicemail message letting the Executive Director of the Banff International String Quartet Competition know that she and her husband, Howard, were putting aside money to help Barry with his music programming work at Banff Centre. "I will never forget that day," reflects Shiffman. It was in this moment, over a decade ago, while navigating snowy roads through the snow-capped mountains, that the Yolande and Howard Freeze Fund for Music began to take shape. 
This three million dollar legacy gift established three funds: the Freeze Family Instrument Fund, focused on acquiring Yolande's favourite instrument, the piano; the Freeze Family Career Development Program Fund - BISQC, a fund that aids the long term career development of BISQC laureates by providing the financial resources needed for strategic career development; and the Yolande Freeze Master Artists in Music Fund, which supports internationally renowned faculty, commissions, and scholarships for music programs. 
Although both Yolande and Howard enjoyed their own painting practices, it was later in life that Yolande developed a strong affinity for music. "My mother was an avid classical music lover," says daughter Caroline Freeze, who continues to attend Banff Centre music events in memory of her mother. "My mother had hundreds of CDs that she would play endlessly. We would always have classical music playing in the house." Towards the end of her life, Yolande wanted to extend that love of music by establishing her legacy as a committed arts supporter and champion.
"My mother loved Banff and as a family, we would spend many holidays there," says Caroline. "We also knew the Rolstons, Tom and Elizabeth, as they were good family friends of ours and together we would all visit Banff Centre and enjoy the concerts." Yolande's strong connection to the Centre and its commitment to the next generation of classical musicians made for a gift that came from the heart.  
"In the end, my mother felt that giving to Banff Centre would be the best way to encourage arts and creation in Canada, while also ensuring that her legacy would live on."  
Since its inception in 1983, the triennial Banff International String Quartet Competition has held a consistent record of recognizing the best of the new generation of chamber ensembles. This year's 13th competition includes a new partnership with Southern Methodist University (SMU) that will give the 2019 First Prize Laureates a paid two-year residency in Dallas, Texas. This, in addition to generous cash prizes, residency opportunities at Banff Centre, and a three-year artistic and career development program has cemented the competition as one of the most coveted prizes in the international competition industry. The competition is widely regarded around the world due in large part to the extraordinary reputation of Banff Centre in the realm of chamber music and the resources made available through the Freeze Family Fund. 
In the end, my mother felt that giving to Banff Centre would be the best way to encourage arts and creation in Canada, while also ensuring that her legacy would live on.
-Caroline Freeze
"BISQC has dramatically grown career opportunities for our laureates," says director Barry Shiffman. "Much of that growth can be tied directly to the generosity of the Freeze family and the creation of the BISQC fund." Over the course of a decade the Freeze Family Fund has enabled Shiffman and his team to make long term strategic plans for the competition while also allowing laureates to take advantage of pivotal career development opportunities that otherwise would not be available. 
After the competition, laureates receive many opportunities that play key roles in their career development. For the Rolston String Quartet, first prize laureates of the 2016 competition, it was a debut performance at Carnegie Hall, for 2013 winners the Dover Quartet it was a debut in Vienna, or maybe it's the opportunity to record for Radio France or CBC. These opportunities are vital for career advancement, however the costs associated with travel, hotel, and logistics are often out of reach for most quartets. "The Freeze family funding has allowed us to bring resources to offset logistical and travel costs and allow us to take advantage of important strategic career opportunities that otherwise we would have to turn down," explains Shiffman. "The result, after a decade of support from the Freeze Family Fund on our programming and the long term career development of our laureates, has been nothing less than transformational." 
It is without a doubt that the legacy of Yolande and Howard Freeze will continue to live on beyond the mountains of Banff. "We are starting to see the long term impact and see the extraordinary things that artists are able to do with support from the fund, in Banff and internationally," says Caroline. "I think if you can support artists then you are doing the work to contribute and promote Canadian art and culture [to] the world, and I am so proud that our fund can do just that. If my mother was to see the impact of the fund and how it supports the cultivation of art and help bring it onto the world stage, I know that would very much please her."   
The 2019 Banff International String Quartet Competition is generously supported by the Freeze Family Career Development Program Fund - BISQC, The Azrieli Foundation and many other valued patrons. To learn more about legacy gifts and endowments at Banff Centre visit banffcentre.ca