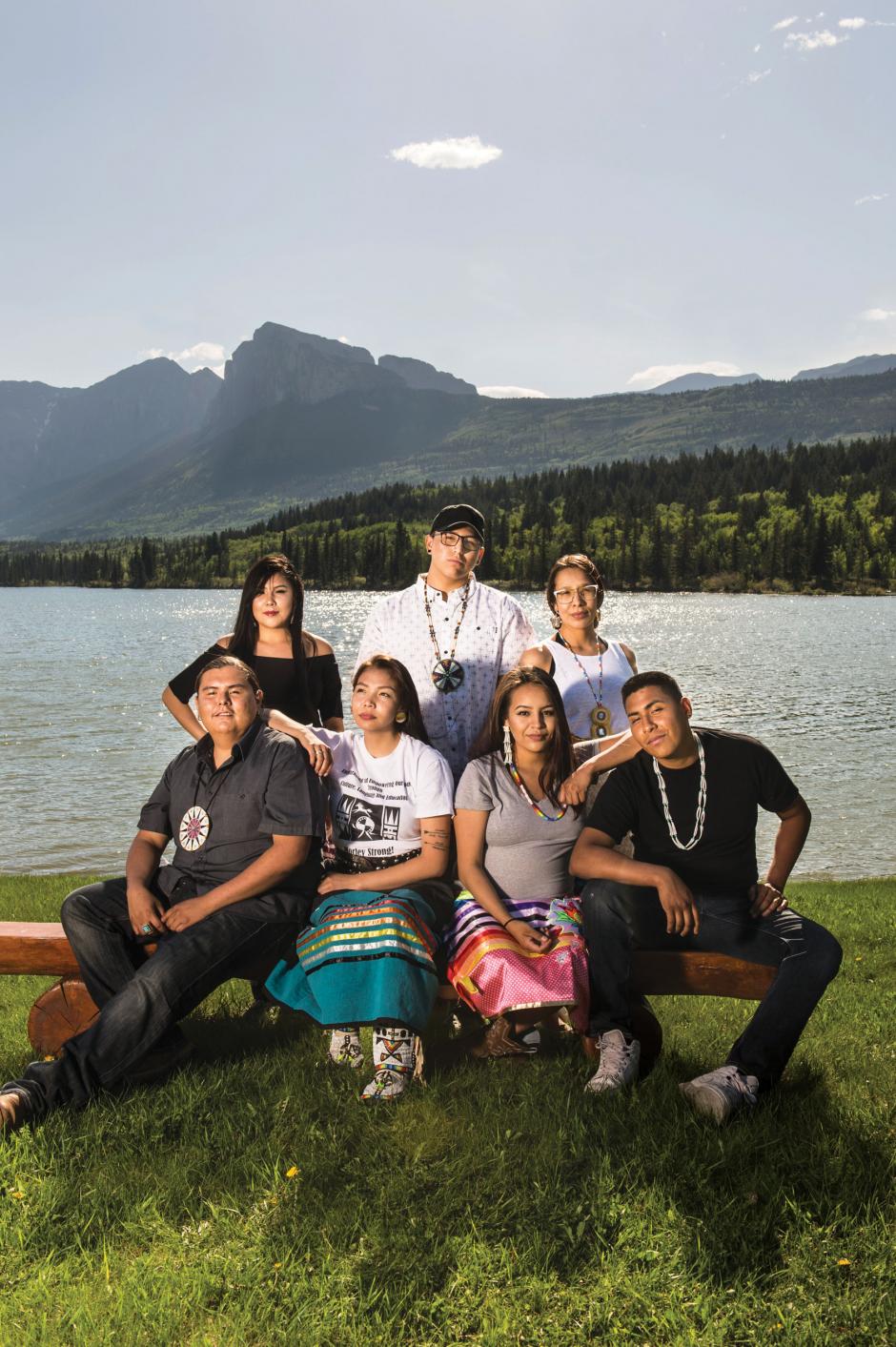 This article originally appeared in the 2018-19 issue of Buffalo Mountain Drum magazine. Pick up a copy on campus. 
A traditional coming of age ceremony is when a youth is sent off alone on a journey into nature. The purpose being to go inside yourself, reflect, and then return home grounding this newly found knowledge with your family.
Daryl Kootenay is a traditional artist, speaker, youth leader, and proud father. With his mother from Stoney Nakoda Nation of Treaty 7 and his father a member of the Dine (Navajo) Nation in New Mexico, the desire to explore is in his blood. After  graduating high school Daryl travelled globally to volunteer with Canada World Youth and Rotary International in countries such as Peru, Nicaragua, Africa, and recently Mexico — each time going on his own personal journey.
Regardless of where he travelled, he always returned home to share his knowledge by volunteering throughout the Bow Valley to inspire youth. The Stoney Nakoda Youth Council started as an idea while he was working with the organization Canada Bridges. And with help from Cathy Arcega, Daryl and council co-founder Tara Beaver transformed this idea into a reality. The Youth Council is now safe space for youth to gather, grow, and find their voices.
In the old days when we hit that certain age, we were taught to be men, we were taught to survive, but lately we've been teaching ourselves to blend in with the modern world. Every youth has a voice. I'm speaking for the youth, as a youth, when I say we want to be included.
Gage Beaver, Youth Council member and participant in Indigenous Leadership programs
Like many other communities in Canada, the Stoney Nakoda Nation — which is made up of three bands: Wesley, Chiniki, and Bearspaw — struggles with addiction, crime, suicides, and unemployment. The Youth Council aims to create unity and strength throughout their community.
When talking about how he found the strength to be a leader, Daryl says: "You have to look back to see how far you've come. I look back on all of the challenges First Nations have overcome in the past… and they were big challenges. So we can now have big visions to create big change."
The Youth Council gives each individual time to focus on their own journey and then bring it back into the community. It's a transitional space for them to find that strength to make change not only for themselves, but also for generations to come.
"The challenge is letting go, changing your beliefs about yourself. Then the fun comes… the beauty, the possibilities; you see the community differently and that in turn heals the community," says Daryl.
Since co-founding the council, Daryl has helped members obtain their passports, allowing them to attend different conferences, such as the 2017 United Nations permanent Forum on Indigenous Issues in New York City. Members are also fundraising to participate in their own volunteer work overseas.
In the beginning of 2017, The Stoney Nakoda Youth Council partnered with Banff Centre to give each member the opportunity to work towards their Certificate of Indigenous Leadership, Governance, and Management Excellence. The certificate is awarded to individuals who recognize the importance of continuing education and have successfully completed a total of seven Indigenous Leadership programs.
Two members have already completed their certificates and others continue on their journey toward leadership — gaining the knowledge and skills to rebuild their nations. Daryl, a proud recipient of the certificate, is now faculty for Banff Centre's Indigenous Leadership programs, passing on even more wisdom.
To learn more about the Certificate of Indigenous Leadership, Governance, and Management Excellence, visit banffcentre.ca/leadership
Banff Centre's support not only gave us the tools to better structure ourselves, but also helped us grow as individuals. During my stays there, Banff Centre helped me reach new comfort zones. 
Joey Makinaw Labelle, Youth Council member and Certificate of Indigenous Leadership, Governance, and Management Excellence recipient.