Community of Leaders: Nurturing local projects from ideas to reality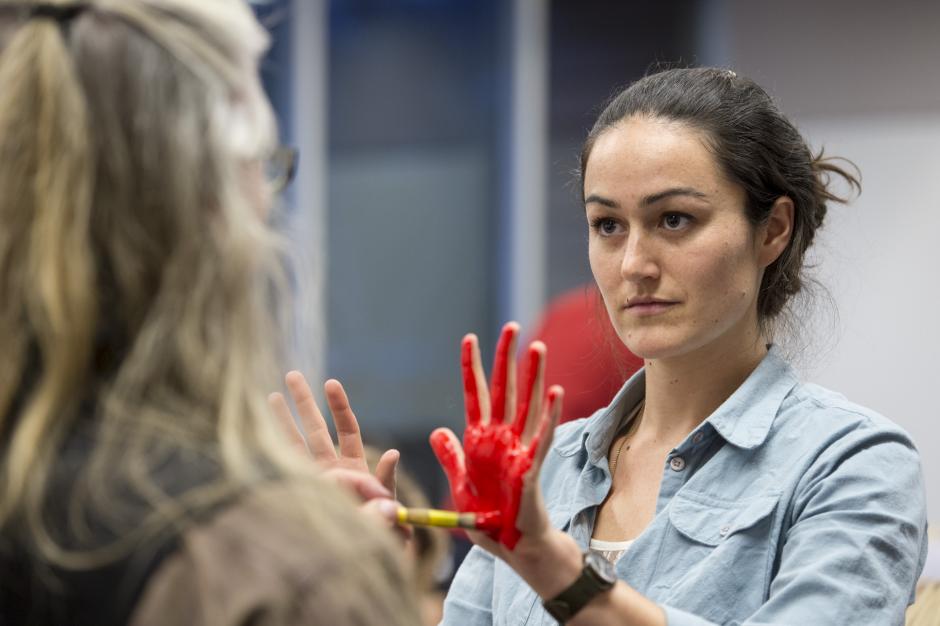 Building a community takes passion, commitment, energy, and boundless determination. It's often done a little bit at a time, championed by a small group of volunteers, or members of grassroots, non-profit organizations. Those involved identify what's needed, and simply dig in to get it done.
Sarah Twiddy of Calgary's Neighbourlink was one of 14 leaders involved in community-building projects across Alberta, B.C., and Saskatchewan, who were selected to take part in the inaugural Community of Leaders program at Banff Centre for Arts and Creativity. Twiddy appreciated the supportive atmosphere during the program, and the opportunity to gain feedback from participants who are undertaking a wide variety of projects to benefit their communities.  
"They really targeted the program to us as individuals," Twiddy said. "It was really great to hear from other participants – it reminded me that yes, what I do is important, and it also helps other people."
Neighbourlink works in partnership with a long list of other organizations, agencies, faith communities, and corporations to provide practical help and essential resources, such as household goods and food, to Calgary people in need.
"We deal with people who are low income, they're on their last edge, and they have nowhere else to go," says Twiddy, who is taking part in the program to enhance the skills she needs to launch an ambitious initiative. Her organization is working to launch the Clearing House program, a large scale, interagency warehouse-based program for the collection and distribution of donated goods required for Calgary families and individuals living in poverty.
Communities across Western Canada have benefitted from a $1.5 million investment from Encana Corporation and Cenovus Energy to support leadership programming at Banff Centre. The Community of Leaders program brings participants from towns and cities across Alberta, Saskatchewan, and British Columbia to Banff Centre to build their personal leadership skills and confidence, and to nurture local community projects from ideas to reality. The Community of Leaders program works with participants to build skills and confidence, brainstorm ideas, and make valuable connections to see projects completed and launched.
Lynne Douglas, Group Lead for Community Investment with Cenovus, said her company believes the Community of Leaders program can help participants face challenges and learn from others with a wide variety of experience. "The skills they will take away from participating in the program will strengthen their leadership, help them support local organizations, and help them build a healthier, sustainable community," Douglas said.
It was really great to hear from other participants – it reminded me that yes, what I do is important, and it also helps other people.
Sarah Twiddy, Neighbourlink
Daphne Beirnes knows all about the challenges involved in launching a community project – from proper planning, to fundraising, to rallying volunteers and community members for support. As a volunteer with "CATS', the Community Action Team Society in Tilley, Alberta, (population 400), Beirnes was seeking a boost to the skills and connections she and her group will require to launch a long-term community revitalization project. Their goal is to see Tilley's identity and pride transformed with an attractive vintage railway heritage theme.
"We absolutely want to be original," said Beirnes, who, as a self-employed entrepreneur and mother of two youngsters, is committed to ensuring Tilley attracts other like-minded families and small businesses in search of the friendly, small-town Alberta lifestyle.
Jeff Richards, general manager of the Weyburn, Saskatchewan chamber of commerce, is also overseeing a project with the potential for a major impact on his community and region. The chamber, with other regional and community partners, is pursuing plans to build the Saskatchewan Oil & Gas Interpretive Centre in Weyburn. Richards grew up in the oil and gas industry, and as the father of young children, appreciates the need to provide a facility to explain and interpret the workings of an industry that is vitally important to the region.
"There are probably a couple thousand people in our area at least who work in the oil industry, the energy sector, and most have kids," Richards said, "and you can't take your kids to work. They don't have any idea what their dad or mom does."
Beginning with a pilot project that will temporarily locate the interpretive centre within an existing town facility, the project is on its way to becoming a reality within the next five years, Richards said. Participants in the Community of Leaders will have the opportunity to share their successes, along with challenges they've faced on their projects, at a wrap-up session at Banff Centre in late May. This group is the first of a four-year commitment to the program by Encana and Cenovus.
Lois Wozney, Community Investment Advisor with Encana, said her company has a strong belief that providing a high-quality program to build leadership capacity at the community level can make a difference. "Ultimately, our Community of Leaders participants will be more able to complete projects that add vitality, and improve overall quality of life in their communities, now and into the future," Wozney said.
Contact Us
For questions, please contact:
Email:
leadership@banffcentre.ca

Phone:
1.888.255.6327
107 Tunnel Mountain Drive
Box 1020, Stn. 43
Banff, Alberta
T1L 1H5 Canada