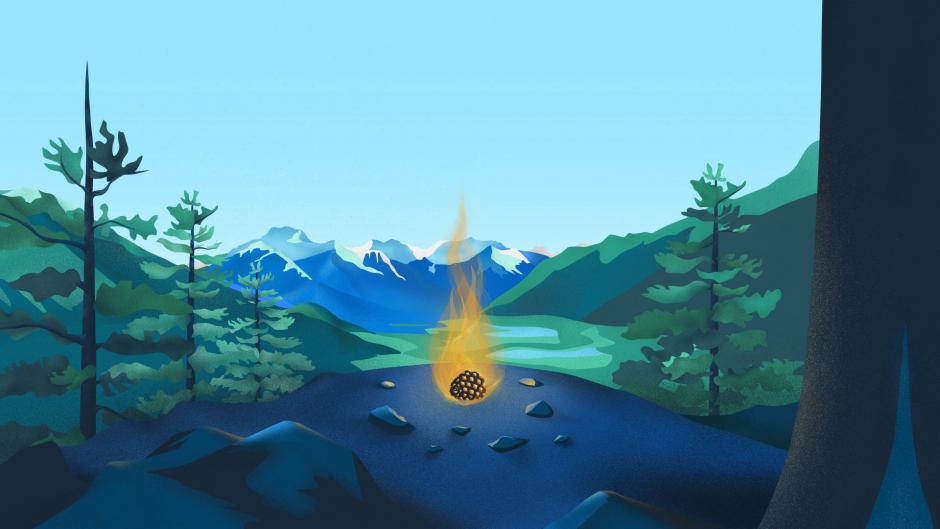 April 15, 2021, Banff, AB -- Banff Centre for Arts and Creativity is pleased to share the publication of its new institutional strategic plan. Entitled "Creative Pathways" the plan lays out five future directional pathways for Banff Centre which build on its heritage, are responsive to our times, relevant to our futures and impactful for those it serves.
Banff Centre advances and inspires creativity and ignites the unique contributions our participants make across artistic disciplines, leadership in many fields, mountain culture, and the environment. The experience of the COVID-19 pandemic has afforded many organizations, including Banff Centre, time to reflect on what it means to be resilient through adversity, and what the future holds. In its 88-year history, Banff Centre has adapted many times to fulfill its purpose as circumstances and needs have changed. We will continue to forge new, creative pathways.
Adam Waterous, Chairman of the Board of Governors
The five Creative Pathways described in the plan are:
CREATE: Inspiring and advancing creative leaders at all stages of their careers, showcasing their work to audiences, and inspiring them to make unique contributions which enrich the world. 
CONNECT: In relationship to each other and our world, continuing to embrace relationships which Banff Centre sees as reciprocal, with a commitment to reliably set and meet expectations, to be courageous and compassionate, and to make space for sharing of knowledge and expression.
GROW: Revenue growth and diversification; leveraging Banff Centre's unique place and convening ability to provide financial support to deliver the education and training programs at the core of Banff Centre's mission.
PARTNER: Strategic partnerships to ensure relevant, impactful development and delivery of Banff Centre programs. Banff Centre will actively strengthen existing partnerships and seek out new opportunities with Indigenous organizations, businesses, other arts, educational organizations, and, most importantly, its local community.
ENGAGE: Commitment to continued communication and engagement with Banff Centre's key communities. The achievement of Banff Centre's mission and vision relies on, builds on and enriches the work of others and Banff Centre values its relationships with key stakeholders, including all levels of government, its donors and supporters, its neighbouring communities in the Bow Valley and across the province. 
There is no stated end date for this plan.  Written at a time of exceptional global uncertainty, it provides a set of key strategic future pathways which will be flexibly pursued in the changing landscape of the next few years.  We share a deep belief that Banff Centre has an unparalleled opportunity to fulfill its potential as a purpose-driven organization with an entrepreneurial spirit, engaging in partnerships with others and listening to our communities. We have a high-achieving work culture that ignites the power of creativity in the diverse artists, leaders, audiences and conference guests who benefit from Banff Centre offerings and experiences.
Janice Price, President and CEO of Banff Centre
Today's announcement is just the beginning of the journey of the mapping out and exploration of these pathways, which will be done in consultation with Banff Centre's many stakeholders. The full text of the plan can be viewed at www.banffcentre.ca/creative-pathways
We acknowledge, with deep respect and gratitude, our home on the side of Sacred Buffalo Guardian Mountain, in the beautiful and special territory of Treaty 7. We recognize the past, present, and future generations of Stoney Nakoda, Blackfoot, Tsuut'ina Nations, and Metis from Region 3, who help us steward this land, as well as honour and celebrate this place.
About Banff Centre for Arts and Creativity
Founded in 1933, Banff Centre is a learning organization built upon an extraordinary legacy of excellence in artistic and creative development. What started as a single course in drama has grown to become the global organization leading in arts, culture, and creativity across dozens of disciplines. From our home in the stunning Canadian Rocky Mountains, Banff Centre for Arts and Creativity aims to inspire everyone who attends our campus - artists, leaders, and thinkers - to unleash their creative potential and realize their unique contribution to society through cross-disciplinary learning opportunities, world-class performances, and public outreach.