Director of Literary Arts and Poet Laureate Derek Beaulieu Awarded Queen Elizabeth II's Platinum Jubilee Medal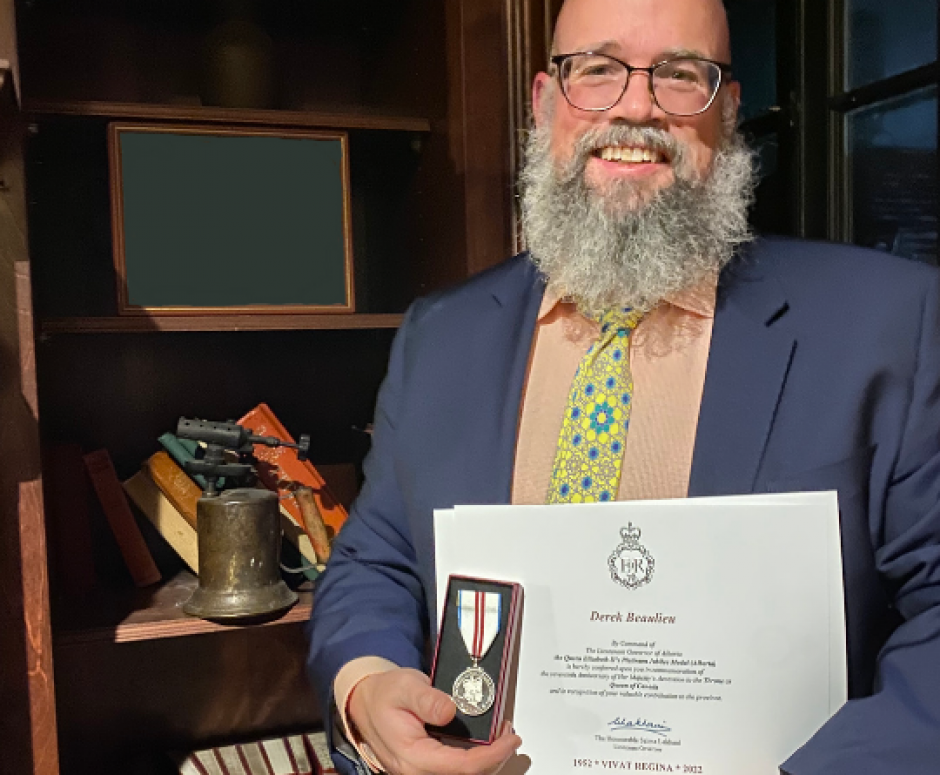 The Queen Elizabeth II's Platinum Jubilee Medal is a commemorative medal in honour of the 70th anniversary of Her late Majesty's accession to the Throne as Queen of Canada. The Writers' Guild of Alberta has selected the recipients from the Alberta literary community in recognition of their exceptional impact and service in advancing Alberta writing.
"Derek Beaulieu not only constitutes one of the most innovative of all authors in Canada, but he has committed himself to service on behalf of others, providing leadership in the arts throughout his career and promoting the poetic merits of Canada to audiences around the world"
Author of twenty-six books of poetry, conceptual fiction, critical writing, as well as over 200 chapbooks and 6 edited volumes — Derek Beaulieu's work is consistently praised as some of the most radical and challenging in contemporary Canadian writing. Since 2018 Beaulieu has been the Director of Literary Arts at the prestigious Banff Centre for Arts and Creativity, Canada's foremost arts space, dedicated to the mentorship and education of arts and culture workers internationally.
Janice Price, President and CEO of Banff Centre lauds the award. "Derek's contribution to the literary realm in Canada is monumental. We are so very proud of his accomplishments and truly grateful for the genius, soulfulness, inspiration, and leadership that Derek brings to Banff Centre as Director of Literary Arts. His impact is felt daily by all the writers in residence that experience time with Derek on campus for the pursuit of their creative endeavours."
Also named as the 2022/2024 Poet Laureate of Banff, Derek remains modest to his core, sharing that "working at Banff Centre on behalf of the world's writers, poets, journalists, translators and the literary community continues to be a thrilling part of my journey; thank you for sharing it."
Beaulieu holds a PhD in Creative Writing from the UK's Roehampton University and has been recognized with 9 teaching awards locally, provincially, and nationally for his contributions to university-level education. He was Calgary's Poet Laureate from 2014–16, and is currently Banff's Poet Laureate from 2022–2024, a nominee for the Lieutenant Governor of Alberta Distinguished Artist Award and was named the only "Celebrated Alumni" from Literature and Creative Writing at the University of Calgary.