Marian Schwartz named recipient of 2018 Linda Gaboriau Award for Translation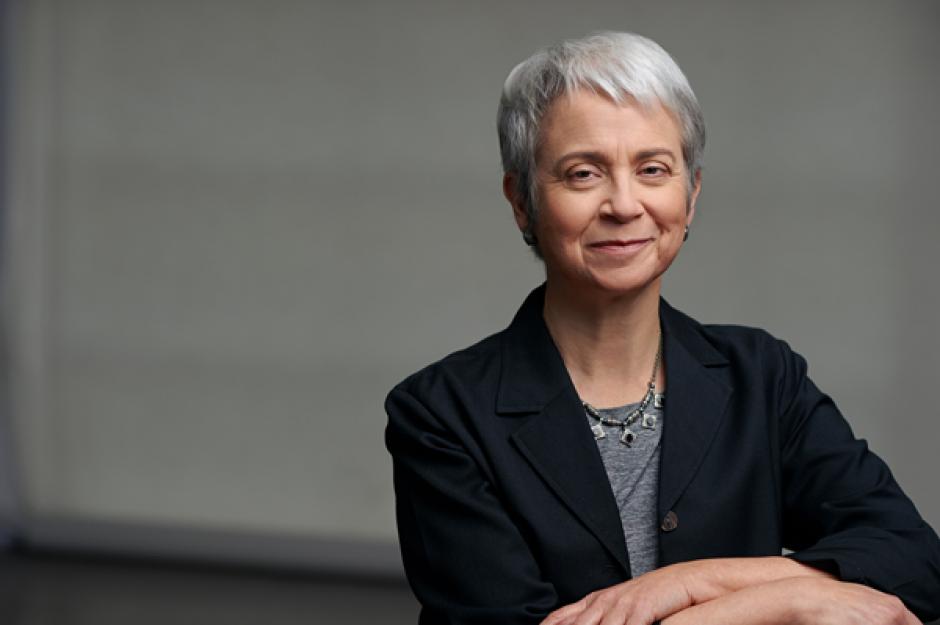 BANFF, AB, July 24, 2018 – Banff Centre for Arts and Creativity is pleased to award literary translator Marian Schwartz the 2018 Linda Gaboriau Award for Translation. The award celebrates a translator who has made significant contributions to the field of literary translation. Schwartz is recognized for her outstanding work to the literary translation of Russian classic and contemporary fiction, history, biography, and criticism.
 "Hanging on my bulletin board is my name tag from the weekend I spent at Banff in 2001 as part of the U.S. delegation to the meeting that voted to found the Banff International Literary Translation Centre, a weekend notable both because I got to spend some time with Linda Gaboriau and also because the tag designated me as I'd never been called before: an 'Artist,'" recalls Schwartz. "Now, I feel a twinge of pride when I see the talented translators who come together each summer to hone their art. This award bestows the great honor of associating me with this influential program and is especially meaningful because it honors Gaboriau, one of the special few who have acted on the belief that literary translators are, indeed, artists."
Marian Schwartz has translated Russian fiction and nonfiction for over four decades, including such key books as Leo Tolstoy's Anna Karenina, Nina Berberova's The Tattered Cloak and Other Novels, Mikhail Shishkin's Maidenhair, and, most recently, Aleksandr Solzhenitsyn's March 1917: The Red Wheel, Node III, Book 1. In September 2018, Archipelago Books will publish her translation of Leonid Yuzefovich's Horsemen of the Sands.
The Linda Gaboriau Award is given biennially and is open to Canadian, American and Mexican citizens or landed immigrants who either translate national and international contemporary authors or have made a significant contribution to the art of literary translation and to literature in North America. The Award is comprised of a $2,000 CDN cash award and time in one of our Leighton Studios at Banff Centre for Arts and Creativity. The winner is chosen by the Banff International Literary Translation Centre (BILTC)'s advisory council members from the three countries responsible for creating the program: Mexico, the United States, and Canada.
Inspired by the network of international literary translation centres in Europe, the Banff International Literary Translation Centre is the only one of its kind in North America. Since the inaugural program in 2003, BILTC has hosted translators from approximately 30 countries translating work involving more than 40 languages. To learn more about the Literary Arts programs and events at Banff Centre, visit www.banffcentre.ca.
About Banff Centre for Arts and Creativity: Founded in 1933, Banff Centre for Arts and Creativity is a learning organization built upon an extraordinary legacy of excellence in artistic and creative development. What started as a single course in drama has grown to become the global organization leading in arts, culture, and creativity across dozens of disciplines. From our home in the stunning Canadian Rocky Mountains, Banff Centre for Arts and Creativity aims to inspire everyone who attends our campus – artists, leaders, and thinkers – to unleash their creative potential and realize their unique contribution to society through cross-disciplinary learning opportunities, world-class performances, and public outreach. In 2018, Banff Centre celebrates 85 years of creative practice. banffcentre.ca
About the Banff International Literary Translation Centre (BILTC): The Banff International Literary Translation Centre offers the only international residency program for literary translators in North America. BILTC hosts one translation student from each of the founding countries—Canada, Mexico, and the United States—and 15 literary translators, either from the Americas translating literature from anywhere in the world, or translators from anywhere in the world translating literature from the Americas. The BILTC program is generously supported by Amazon, Power Corporation of Canada, and the Birks Family Foundation.
About Marian Schwartz:  Marian Schwartz has been active with the American Literary Translators Association, her local literary translators group in Austin, Texas, and the PEN Translation Committee and has received numerous awards, including the 2014 Read Russia Prize for Contemporary Russian Literature and the 2016 Soeurette Diehl Frasier Award from the Texas Institute of Letters.