My Studio: How choreographer Alan Lucien Øyen works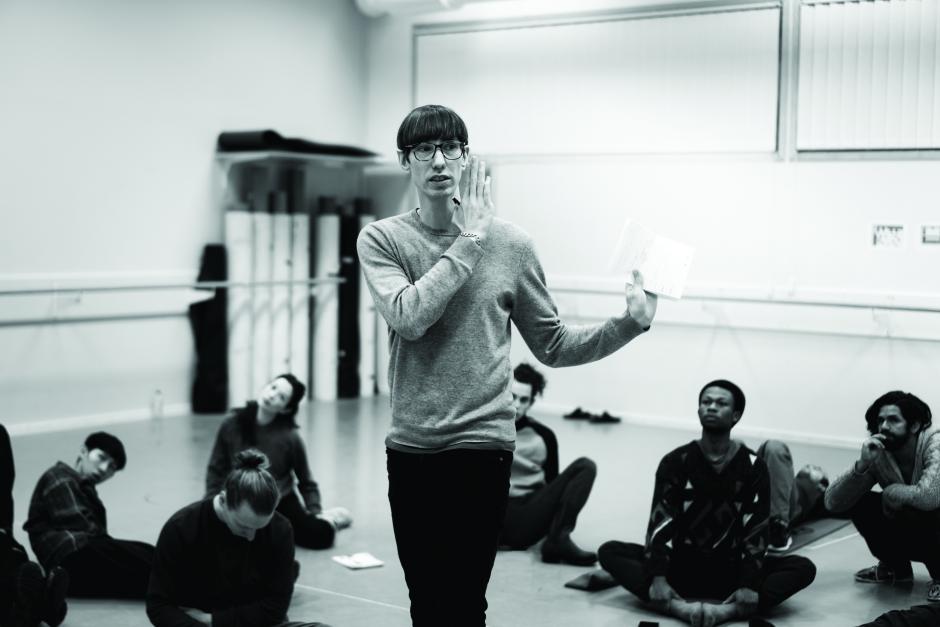 Alan Lucien Øyen wears many hats as both founder and artistic director of the multi-disciplinary touring company, winter guests, and as Artist in Residence with the Norwegian National Opera and Ballet. Øyen joined Banff Centre this summer as faculty for the Creative Gesture dance residency. He took a break from a full day of rehearsals to speak with us about his creative process and the spaces where he gets inspired.
Describe your working space
Alan: I love the idea of sitting in an office as much as I love the idea of sitting in an armchair and reading, but I'm not so often in the office and I'm not so often in the armchair. I'm much more often in an airport around the chaos of daily life.
You choreograph, write, and direct all over the world – how do you find your environment affects your creative process?
It greatly affects the work. It's mostly me immersed in some sort of new culture.
I find that when I'm in movement, then I get very creative.

 
What hours of the day are you most productive? 
I'd like to think that I can sit and drink whiskey in the evening and write, but I just fall asleep. I'm happiest when there is space that is open for creation in the morning. Particularly writing, because your brain is free from all of the impressions of the day; you're pure and undisturbed by your own thoughts. 
How has your working style/ creative process changed over the years?
I trust myself more. [Before rehearsals] I worried about not being prepared. Whilst now, I trust that's how I work, and I somehow have to put myself on the spot; there's something about that tension. It's intuitive and different than being prepared.
What is your favourite type of artistic work to create? 
My favourite is the moment of flow which is in any kind of creative process. This happens with all of the work that I do. Whether it's me alone writing on a bus, or in rehearsal, or when I think I understand something that is completely abstract and there is no information. It oscillates.
What are your top three essential tools for fuelling your work?
I like those little Czech pencils with the tiny sharpener in the cap on the back. If you were to speak metaphorically, waiting and listening are good because suddenly something happens and you're listening, and then you can write it down with the Czech pencil… and a notebook.
This article originally appeared in the Spring/Summer 2018 issue of InStudio magazine. The Creative Gesture - Choreographic Lab is generously supported by an anonymous donor.