Not Just Anyone Can Do Opera Karaoke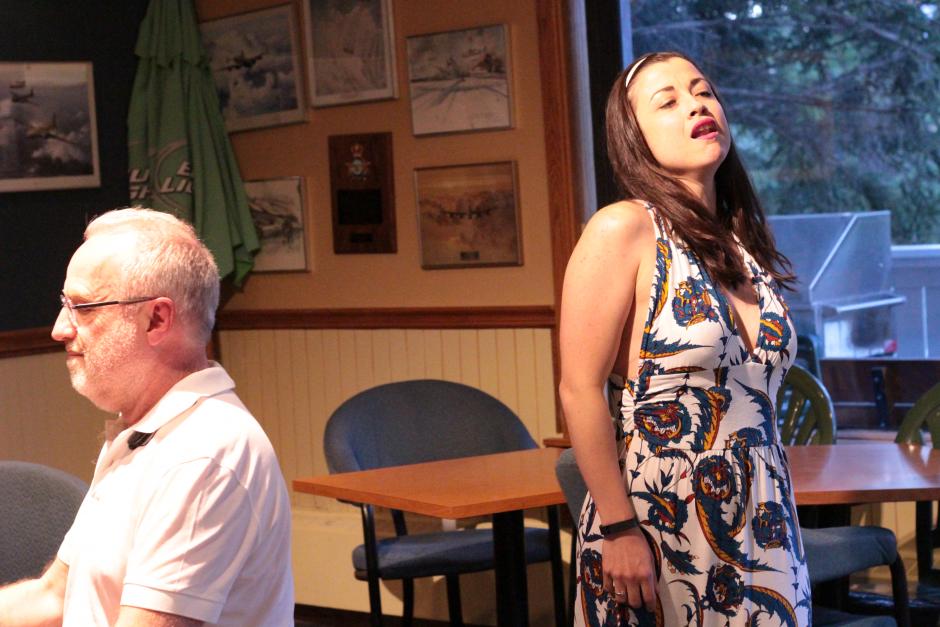 Pascale Spinney stands at the front of the room singing the famous aria from Carmen as Michael MacMahon plays the accompaniment on a mostly-in-tune piano behind her. She's competing against the soccer game on the TV above the bar but it's no contest, really. The crowd, a mix of professional singers and Legion regulars, can't help but watch this somewhat out-of-place scene unfolding before them. Pascale is a participant in the "Open Space: Opera in the 21st Century" program at Banff Centre, Michael is the senior répétiteur and coach, and the Banff Legion is hardly
their usual stomping grounds.
The Banff Legion is like many found around the country: pool tables and darts occupy one end of the room while chairs and tables that have seen better days fill the other half. The walls are decorated with military memorabilia, photos of the queen, and a lot of prints of WWII-era war planes while the bar offers cheap drinks, packets of chips, and pickled eggs. Locals gather to socialize on all nights of the week, but Thursdays are the big draw – it's bingo night.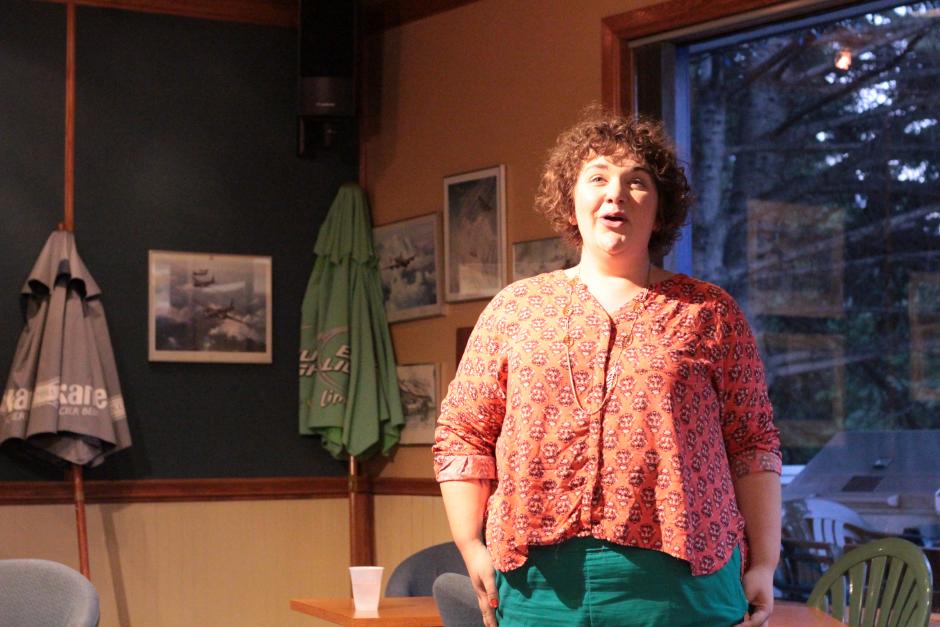 Tonight is Friday, and it's one of the two Fridays that the opera program is at the Legion putting on a little something they call "Opera Karaoke." This is the brainchild of Program Director Joel Ivany, who founded Against the Grain Theatre in Toronto. Against the Grain has made its mission to take opera out of its ivory tower and bring it to the people. They regularly perform in bars around Toronto with nothing more than a company of talented musicians and a piano. When Joel came to Banff Centre, he brought that tradition with him. For two nights, participants in the opera program come down to the Legion and perform whatever tickles their fancy — Mozart, Strauss, Bizet, musical theatre — so long as someone can play the accompaniment, they'll do it. The floor is open to anyone who cares to join.
The Legion regulars drinking in the corner under the bank of TVs are more "golden oldies" than "epic tragedy," yet they can't help but be engaged this unusual display of talent. The singers' skills are impressive and their enthusiasm contagious. Ciaran Ryan is hamming up his rendition of "Largo" from The Barber of Seville and the whole room is laughing. Whether or not they understand the Italian lyrics, the eye rolls and falsetto calls of "Figaro!" translate.
Sweating in the heat at the back of the room, I look over at my husband who is shaking his head bemusedly between songs. "I love this," he says. "I'm not a music person, but this is great. It's two things that you would never expect to work together: Opera and the Legion. This is like pickles and peanut butter."