An Opera That Will Definitely Feature a Zamboni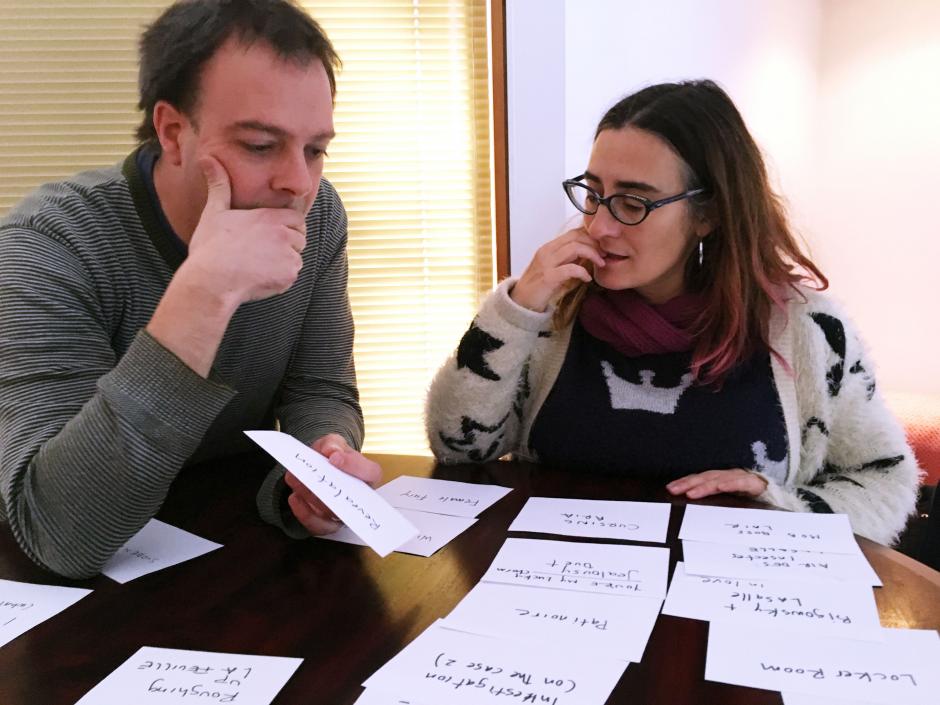 Andre Rustic is adamant: when his next work hits the stage in Montreal, there will be a Zamboni.
"I don't know, maybe they didn't have a Zamboni [in the '50s]. I don't care, you know. We'll have a Zamboni in the opera," he says.
Most composers don't need to worry about how exactly to capture the essence of ice resurfacing. But if you're writing a hockey-themed film-noir opera set 60 years ago, these kinds of things come up.
Rustic and his collaborator, L.A.-based author Cecil Castellucci, met at The Banff Centre this winter for a self-directed residency in the Leighton Artists' Colony to continue working on the vocal score for the yet-to-be-titled opera, commissioned by Ensemble contemporain de Montreal.
This isn't the first time the pair has played with the traditional idea of an opera. Their last opera, also done for ECM, told four separate comic-book-style stories using performances, illustrations and video projections.
Once again, they're hoping to challenge their audience's ideas of what opera means. "It's not anti-conventional or revolutionary at all," Ristic says.  
"We don't need no Greek tragedy to get excited about making work or music together."
Castellucci says opera, more than most types of art, has a reputation for being inaccessible. She hopes that by combining a sport like hockey with the well-travelled tropes of film noir, they'll be able to grab the attention of people who would usually avoid the opera.
"I think that's part of your mission as an artist, is to be constantly introducing new people to new ways of engaging with stories, in any way," she says.
While their hockey opera is fictional, the spark for the idea came from the story of Bill Barilko, a Toronto Maple Leafs player who disappeared in 1951 following a plane crash.
Before starting the first draft, Castellucci travelled to Ristic's home in Belgium for a marathon session of noir films. She says the genre has a lot in common with opera — bigger-than-life characters with even bigger emotions.
"Noir — it's like a genre that's very visceral. You really understand it right away," Castellucci says." There's there character tropes that are very universal."
Their work doesn't shy away from those tropes — "we've got a detective, a femme fatale, the mob, the guy stuck in between," she says Ristic says those archetypes tropes act like a guide for the audience, making it easier to navigate the tangle of genres and concepts the pair are working with.
"Opera … is a very multilayered thing," he says. "It is already extremely complex. I think it is good to choose a subject that strongly relates to everyday life and pop culture so that it's kind of a starting point to understand."
With the two collaborators on different continents, The Banff Centre has become a vital link between them. During their third, and latest, stint in the Leighton Artists' Colony, the two spent a week hammering out a draft of the opera's vocal score.
 Ristic and Castellucci will soon turn their attention to working with a director and actors, with hopes of the opera reaching the stage in 2018. While the work is not yet done, the two are already thinking of the next operatic collaboration.
"It's like a life changing thing. It's like having a child, I guess. It's something that changes you forever."