Playwright Karen Hines on Writing and (Almost) Being Stalked By a Cougar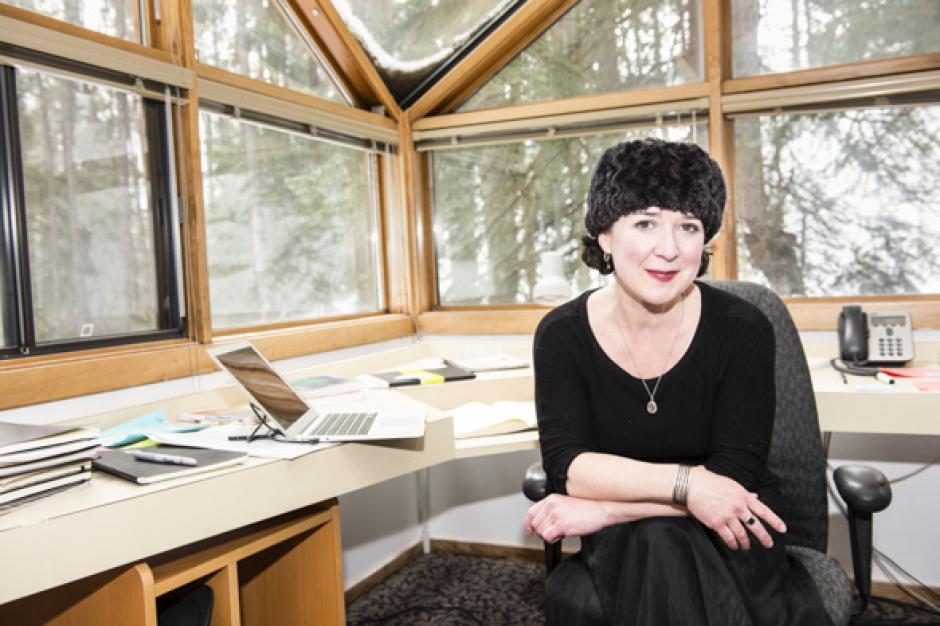 Playwright Karen Hines has been in residence at The Banff Centre, along with playwright Jessica Moss, as part of the Banff Playwrights Studios. The Studios includes a two-week retreat component as part of its activities, which resume with the spring Colony from April 13 to May 4, attended by 30 writers, dramaturgs, directors, and actors. Here's a little something she wrote. 
It's 11 a.m. and I'm walking along the snowy, hilly trail I call "my trail." It's more like a thoroughfare on the way to other more actual "trails" – but this road is snowy and car-free and has the benefit of passersby, now and again, which is good because of the cougar that is stalking me.
I have no evidence of this cougar, and sightings on and around the campus are extremely rare. But cougars go for quiet, solo people, and in this place, I sometimes get all thoughtful and drifty: with my own cougar after me, I am a menace to myself.
When you get to Banff, you can feel your mind expand. It is a nearly physical feeling, though that's physiologically impossible. As though the brain and the flesh of the walls inside your skull pull away from each other and there is room. Room to create, ostensibly – but there are also potent forces at play in this Bow Valley, and people have been known to go a little cray-cray. The first time you come here, you may think the mountains will tip over onto you. I am a Banff vet, however – been a few times in different capacities – and I am cool with the intensity.
As I walk, I hear a "snap" in the woods. Branches, of course, can only be snapped by bears and cougars (deer step over branches), but the bears are asleep, I've heard, and so this must be a cougar. I peer between the tall fir trees … and see a cougar. It is black, though, so it must be a panther and despite my delight at having sighted the first Banff panther, I am scared bloodless.
Last year was a busy one with productions and family matters that kept me on deck and in service to the real world at a time when I was supposed to be writing. All that I could manage for an entire year was to scrawl in three thick notebooks. I never went backwards through those notebooks until my first day here, when I opened to a random page in notebook #1 and read: "It's a circus, but it's all doctors!" I felt fear.
I hear another snap. The panther is actually a large stump (decoy!) and I realize the real cougar is hiding. I pull out my iPhone and call my imaginary husband to talk about "my process." I have a real husband, but supportive as he is, he's a bit inured to my process talk after 16 years of it, whereas this dude is tireless, fascinated, and doesn't mind that I yell. He's also a good front: when I yelled to myself without the phone, the snapping in the forest turned out to be a labradoodle, whose master didn't want some crazy lady patting him. I walk along, gushing to my darling about this place, the Japanese play structure I have discovered.…
Here, there has been room inside my skull for 600 pages of notes, now transferred to index cards and post-its and spread out like a magical road in the brilliantly designed writers studio I have been assigned whose desk wraps around half of it. There is bulletin board on one of the rare patches of wall that is not window and I have thumbtacked up orphan concepts and images. When I fill all the formal surfaces, there will be the floor. My floor for two weeks, which no man, child nor dog will step on. 
There is forest all around me and a little hollow that a mule deer has curled up in once or twice: my fuzzy muse. The contents of those notepads spill out by the hour and though some of them are, yes, flaky midnight thoughts, I have the place and time here to observe this fractured backlog as one huge document and find the sense in it. The year I thought was lost is being found in the woods, and I may have just long enough for this creature to squirm to life so it can accompany me home: a living, breathing thing in four acts….
Another snap. This one accompanied by a "swish." I am nearly back to campus – if I cry out, perhaps I will be helped by a brave violinist. Out of the corner of my eye, I see a shape just down the hill: golden, massive and f**king fast. I spin around, open my mouth to holler.… It is a Honda Civic.
I walk the rest of the way back to my studio, thinking about that doctor circus. Why couldn't there be a play wherein a team of specialists perform medical feats in three rings? Some ankle surgery in one, a radical diagnosis in another, a gentle admonition in the third.… I am on a roll. I am a Banff vet now and I know how to ride these rolling waves of snow, fear and magic. Like how you would be if you were lucky enough to ride a mule deer: respectful, filled with delight and awe.