Pole to Pole Adventurers Visit Banff Centre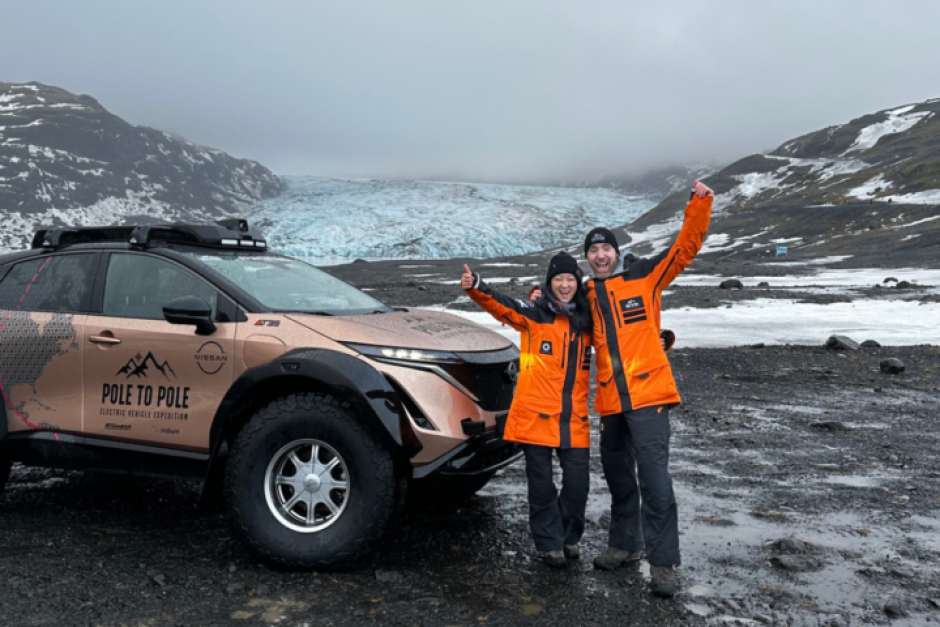 Recently Banff Centre had some special guests come to visit during their epic journey from one pole to another. British adventurers Chris and Julie Ramsey are set to become the first people to drive from the Magnetic North Pole all the way to the South Pole. The husband-and-wife team are undertaking the trek in a Nissan Ariya e-4ORCE. Their 27,000-kilometre drive will cross three continents and 14 countries over a period of 10 months powered entirely by an all-electric vehicle. If successful, they will be the first team to complete this iconic route from one end of the planet to the other, by any mode of transit.
Chris, Julie and their team have been preparing for the expedition for over four years, and officially left the magnetic north pole 300 km from Cambridge bay in March. With predicted temperatures ranging from -30⁰C to +30⁰C, the daring venture will demonstrate just how powerful, fun and thrilling electric vehicles can be.
"Our mission is to show that electric vehicles can tackle the harshest of environments – from the bitter cold of the poles to the hot and humid jungles of South America, and illustrate that they can meet the demands of drivers around the world, and encourage the switch to zero-emissions transport." - Chris Ramsey, Founder of Pole to Pole Expedition
Challenges on the adventure so far include the impact of extreme cold on the car battery, massive snow and wind drifts in the Arctic, the rapidly melting ice road into Yellowknife, their mobile wind turbine generator failure, searching out charging stations, and yes, even a polar bear encounter.
Chris and Julie have completed about 7,000 km so far. While they hope to finish the route by December, they are taking time along the way to engage with communities and visit schools to speak about zero-emission vehicles and living a low-impact lifestyle. Julie describes that "this is not a race, rather a journey of knowledge sharing, so every day we remind ourselves of the importance of mindfulness. We want to be a conduit to share not only our own experience but those of others we have met along the way. We have met so many people who are curious about our mission, but also incredibly kind in opening their homes to offer us a homecooked meal or a bed for the night."
Banff Centre was excited to hear of the Pole to Pole journey, and that Chris and Julie were coming through Banff. The couple received the 'behind the scenes' tour by our Director of Guest Services Jim Olver. "We were pleased to offer them a chance to rest for a few days while experiencing the special experience Banff Centre provides. They took some time to explore the town, hike Tunnel Mountain and take in the scenery and wildlife around campus. We wish Chris and Julie all the best on their travels south."
For more information visit www.poletopoleev.com and follow Chris and Julie on Instagram @poletopoleev