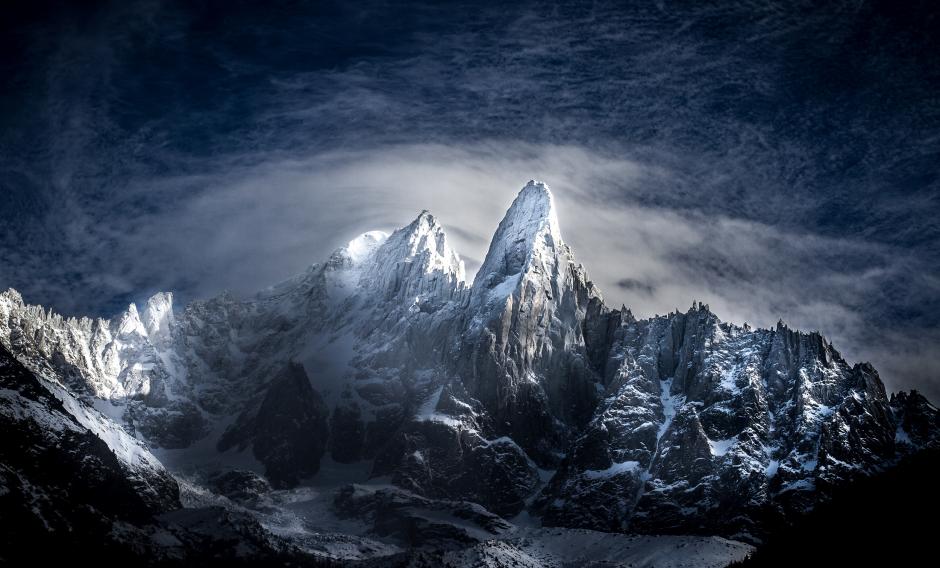 Les Drus, Chamonix, France © Soren Rickards

The annual Banff Mountain Film and Book Festival signature image represents the best in mountain adventure images from around the world. Once again we put out the call for images through a public competition and received a broad range of inspirational mountain images  from ice climbs in Africa to majestic peaks in Patagonia.
This year, the 40th annual Banff Mountain Film and Book Festival will be represented by Soren Rickard's image of Les Drus in Chamonix, France. We chose this mountain image to represent the 40th anniversary of the Festival not only because it is a stunning scenic image, but also because it exudes energy through movement in the clouds, dramatic light, and grand mountain peaks. As an added bonus, this image has a unique and outstanding connection to a long legacy of alpinism as Chamonix celebrates 150 years of mountaineering in 2015. 
Rickards is a young, professional photographer based in Chamonix, France. At 20 years old, he is now photographing some of the most extreme sports and beautiful landscapes around the planet. Rickards grew up in a small London suburb town in the UK and at 17 felt he needed to expand his horizons. "Something just wasn't right. I wasn't supposed to be there." Describing the transition to the next stage of his life and career, Rickards says, "Upon arriving in a small French village, not far from Chamonix, I quickly fell in love with the mountains and photography. I lived in a van for two years while doing odd jobs here and there to keep me fed and allowing me to keep working on my new passion." He adds, "The photography quickly grew on me and quickly became a big part of me. I'm not qualified in anything else, so I have never dared to look back, this is what I want to do." About his new passion, Rickards says, "I try to show emotion in my photographs, moments of turbulent weather mixed with awe inspiring action, something magical, dreamlike or even fictional. I feel like I am living in a dream and I want to show that emotion in my photographs – and I like to photograph other people living their dreams."
For more information on Soren Rickards visit his website:
This photo was taken in January 2015, and there was a mysterious atmosphere in the sky as a strong foehn wind picked up just after a big snow storm had cleared. The swirling clouds took a bizarre form in the evening light. I don't think I'll ever take a photo quite like this of Les Drus again! 
Soren Rickards