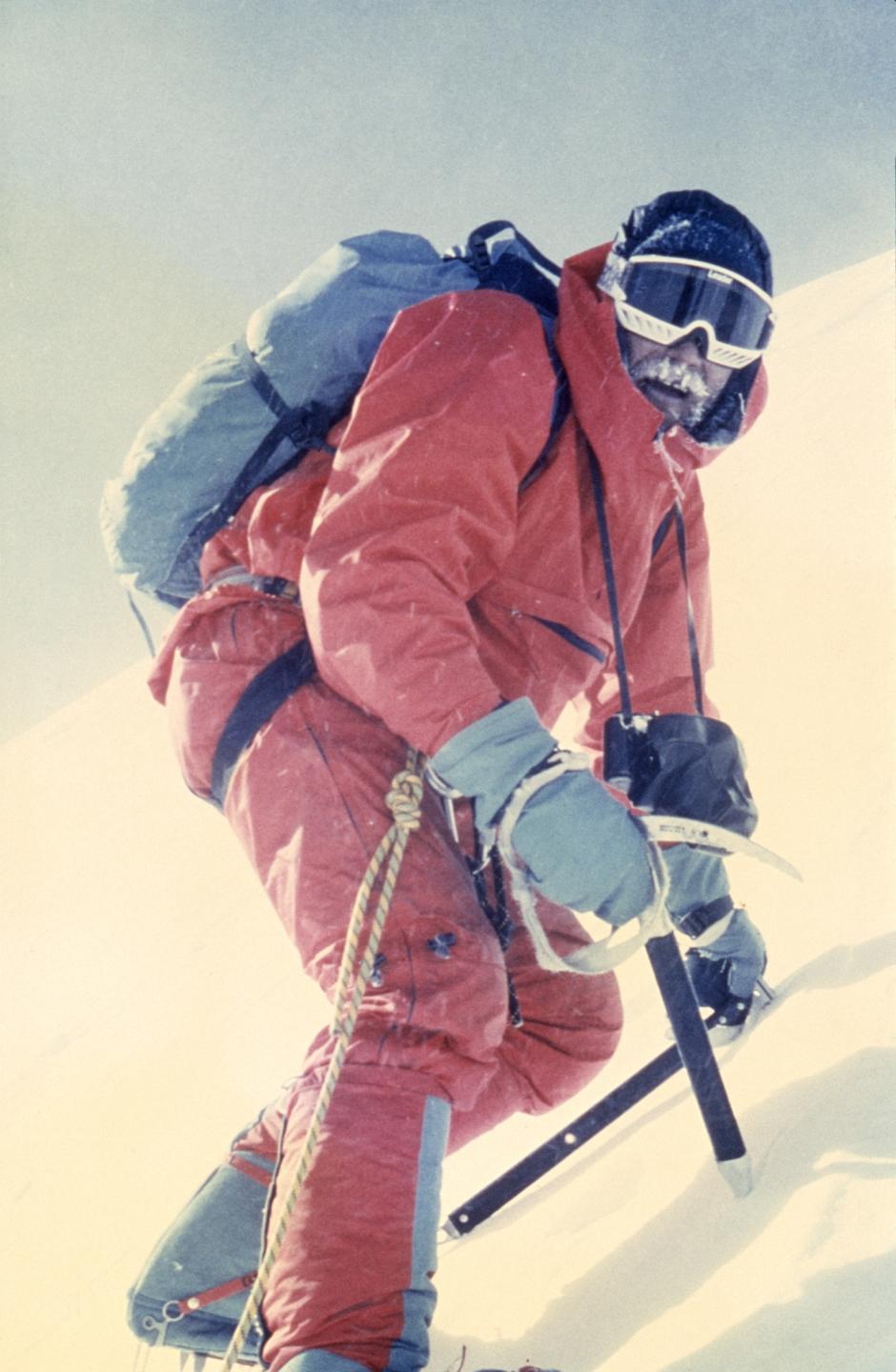 Presented at the Banff Centre Mountain Film and Book Festival since 1987, the annual Summit of Excellence Award has recognized an individual who has made a significant contribution to mountain life in the Canadian Rockies.  In 2016, the award was expanded to recognize individuals from across Canada.
The list of past recipients read like a "Who's Who" of the Canadian mountain culture scene, and includes a diverse collection of mountaineers, authors, artists, photographers, mountain guides, musicians, teachers, and rescue specialists.  
The 2019 award will be presented onstage on opening weekend of the Banff Centre Mountain Film and Book Festival - Saturday evening, October 26.
The award is presented in memory of Calgary climber Bill March, an internationally respected mountaineer, author, and educator, who led Canada's first successful Everest climb in 1982.
Nominate a Summit of Excellence Award recipient today.
Photo: Jacques Olek. Credit: Andrzej Zawada
2018 Recipient: Jacques Olek
Regarded as a pioneer in the Quebec mountaineering community, Jacques Olek devoted his life to mountain culture by leading difficult winter expeditions around the world and teaching the love of climbing to others. 
"Jacques is a pioneer who spent a lifetime promoting mountain culture," said Louis Rousseau, Summit of Excellence selection committee member. "He's a humanist who travels not to conquer mountains, but to let his heart be conquered by the people he meets. He inspired so many to dream big, to go beyond, to play outside with passion and have the feeling of being free."
A proud Canadian of Polish descent, Olek has been a leader to Canadian mountaineers for decades. A champion of winter climbing, he was part of a Polish-Canadian expedition that made the first winter summit of Cho Oyu (8201 metres) in 1985. In 1987-88, Olek joined a team of Polish, British, and Canadian climbers to attempt the first push for the summit of K2 in winter. The team reached 7,300 metres before harsh conditions forced them to turn around. To this day, no one has made a winter ascent to the summit of K2.
Olek ran an outdoor store in Montreal – Blacks International – allowing him to inspire thousands of Canadians to take on new challenges, learn new skills and be passionate about getting outside. He spent a lifetime building and supporting the outdoor community in Quebec, organizing the first Quebec expedition to Baffin Island in 1976 and to Mount Logan in 1978.
Arriving in Canada after fleeing the Soviet-controlled Poland on foot across the Alps to Austria, Olek has a long list of climbs around the world:  in Pakistan, Mongolia, China, Tibet including some of the world's most challenging peaks (Nanga Parbat, Shishapangma, Makalu, to name a few).
"In 1981, I met visionary Polish mountain climber Andrzej Zawada," said Summit of Excellence award winner Jacques Olek, "the leader of a Polish national expedition who made the first winter ascent of Everest in 1980, paving the way for the winter climbing tradition on the 8000ers. This meeting was crucial because it allowed Canadian mountaineers to contribute to the Himalayan winter climbing history."
Sponsors
Norseman Outdoor Specialist and Yamnuska Mountain Adventures are pleased to support Banff Centre for Arts and Creativity in celebrating mountain life in Canada by sponsoring the 2018 Summit of Excellence Award:
"We are honored to be a part of this community of incredible people who share our passion and long-term commitment to understanding, enjoying, and protecting our local mountains.  It is our respect and love for the natural world that compels us to connect with it, as well as to educate and outfit others so they can experience its rewards while understanding the importance of the responsibility we all share in preserving it."
Nomination Information
Award Logistics
One award is given annually
An individual or group of individuals is eligible to be nominated
An individual may not nominate him/herself
Award Timeline
Deadline for nominations is Friday, July 12, 2019
Award will be announced to the public at the end of September
Award will be presented onstage on opening weekend - Saturday evening, October 26.
Nomination Guidelines
Nominators are encouraged to read profiles of past award winners
The volunteer selection committee reviews each nomination individually and considers all information provided to ensure a high degree of fairness, accuracy, and integrity during the judging process.
Each nomination should be submitted separately
Nominees must have demonstrated long-term commitment in their contribution to mountain life in Canada
Nominees may include but are not limited to those making contributions in areas such as mountain sport, mountain environment, mountain culture, mountain art, or mountain science
Nominations should clearly describe how the nominee's accomplishments have significantly benefited the mountain community in Canada
Nominations should include descriptions of some or all of the following:

level of contribution
longevity of service
impact to sport/environment/culture/art/science (for example – did the nominee help to elevate their field?)
demonstration of excellence
peer feedback
motivating or inspiring others