Mark Clintberg, Rebecca Baird, Patrick Jackson, Daniel Jacoby, Joo Choon Lin, Alex Morrison, Brent Wadden
August 2 - October 19, 2014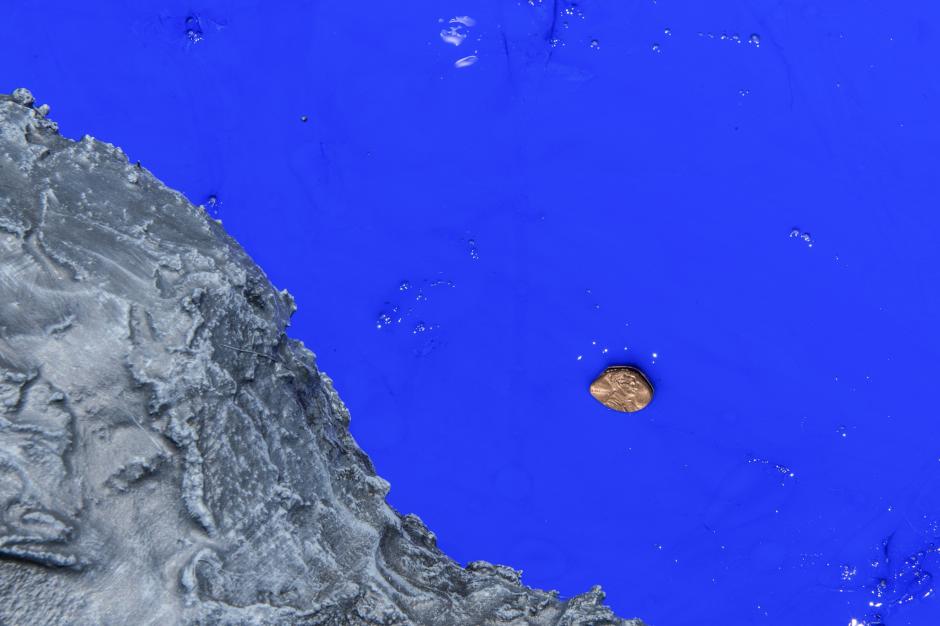 Be Mysterious is an exhibition about objects. The objects you will meet in the exhibition, while being artworks in their own right, are there to disrupt our understanding of the things in our everyday life. Viewers will encounter a wishing-well filled with a peculiar blue substance, oversized mugs sprouting stalagmites, a houseplant made of clay, an oversize rag-rug the exact width of an oil pipeline. The lives of these artworks are imbued with personalities and tasks of their own. Some are deviant and poorly behaved, others shock and surprise, while some invite and provoke. The form of these works vary; there are videos by artists Joo Choon Lin and Daniel Jacoby, ceramics by Patrick Jackson and Alex Morrison, weavings by Brent Wadden and Rebecca Baird and a sculptural intervention by Mark Clintberg.
The lobby of Walter Phillips Gallery becomes the initial site of the exhibition with Mark Clintberg's Vinyl RecordQuiet Disco (2013) playing the muffled bass of a party next door. A reference library of books and comedic scripts are also available during gallery hours. Art-rock albums such as Concert's Behave Like an Audience(2013) and Life Without Buildings' Any Other City (2001) are also on the set-list as part of the library, to be shuffled by gallery visitors and staff alike. This selection of albums and books are unexpected encounters - pointing to our preconceptions of what music and books can be.
What all the artworks in Be Mysterious share is a healthy introspection, lightness and ability to invert the initial assumption of the viewer, asking them to think in new and strange ways. There is a recent trend in philosophical circles that asks us to better consider inanimate objects - things or tools - to alter their raw state and become multidimensional. Seemingly this is not that far-fetched, with our own networked communication devices collecting, processing and ultimately altering themselves into smarter objects. It is at this junction that Be Mysterious urges the multiple implications of each artwork, with no stone left unturned - history, form, humour, music, culture, craft and the very nature of what it means to be contemporary are all considered. So enter the exhibition with an open curiosity. Observe and interact with the artworks that take on the appearance of everyday objects and at the same time behave as extraordinary things.
Artist Biographies
Rebecca Baird 
Alberta First Nations Affiliation: Cree Metis
For over thirty-one years this highly regarded Native artist has been exploring themes of First Nations identity and representation in a number of contemporary media, including installation/sculpture, painting, print-making to constructions with found objects and braided sweetgrass with quillwork. She brings both a refined aesthetic sensibility and extensive scholarly research to her collaborations with her brother Kenny. She has received a number of significant awards and grants, has exhibited in Canada and abroad. She was included in the inaugural exhibit "From Sea to Shining Sea" at the Power Plant and in 1992, "Heartland", a collaborative piece she produced with her brother, was exhibited in the major national group show "Indigena", at the Museum of Civilization, Hull. Her works are in the collections of the Canada Council's Art Bank, the Museum of Civilization, the Royal Ontario Museum, Toronto, the Winnipeg Art Gallery, and the Canadian Embassy in Geneva. In 1996, she was commissioned to create a mural for the Queen Street West Community Health Centre, Toronto and in 2001 was awarded a commission for the new Terminal at the Lester B. Pearson International airport, Toronto.
Baird was artist in residence at the Canadian Museum of Civilization and the University of Toronto in 1993 and at the McMichael Art Gallery, Kleinburg, in 2004. She is a co-founding member of the Tecumseh Collective and is co-organizer of five three day multi-disciplinary Tecumseh Arts Festivals held at historic Fort York since 2001. She is also a founding member of the Sweetgrass Collective which produced a touring exhibition and publication of archive photography selected, captioned and produced by First Nation artists entitled, "Every Day Light: First Nations History As Seen Through The Family Photograph Album" (2000/2005). She has written for both David Hannan's "WILDness" exhibition, Philip Cote's "Lineage" at the Station Gallery and also organized three Tecumseh Arts Festival exhibitions, "Earth Warriors", "Witness", & "Earth Means Life".
Mark Clintberg
Mark Clintberg lives and works in Montreal. As an artist, critic, art historian and curator, Clintberg often reveals the fluidity between private and public, intellect and emotion, interior and exterior. Clintberg's research interests include public art and collaborative practices, preoccupations that carry through in his art. His work has been shown at the National Gallery of Canada, Ottawa; the Art Gallery of Alberta, Edmonton and Banff Centre. Clintberg was shortlisted for the Sobey Art Award, The Sobey Art Foundation (2013) and recently completed a five month residency on Fogo Island.
Patrick Jackson
Patrick Jackson lives and works in Los Angeles. As an artist and teacher, Jackson interrogates the status of objects and our desire for them. Often blurring the lines between fine art and consumerist values, Jackson's sculptures and installations reference the everyday as well as fantastical and absurd objects that that attract and repel their onlookers. Jackson is represented by François Ghebaly Gallery, Los Angeles, and teaches at The University of Southern California's Roski School of Art and Design. 
Daniel Jacoby
Daniel Jacoby lives and works in Amsterdam. While remaining playful, Daniel Jacoby's rigorous, systematic and methodical creative process almost suggests an obsessive nature. By always establishing an elaborate protocol before beginning to work, he seems to aim at emphasizing the absurdity of the criteria that are imposed on us – and that he imposes on himself. Jacoby works between sculpture, photography, performance, installation and moving image. 
Joo Choon Lin
Joo Choon Lin lives and works in Singapore. Underlying Joo Choon Lin's practice is her philosophical interest in the nature of reality that can be summarized in terms of the philosophers' longstanding investigation into the relations between appearance and essence. Choon Lin's own investigation into these questions is also informed by her interest in technological developments, as the various technologies of representation devise new ways of capturing the likeness, qualities and virtues of things.
Alex Morrison
Alex Morrison lives and works in Brussels. Morrison's practice question how vernacular styles are historicized and subsequently instrumentalized by way of their transformation into decorative surfaces. In thinking about the softening of modernist styles through both post-modernism and folk aesthetics, Morrison's
works reveal how particular genres have been borrowed in order to lend a certain sense of authority, permanence or perceived refinement to the otherwise disposable late 20th century built environment.
Brent Wadden 
Brent Wadden lives and works in Vancouver and Berlin. Wadden is part of a group of young artists that have gone against the grain of their own generation and have decided to use their time to make things themselves, in effect rejecting contemporary society ́s general state of impatience. While Wadden ́s work can be seen as a rejection of notions of the immediate, the cheap and of utmost satisfaction, it is also concerned with challenging the boundaries between craft, fine arts as well as interior design.