TO BECOME WHOLE (THE WHOLE ISSUE)
November 16, 2013 - January 19, 2014
Curated by Robin Simpson and Danielle St-Amour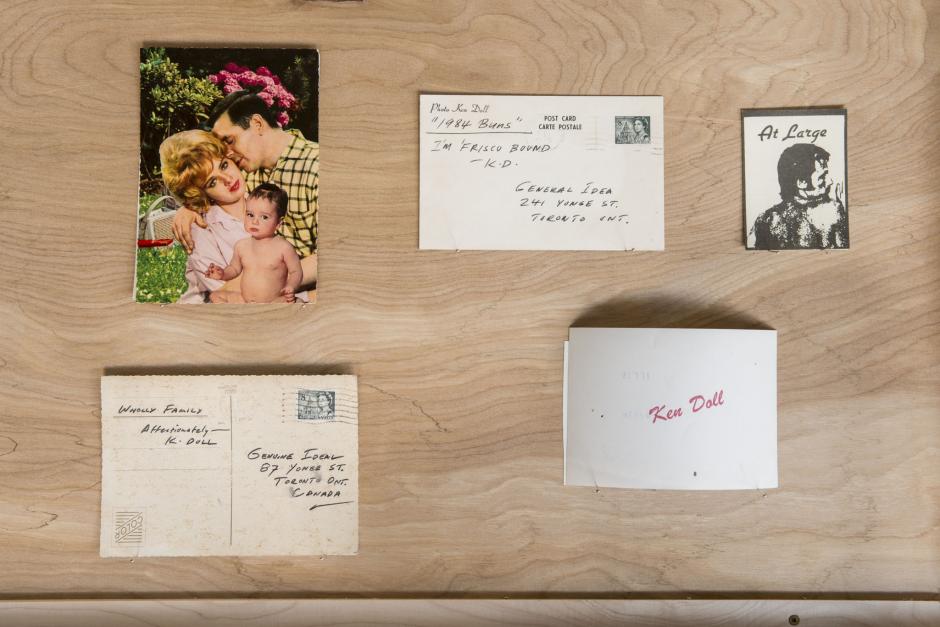 TO BECOME WHOLE (THE WHOLE ISSUE) is a multi-part inquiry into the short‐lived countercultural resource, the Canadian Whole Earth Almanac. Published in four issues between 1970 and 1972, the Almanac addressed the topics of Food, Shelter, Industry, and Healing. Each issue presented both esoteric and practical knowledge, collected and tested by members of the Canadian Whole Earth Foundation and distributed to a readership eager to reconsider notions of community, care and communication via self-determined means.
As the first iteration of this ongoing research, TO BECOME WHOLE (THE WHOLE ISSUE) assumes the Almanac's organizational logic as a method of interpreting a selection of ephemeral works by its principal editor and designer, Ken Coupland. Addressing the instructional possibilities of the Almanac's content, fragments of Coupland's work — including postcards, illustrations, prints and books — in addition to the Almanacs themselves, are arranged here alongside secondary print materials and photographs drawn from The Banff Centre's Archives.
Originating as a northerly sister publication to the California‐based Whole Earth Catalog (WEC), the Almanac focused on reviewing books, pamphlets, and other resources available specifically to Canadians. Much like the WEC, the covers of each of the Almanac's four issues assumed the motif of the earth from space as their principle image. Yet where the American publication opted to simply reproduce NASA's photographs of this new perspective, the Almanac chose to pluck the earth from such vantages, reimagining it straddled; gently cradled; shrunken and doubled within strange new surroundings. This departure from the methods of its Californian counterpart continued throughout the self‐reflexive tone of the Almanac, realized in both its layout and written content.
Coupland was an integral member of both the artist-run and independent publishing milieu in Toronto during the 1960s and 1970s. In addition to his duties with the Almanac, he designed books for Coach House Press and was an early collaborator with the artists' collective General Idea. A primary locus of the Almanac's content and community was the experimental free‐school, Rochdale College, where the Almanac's office resided alongside scores of other self‐organized services and initiatives. Leaving Toronto in the early‐1970s for San Francisco, Coupland continued his relationship with the increasingly diasporic Canadian scene, engaging in the expansive mail‐art network that at once articulated and united its community and members.
In highlighting a community and readership contoured by correspondence and information exchange, the exhibition brought to bear new themes and associations on the historical documents presented. Through these anachronistic encounters TO BECOME WHOLE (THE WHOLE ISSUE) advanced an alternative spirit of self-determination highlighting a community and aesthetics not so easily bracketed within the typical histories of 1960s and 1970s counterculture.
Curated by Danielle St‐Amour and Robin Simpson
Walter Phillips Gallery gratefully acknowledges the support of the Canada Council for the Arts and the Alberta Foundation for the Arts. With thanks to; The Art Metropole Collection, gift of Jay Smith, Toronto at The National Gallery of Canada Library and Archives, Ottawa; The Collection of the Morris/Trasov Archive at the Morris and Helen Belkin Art Gallery, University of British Columbia, Vancouver; Patricia McShane, Berkeley, CA; and Hank Bull, Vancouver