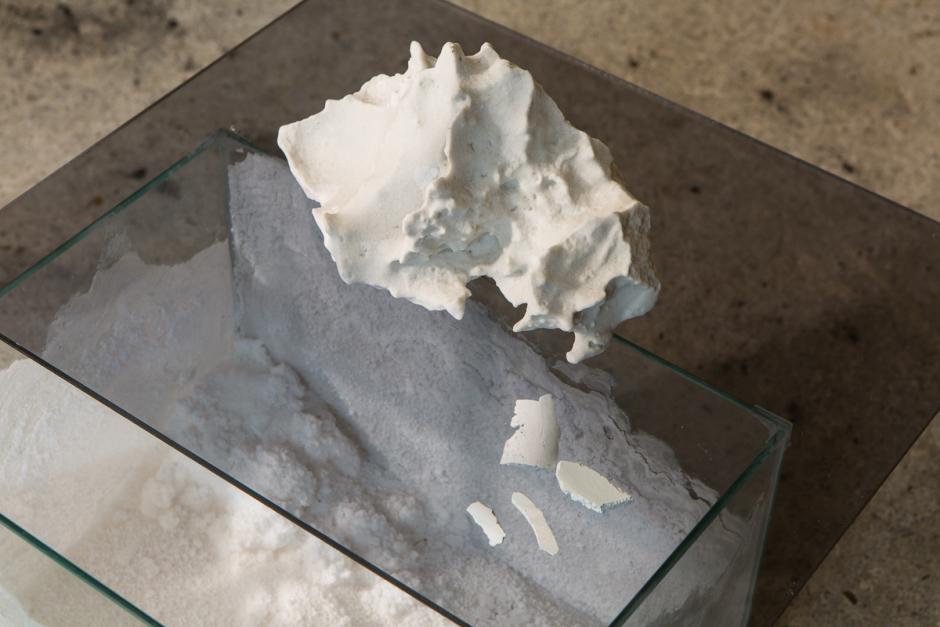 Becoming Lithocene 
Walter Phillips Gallery, Satellite Space
Eric Harvie Theatre, West Lobby
April 20-June 14, 2019
Opening Reception: April 26, 2019 from 5:00pm-7:00pm 
Exhibition Tour and Geology Talk: June 11, 2019 from 12:00pm-1:00pm
Tsēmā Igharas / Suzanne Nacha / Meghan Price / Hannah Rowan 
Becoming Lithocene pulls from the language of speculative storytelling and glacial geology to approach the actual and imagined relationships between ice and rocks present in this exhibition. Lithocene, a term coined by contemporary medievalist and environmental humanist Jeffrey Jerome Cohen, is used in this exhibition as an imaginative proposition to describe a longer view of lithic lifespans, and their ability to link and transcend human epochs. As theorist Lowell Duckert writes in his 2013 essay, Glacier, "to study a glacier is always to study its work. A glacier is always-already acting, and its work is never done." [1]  Speaking to the unfixed state of the geologic, the works in Becoming Lithocene serve as explorations of vast geologic time, while also pointing to questions of memory and place via the geological relationship between these two materials. 
The assembled works serve as an invitation to rethink the temporal structures that appear to ground cultures and geographies. Ice is creaturely and ephemeral, destabilizing and depositing rocks before it disappears. Forming rafts that suspend, displace, and transport, it is responsible for the movement of pebbles, boulders, and mountain ranges. In the context of this exhibition, such partnerships between ice and rock are observed through the geologic movement of the glacial erratic—a rock deposited by glacial ice non-local to its area—that is referenced in three works by Meghan Price. Small diorama-like boxes contain stones enmeshed in metal netting. Released from their environment, some seem tenuously held in an abstracted landscape, while others appear to have moved at a quicker rate. Works by Price and collaborator Suzanne Nacha draw attention to the unfixed state of glacial erratics by making impressions of their surfaces and flying them as kites; a floating topography of past or future geographies. 
Tsēmā Igharas' sculptural photographs depict black and green obsidian, traditionally mined by Tahltan First Nation from the volcanic complex Mount Edziza in what is now known as northwestern British Columbia. Familiarly known as Ice Mountain for its prominent ice-filled caldera which creates its own weather systems, the mined obsidian from Mount Edziza in Igharas' work evinces its geological history as well as a culturally grounded understanding of the material. As a form of volcanic glass created by fissures or erupting volcanos that cool in water present on the mountain, obsidian also reflects a particular geological relationship between rock and ice in liquid form. The artist's choice to install these works of proxy obsidian on the ground speaks to their past lives rooted to the Mount Edziza region, as well as the Tahltan connection to the land. 
Hannah Rowan draws attention to the individual physical properties of copper, plastic, ice, and their imbued material histories that work to reposition the anthropocentric binary between human and nonhuman. These sculptural installations could be understood as cumulative in a temporal and physical sense: instead of sediment, active layers such as the movement of melting ice; the formation of salt crystals; and water piped to and from a tank, reflect the artist's interest in visualizing 'a continual state of becoming'.[2]
This exhibition's reference to the Lithocene represents an effort to look back as well as forward, to destabilize anthropocentrism, and to partner with forces outside of human experience. In storying fluid interactions between ice and rocks, each work in Becoming Lithocene calls attention to the ways in which nonhuman and human lives will continue to overlap and shape one another. 
Curated by Diana Hiebert, Curatorial Research Practicum at Walter Phillips Gallery.
[1] Lowell Duckert, "Glacier," postmedieval: a journal of medieval cultural studies 4, no. 1 (2013): 71. doi:10.1057/pmed.2012.41.
[2] Hannah Rowan, in conversation with the curator, 2018.
Tsēmā Igharas
Tsēmā Igharas is an interdisciplinary artist and a member of the Tahltan First Nation. She uses Potlatch methodology as the foundation for the creation of compelling performance work and installations. Her practice is informed by Northwest Coast Formline Design, her studies in visual culture but also time spent in the mountains. Her unique approach is a way to challenge the colonial value system and relation to the land, and to promote, through methods of care, strategies of resistance.
Igharas has a Bachelor's degree from Emily Carr University of Art and Design in Vancouver and graduated from the Interdisciplinary Master's in Art, Media and Design program at OCAD University, Toronto. She is a contributing member and representative for ReMatriate Collective, a group working toward the improvement of the way indigenous women are portrayed in the media. She has won the 2018 Emily Award for outstanding ECUAD alumni; she has shown and performed in numerous places in Canada, including Montreal Contemporary Native Art Biennial; internationally, she has participated in events in Mexico, the United States and Chile.
Suzanne Nacha
Suzanne Nacha is an artist working in painting, sculpture, installation and video. Her work is imbued with a unique visual language enriched by her experiences mapping the far-reaches of Canada, creating geologic maps that span the earth's continents and the study of structural geology. She has exhibited her artwork in Canada, the United States and Europe and is represented in public and private collections, including the Department of Foreign Affairs and International Trade, Ottawa; the National Bank of Canada, Toronto; The Donovan Collection, University of Toronto; and the Robert McLaughlin Gallery, Oshawa. Born in Hamilton, she holds degrees in both fine art (BFA, University of Guelph; MFA, York University, Toronto) and geology (BA, Geology and Geography, McMaster University, Hamilton). She has taught in the Fine Art departments of OCAD University, Toronto; Sheridan/UTM, Oakville; and York University, Toronto. For the past fifteen years, she has pursued parallel careers in the visual arts and the geological sciences.
Meghan Price
Meghan Price works in sculpture, print, video and textiles to explore ways of experiencing Earth's timescale in the everyday. Price has exhibited nationally and internationally, including recent exhibitions at Fiberspace Gallery, Stockholm; AKA Artist-run, Saskatoon; Untitled Art Society, Calgary; the Center for Craft, Creativity & Design, Asheville; the Art Gallery of Southwestern Manitoba, Brandon; and Blackwood Gallery, Toronto. She has held residencies at the Icelandic Textile Center, Blönduós; the Museum of the Flat Earth, Fogo Island; Artspace, Sydney; the Scottish Sculpture Workshop, Lumsden; and Banff Centre for Arts and Creativity. Price holds a degree in Textile Construction from The Montreal Centre for Contemporary Textiles (2003) and an MFA from Concordia University (2009). Price lives in Toronto where she teaches in the Textile studios of OCAD University and Sheridan College.
Hannah Rowan
Hannah Rowan lives and works in London, and has exhibited across the UK and in the United States. She makes sculptural works that meditate on the relationship between the slow geological time of natural processes and the fast-paced, technology-driven frenetic activity of humans. She received her Masters in Sculpture from Royal College of Art London and her BA (hons) in Fine Art from Central Saint Martins, London. She has attended residencies at The Scottish Sculpture Workshop, Lumsden; Banff Centre for Arts and Creativity; The Vermont Studio Centre, Johnson; and The Wassaic Project. She is the recipient of the Gilbert Bayes Scholarship in Sculpture (2018) and the Arts Council England Grants for the Arts (2017) for her research in the Atacama Desert. Recent exhibitions include Site Work (2019), Experimental Gallery Cornell University, Ithica; I'm in the Bath on All Fours (2019), Well Projects, Margate; Bodies of Water; Age of Fluidity (2019), White Crypt, London; Oikos Logos (2018), Enclave Lab, London; Wild Within (2018), Guest Projects, London; Too Much Information, Seventeen Gallery, London, UK; and The Roger Ailes Memorial Show: Fair and Balanced? (2017), Yours Mine and Ours Gallery, New York. In June 2019 she will be part of the Arctic Circle: Arts and Sciences Residency in Svalbard.
Diana Hiebert
Diana Hiebert is an independent curator and writer, and a Curatorial Research Practicum at Walter Phillips Gallery. Hiebert holds a MA Art History and concentration in Art Exhibition and Curatorial Practices from Carleton University, Ottawa and served as research assistant at Carleton University Art Gallery. She interned at the contemporary art department at the National Gallery of Canada and department of research at the Canadian Museum of History where she enjoyed working with creative teams in many aspects of exhibition-making. In addition, she has worked at The Reach Gallery Museum Abbotsford in a number of capacities including preparator and exhibition designer. In 2015, she also served as Curator of Programming at Emerge at The Reach, an organization associated with the gallery that serves young artists in the Fraser Valley.