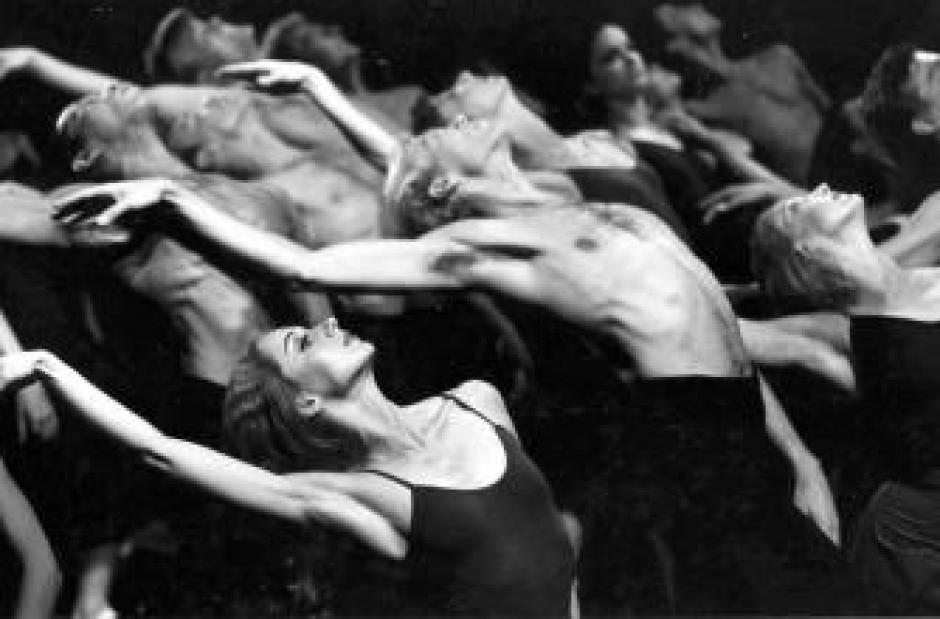 Banff Centre has been training artists since 1933 in the Canadian Rockies. Dance programs started here in the late 1940s when Gweneth Lloyd and Betty Farrally, co-founders of the Royal Winnipeg Ballet, initiated a six-week summer program with a focus on ballet training. In those formative years, Dance programs expanded to include public presentations as part of the Banff Summer Arts Festival as well as touring to cities across western Canada. 
In 1972, under Arnold Spohr's direction, the program evolved through cross-county auditions and scholarships. A decade later, in 1982, Brian Macdonald was appointed head of dance and ballet, and served in this role until 2002. Dance programs flourished at Banff Centre over the following decades, featuring performances every season and innovative residencies to train choreographers, dancers, and dance companies. 
Notable residencies in dance over Banff Centre's history include the following companies: O Vertigo, Compagnie Marie Chouinard, Joe Ink, PPS Danse, Ballet Jörgen, Ballet BC, Decidedly Jazz Danceworks, Sylvain Émard Danse, BJM Danse, Alberta Ballet, Red Sky Performance, Kaha:wi Dance Theatre, Royal Winnipeg Ballet, Kidd Pivot, Wen Wei Dance, Beijing Modern Dance Company, and Aszure Barton & Artists.
Banff Centre is active in presenting touring dance companies and has become an important stop for national and international companies touring Western Canada. Among many others, Banff Centre has hosted Toronto Dance Theatre, Grupo Corpo, Compagnie Käfig, Sampradaya Danceworks, 605 Collective, Montréal Danse, Bboyizm, Out Innerspace Dance Theatre, Tara Cheyenne Friedenberg, Holy Body Tattoo, National Ballet of Cuba, Heidi Strauss, Louise Lecavalier, Ballet Kelowna, Northwest Dance Projects, and Ballet BC.
Since 2014, internationally respected choreographer and dance artist Emily Molnar has been Artistic Director of Dance, guiding Banff Centre's dance initiatives in collaboration with the dance community, and including programs, partnerships, commissions, residencies, workshops and other forms of professional development related to dance.
To view the most current dance programs at Banff Centre please click here. 
To view the legacy of dance productions at Banff Centre, including original course calendars and dance festival programs, please click here.
1940s
1947: Initiated by discussions between Gweneth Lloyd and Donald Cameron, dance programs at Banff Centre begin with a six-week summer program focused on ballet training, as part of the theatre department.
1949: Gweneth Lloyd and Betty Farrally, co-founders of the Royal Winnipeg Ballet, direct the dance program and teach at Banff Centre for decades: Lloyd until 1967 and Farrally until 1981. Dance would quickly become a vital arts training program and is considered somewhat of a "farm team" for Royal Winnipeg Ballet in its early years.
1950s
1955: Banff Centre holds its inaugural Dance Festival. Every year thereafter, Banff Centre has showcased innovative dance productions through residencies and touring productions. To see original programs from decades of Banff Centre dance festivals, please click here.
1958: Dance becomes an independent program, after previously being under the theatre division. Lloyd initiates annual invitations to guest dancers from London's Royal Academy of Dance.
1959: British dancer Sonia Chamberlain, from the Royal Academy of Dance, serves as a dance instructor and would continue as faculty for 13 summers, until 1972.
1960s
1961: Emerging dancers Richard Cragun and Jennifer Penny appear in Banff Centre's production of Arabesque. Cragun went on to be a dancer with the Stuttgart Ballet in Germany and Penny became a prima ballerina with The Royal Ballet in Britain.
1961: Brian Macdonald joins the faculty and initiates a jazz dance program. Macdonald later founded Banff Centre's musical theatre program in 1964, and became one of the most formidable dance educators in Canadian history. He passed away in 2014.
1962: Reid Anderson, who would become a professional dancer and Artistic Director of the Stuttgart Ballet, attends dance programs at Banff Centre at the age of 13.
1964: Eva von Gencsy instructs jazz dancing at Banff Centre. Earlier in her life she had fled her native Hungary, and worked in Winnipeg as a servant/housekeeper while dancing with the Royal Winnipeg Ballet. Von Gencsy went on to found Montreal's Les Ballets Jazz.
1967: Gweneth Lloyd retires from co-directing Banff Centre's dance programs after 20 years. At this time, there were over 200 students in the annual dance programs. With the construction of a theatre complex complete with facilities for costume, wig and set construction, a more formal production-focused training program was added, allowing for fully designed and realized dance productions to be presented, complete with a full orchestra.
1968: Arnold Spohr becomes co-director of the dance program at Banff Centre, working alongside Betty Farrally.
1970s
1972: Under Arnold Spohr's direction, the program was re-named Dance/Ballet and a higher level of excellence was achieved through a more rigorous selection process, limited enrollment, cross-county auditions and access to scholarships.
1977: Evelyn Hart stars in the Summer Dance Festival; she went on to become lead dancer at Royal Winnipeg Ballet and won Gold at the Varna International Ballet Competition.
1978: The Clifford E. Lee Award for Choreographers is created to support emerging Canadian choreographers. Alumni of the award now include: Christopher House, Bengt Jörgen, Crystal Pite, Wen Wei Wang, David Earle, and Gabrielle Lamb.
1980s
1982: Brian Macdonald, now an internationally regarded dance educator and choreographer, is appointed director of dance at Banff Centre. Alumnus Reid Anderson returns as an instructor.
1986: Christopher House is awarded the Clifford E. Lee Award for Choreography. Since 1994, House has been the Artistic Director of the Toronto Dance Theatre and has since served as faculty in multiple Banff Centre programs. He is the recipient of three Dora Mavor Moore Awards.
1987: David Earle, co-founder of the Toronto School of Dance, is awarded the Clifford E. Lee Award for Choreography.
1990s
1995: Crystal Pite is awarded the Clifford E. Lee Award for Choreography.
2000s
2014: Critically acclaimed choreographer and dance artist Emily Molnar is appointed Artistic Director of Dance. Molnar would receive an Order of Canada in 2016, and was artistic director of Ballet BC since 2009.
2015: Aszure Barton, the Edmonton-raised and internationally acclaimed choreographer, takes part in a residency with her company Aszure Barton & Artists, to create the performance, Awáa, which premiered at the Canada Dance Festival in Ottawa then performed at Banff Centre.
" Those precious weeks at Banff provided me with a basis from which I've built my professional career…Banff was the time that I studied ballet every day over an extended period of time. This was first exposure as to what life as a ballet dancer might one day be like and I thrived on it. The Banff experience fed my hunger for ballet like no other."
Reid Anderson discusses his first year as a dance student at Banff Centre, from Artists, Builders, and Dreamers: 50 Years at the Banff School by David and Peggy Leighton