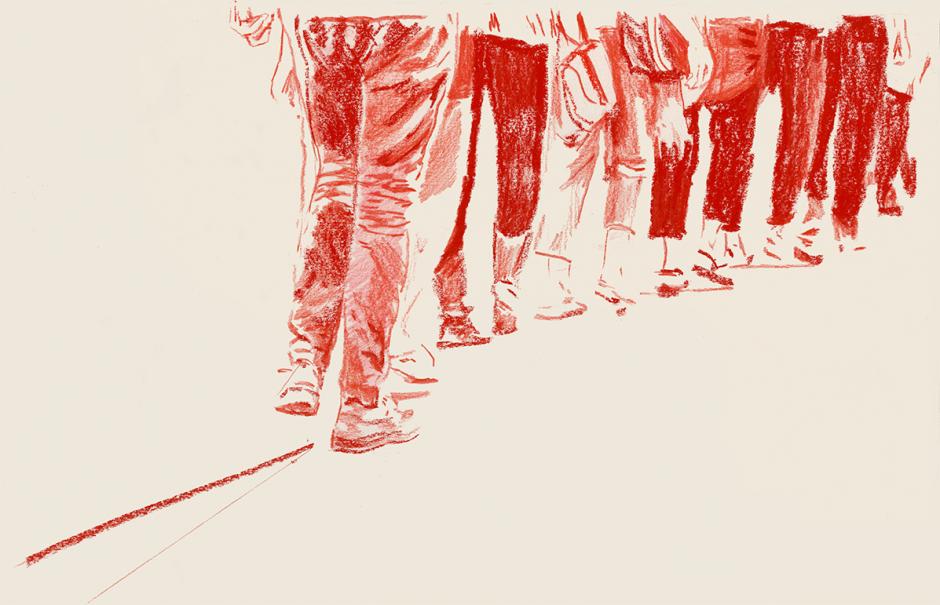 Guidelines
Carmen Papalia with Heather Kai Smith
Walter Phillips Gallery 
June 15 – August 25, 2019
Opening Reception: June 14, 6 – 9 pm
Exhibition Tour: August 21, 5 pm
Since 2015, Vancouver based-artist Carmen Papalia's practice has been grounded in the conceptual framework he terms Open Access. This set of five tenants draw on Papalia's experience as a non-visual learner, a term he chooses to identify with over the medicalizing terminology of blind or visually impaired. Emphasizing what he understands as an institution's social accessibility, the framework of Open Access advocates for the artist's understanding of "accessibility as social practice" – a temporary experience that requires a relational approach to mutual care.
For this exhibition, Papalia is collaborating with Heather Kai Smith on an animation and series of works on paper which visually interpret the concept. Primarily working in drawing, Smith's work often engages ideas of mutual support through careful renderings of archival protest documentation. Materially emphasizing the labour, as well as ephemeral nature, inherent in a relational approach to accessibility, the commissioned works will mark the Vancouver-based artists' first collaboration. The exhibition design for Guidelines is by Goodweather Studio.
Carmen Papalia
Born in Vancouver, unceded Coast Salish territory in 1981, Carmen Papalia is an artist who uses organizing strategies and improvisation to address his access to public space, the art institution, and visual culture. His socially engaged practice is an effort to unlearn visual primacy and resist support options that promote ableist concepts of normalcy.
Papalia's walks, workshops, and interventions are an opportunity to model new standards and practices in the area of accessibility. He approaches the museum as a colonial enterprise that has benefited from a tradition of cultural violence; a platform that contains valuable cultural resources, which is marginalizing by design. His work has been featured at The Solomon R. Guggenheim Museum, New York; Tate Liverpool; Harvard Art Museums, Cambridge; Grand Central Art Center, Santa Ana; and Gallery Gachet, Vancouver; among others. Papalia is the recipient of the 2014 Adam Reynolds Memorial Bursary and the 2013 Wynn Newhouse Award. He holds a BA from Simon Fraser University in Vancouver and an MFA with a focus in Art & Social Practice from Portland State University. His current work includes an advocacy platform based on the principles of Open Access (2015) and an accessible mobile work-space and archive that provides a context for programming about accessibility at the institutions that he visits.
Heather Kai Smith
Heather Kai Smith is an artist who currently lives and works in the unceded Coast Salish Territory known as Vancouver. She completed her MFA at the Emily Carr University of Art and Design (2017), and her BFA in Drawing from the Alberta College of Art and Design (2009). Her current practice explores the potential embedded within archival images of protest, collectivity and intentional communities activated through drawing, observation and iteration. Rooted in the practice of drawing, her work has lent itself to projects in animation, printmaking and installation.
Smith has attended residencies across the United States and in Germany, while exhibiting her work within a variety of institutional and non-conventional spaces. Smith has participated in and facilitated workshops and collaborative projects across Canada and the United States. Her visual work was recently exhibited in Beginning with the Seventies: Collective Acts, at the Morris and Helen Belkin Gallery in Vancouver, curated by Lorna Brown. She is currently a non-regular faculty member in the Audain Faculty of Art at Emily Carr University of Art and Design.