National Indigenous Peoples Day: Film Screening & Panel Discussion
Awohnagabi: reworlding, creating, and emerging anew
In celebration of National Indigenous Peoples Day, the Nakoda AV Club members have selected stories from some of the nations that share responsibilities for this beautiful and sacred space: Mïnï Rhpa (Banff). Some of us have always lived here, some have come more recently, but all Indigenous people who visit here bring with them their knowledge of right relations. One way we practice that is by telling stories together. As the world (hopefully) emerges from years of pandemic and isolation, we have new opportunities to strengthen and renew relations together. We also carry new stories of existing together in a mostly digital world. We know that this time has impacted our storytelling, and our relations, and in this new emergence we use our stories to create the world we want to live in. This program features all kinds of stories, from cinematic music videos, to TikTok animation, highlighting the various ways that Indigenous community expresses relationality through story in film. (Awohnagabi is the process of storytelling). 
This program may contain strong language. Viewer discretion is advised.
Tibi 
Created by Nakoda AV Club 
(world premiere) 
A tipi wonders about its purpose in modern life, and shows that as a home, it is the heart of its community. This short story demonstrates the process of teaching Îethka culture through the making of a tipi under the supervision of knowledge keepers. The Elders describe knowledge that is in the tipi, and also what was lost when people moved into homes. Today people in Mînîthnî face complex challenges related to housing, such as mold and toxicity, overcrowding, and inescapable domestic violence. Could some of these problems be fixed by reconnecting to Îethka traditions and culture? Is creator still watching over us? The tipi and the teachings are still with us, we just need the chance to learn from them.
Ts'oostsitsi
Created by the NAPI Collective
Ts'oostsitsi is a brand new film from the NAPI Collective about the power of story in making you who you are.
Dear Friend
Created by the NAPI Collective
A beautiful, poignant visual letter made by Indigenous youth to a "cruel friend" (anxiety) that is equally stunning, empathetic, poetic, and profound. Made with great care and support from Siksika Health Services. 
Echin bathâbich 
Created by Stoney Nakoda Youth Council (Taylor Crow Spreads His Wings) 
Indigenous learners discuss the challenges they face in getting a western education both on and off reserve. Describing their experiences with  intergenerational trauma, getting assistance, and motivations, they note barriers, but also speak motivationally about their futures and the future of all Indigenous learners who dare to dream. 
Indigenous Sailor Moon
Created by Kelsey Twoyoungmen 
Animator Kelsey Twoyoungmen derives a lot of her inspiration from expressions of anime culture, and also from her Îethka knowledge and community too. In this sort animated piece Kelsey reimagines the classic anime hero, Sailor Moon, as a jingle dancer. Sailor moon saves the world through compassion and bravery, but also through her relational network and her belief in the value and importance of all living beings. Kelsey sees the Îethka in Sailor Moon and pulls that out in this transformation sequence. 
Mixed Blood Girls by Miesha and the Spanks 
Created by Indi City
Opens up with 'Mixed Blood Girls' poem by Rain Prud'Homme. Miesha's inner child follows her throughout the day on the set of a Music Video shoot. Miesha narratives the experiences of being a mixed Indigenous person growing up. Then it transitions into the music video with Miesha and the Spanks, 'Mixed Blood Girl' and a variety of 'Mixed Blood Girls' rocking out to the anthem.
Panel Discussion with Nakoda AV Club Filmmakers
With support from: 

For inquiries about this event, please contact: box_office@banffcentre.ca
Nakoda AV Club
The Nakoda Audio Visual Club is a storytelling society, an arts collective, and a group of emerging and established artists. We started as a youth group, but we have grown into young leaders. The Club is based in Mînîthnî (Morley), and works collaboratively to honor and share the stories in our hearts and community. 
We make works together, with partners and with our community members. We also support each others arts and storytelling practices and encourage community spirit in most everything we do.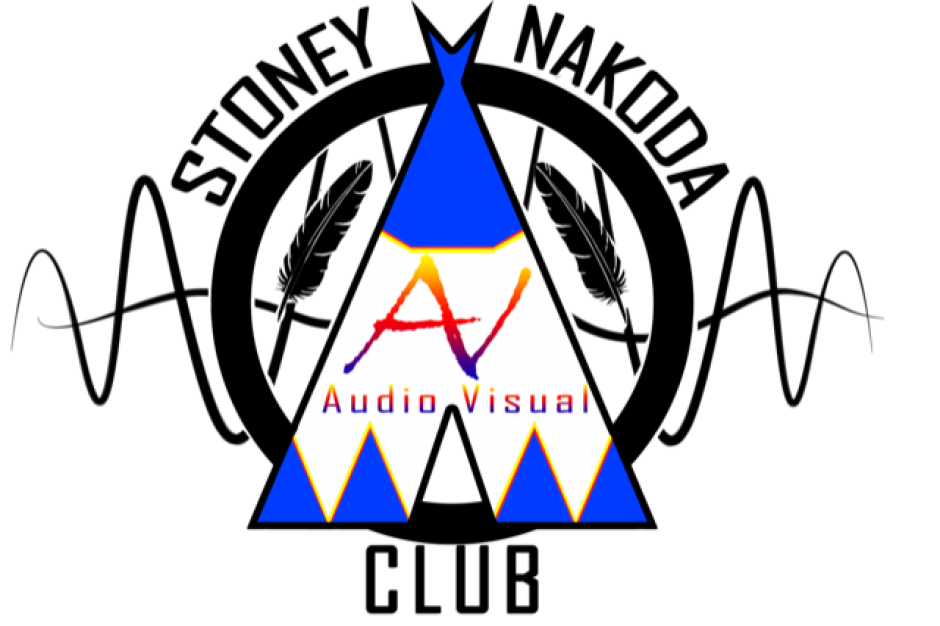 www.nakodaavclub.com 
@nakodaav