Festival artist search unearths rich talent – Bryn Merrell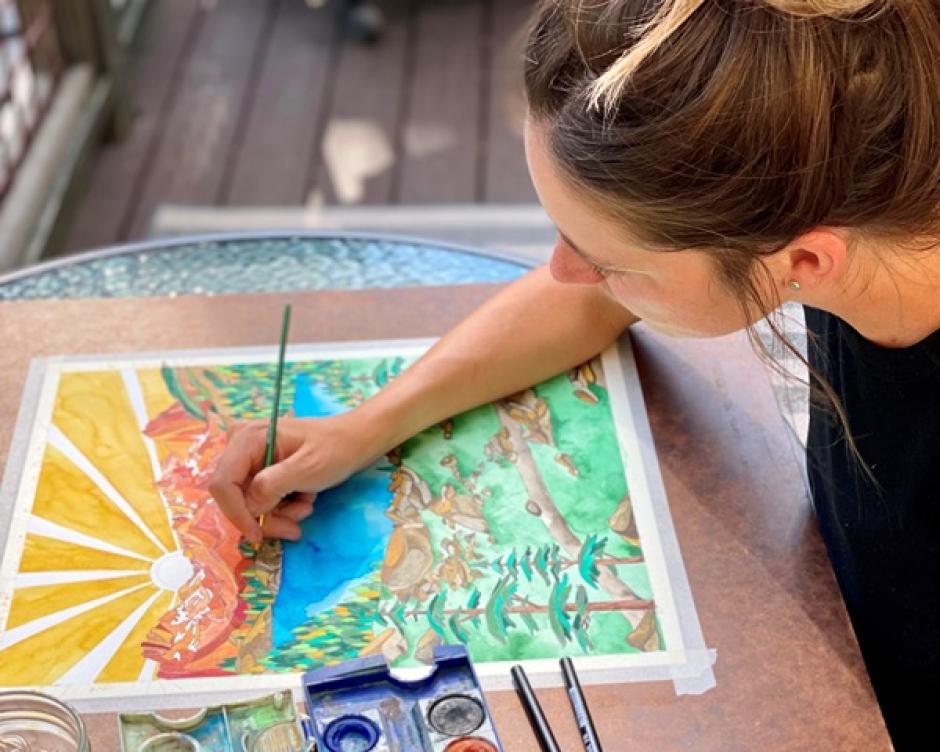 Presenting Partner Rab started working with Colorado-based artist John Fellows in 2018, which led to Fellows creating the Festival T-shirt and BUFF® designs. After three years of showcasing Fellows' remarkable talent, Rab and BUFF® were excited this season to provide an opportunity for another emerging artist to benefit, and collaborating closely with the Festival, they developed a global search for an artist through social media.
Bryn Merrell learned about the artist search through a social media post by Fellows. She considered Fellows an inspiring creator and had followed him on social media for a few years. The opportunity – a commissioned artist to create designs for the official Festival T-shirt and BUFF® – is her dream come true and she is honored to be chosen for creating in the same realm as Fellows. Merrell is looking forward to creating alongside other artists that help make the Banff Centre Mountain Film and Book Festival such a powerful event.
Originally from the small cowboy mountain town of Prescott, Arizona, Merrell has since settled in Tahoe City, California, and has fallen head-over-heels in love with the Sierra Mountains. She grew up in a quirky, creative, and artistic family. Family vacations included backpacking in the Grand Canyon and household pets were hissing cockroaches and tarantulas. As a child, Merrell was often considered a little odd. As an adult she has grown to appreciate the unconventional creativity that came from her family. Her family life also fostered an ambition to explore new things, including her decision to study mathematics and environmental science in college. Her goal was to be able to work outside but as she started down her career path she realized that would not be a reality. She took a break from work as a mathematician and began to once again explore her creative outlets. Seasonal outdoor industry work provided the lifestyle Merrell craved. Between the interesting people, flexibility, and the fact that she never needed to sign a rental agreement, Merrell was very content with this way of life. It was during this transition that she began to truly develop her artistic approach.
Most of Merrell's inspiration draws from personal experiences in the outdoors. When not painting or sketching she can often be found mountain biking, backpacking, and skiing. She loves to explore new places and discover what makes them unique, especially in the colours found in that particular environment. Merrell well remembers her first time visiting Banff and Jasper, and falling in love with the bright contrast of the larch trees sprinkled in with the evergreens. She couldn't help but include that same larch shade of yellow in her work for the remainder of the year.
Merrell says she is also inspired by the stories shared through the Banff Centre Mountain Film Festival World Tour. The films make her feel re-energized and re-fueled to pursue her passions and she enjoys being surrounded by like-minded people.
As part of her selection through the artist search, Merrell will travel to Canada to participate in the Festival in Banff, October 30 - November 7.
You can find out more about Merrell and her Festival artwork here.
Author: Laurie Harvey