held above our heads in stone
Presented by Walter Phillips Gallery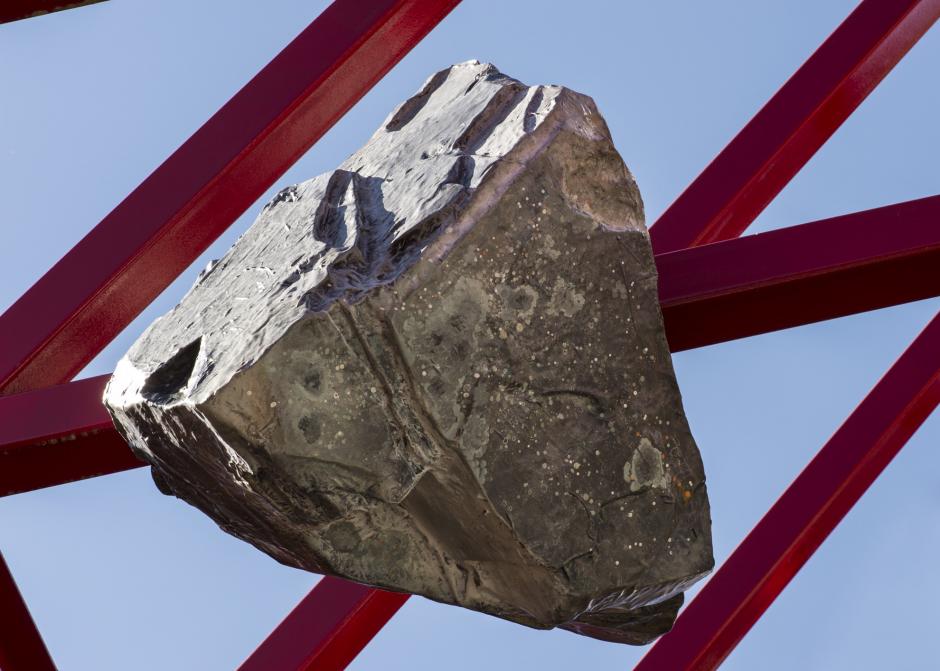 held above our heads in stone

Tyler Los-Jones
September 18, 2015 - August 31, 2016
Walter Phillips Gallery, Entrance 

held above our heads in stone is the first in a series of public art commissions by emerging artists for Walter Phillips Gallery. Here, Calgary-based Tyler Los-Jones suspends belief and inverts gravity with objects that resemble the strata and rock formations found near Banff Centre such as limestone, chert, and sandstone. The objects poised in the rafters of the entrance archway refer to a pre-human time (approximately 359-299 million years ago) when the mountains surrounding Banff were once the seafloor. The interplay of geologic time and the act of looking, shifts the perception of these objects; objects that mimic, at times flawlessly, the real rocks that scatter the town site and forest.
Banff itself already has an interesting relationship with the authentic versus the 'fake'. In 1954, the film River of No Return starring Marilyn Monroe and Robert Mitchum was shot on-location in and around Banff National Park and Kananaskis Country. Part of the set's construction for the film included the fabrication of rocks and boulders for the shoot, many of which were left behind in the area. The locations are kept quiet by locals, who want to protect this strange part of the history; the boulder's sites are cloaked and unmapped, the props camouflaged perfectly alongside their real counterparts.
Tyler Los-Jones Biography
Tyler Los-Jones lives and Alberta's Bow Valley. His photographic and sculptural practice draws on his proximity to Alberta's Rocky Mountains, and investigates how western expectations of environments are created and fulfilled through photography and tourism. Los-Jones' work has been exhibited in solo and group exhibitions in the United States, the United Kingdom and throughout Canada. Recently, his work has been exhibited at Division Gallery, Toronto, Platform Centre, Winnipeg, and Ditch Projects, Springfield. His large-scale commission, "A Panorama Protects it's View" (2015), was included in "Future Station: the 2015 Alberta Biennial of Contemporary Art", the Art Gallery of Alberta, Edmonton. Los-Jones' work is included in the permanent collections of Banff Centre, TD Canada Trust, Royal Bank of Canada, Alberta Foundation for the Arts and the City of Calgary Civic Collection.