BODYTRAFFIC Dance Perfomances | House Program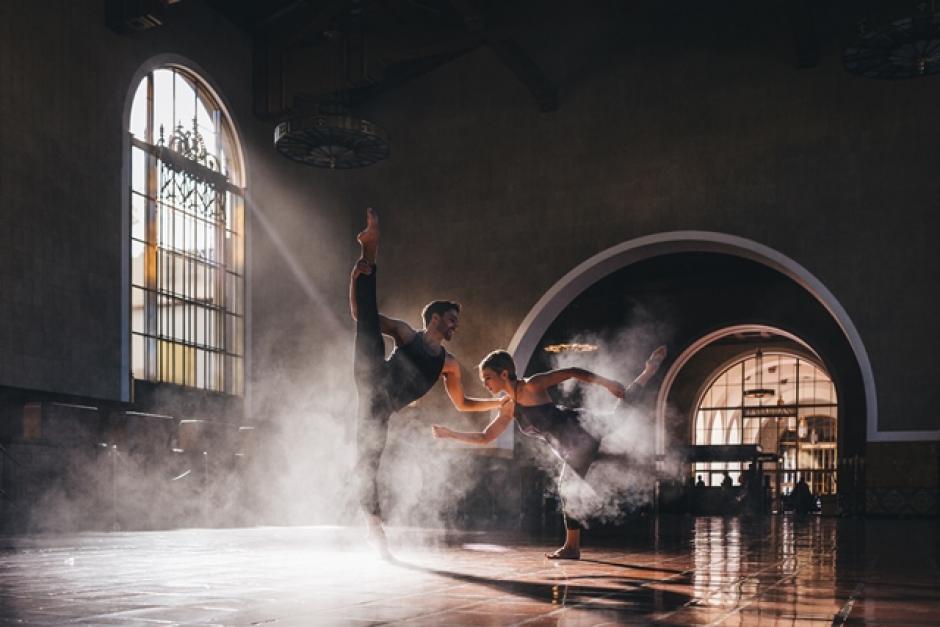 About the Program
Program:
(d)elusive minds (BODYTRAFFIC Premiere)
CHOREOGRAPHY and SET DESIGN: Fernando Hernando Magadan
CHOREOGRAPHER's ASSISTANT: Katherine Cowie and Dominc Santia
MUSIC: Schubert / Trio Pour Piano, Violon Et Violoncelle En Mi Bemol, Op. 100
MUSIC and SOUND EDITION: Fernando Hernando Magadan
COMPOSITION: Fernando Hernando Magadan and Harmen Straatman
TEXT: Inspired by All the stories by Dora García's Inserts in Real Time
LIGHTING DESIGN: Peter Lemmens
PERFORMERS: Tina Finkelman Berkett and Guzmán Rosado
PREMIERE: November 13th 2014 - Korzo/NDT
**(d)elusive minds is an original Korzo production in collaboration with Nederlands Dans Theater
(d)elusive minds is based on the true story of Santiago, a mental patient with Capgras Delusion, a type of Schizophrenia where the person becomes convinced that a family member has been replaced by an identical imposter. In a delusional fit, Santiago killed his wife, whom he deeply loved. For the following fifteen years he spent in prison, he wrote a letter to his wife every single day, convinced she was still alive. Today he still is looking for his wife. Inspired by this story and many other extraordinary stories, this work explores the line between reality and fiction, health and insanity, and the deceiving characteristics of appearances.
A Million Voices
CHOREOGRAPHY: Matthew Neenan
MUSIC: Performed by Peggy Lee; composed by Robert Sour & Una Mae Carlisle, Johnny Mercer & Harold Arlen, C. Farrow, Irving Berlin, Mike Stoller & Jerry Leiber, Adrian Zing & Benny Goodman, Arthur Hamilton
LIGHTING DESIGN: Burke Wilmore
COSTUMES: BODYTRAFFIC
PERFORMERS: Tina Finkelman Berkett, Joseph Davis, Haley Heckethorn, Natalie Leibert, Jessica Liu, Guzmán Rosado, Jamal White
PREMIERE: The Wallis Annenberg Center for the Performing Arts, Beverly Hills, California, 2018
 
A Million Voices is inspired by the great music of Peggy Lee. Lee's music, in response to the political climate of her time, reminds us that even during dark times, life is worth enjoying.
 
This work was made possible in part by Made in Wickenburg Residency Program at Del E. Webb Center for the Performing Arts with funding from the RH Johnson Foundation, the National Endowment for the Arts, the Wellik Foundation, WESTAF and Benner-Nawman.
Dust
CHOREOGRAPHY and MUSIC: Hofesh Shechter
CHOREOGRAPHER's ASSISTANT: Chris Evans
LIGHTING DESIGN: Burke Wilmore based on an original design by Chahine Yavroyan
COSTUMES: Linda Chow and BODYTRAFFIC
PERFORMERS: Tina Finkelman Berkett, Joseph Davis, Haley Heckethorn, Natalie Leibert, Guzmán Rosado, Jamal White
PREMIERE: The Joyce Theater, New York, New York, January 2015
 
Dust is inspired by Cult, which was originally commissioned by The Place Prize, sponsored by Bloomberg.
 
This work was generously underwritten by Barry and Martha Berkett.
This work was created while in residency at The Luckman Fine Arts Complex in Los Angeles and at The Chutzpah! 2014 Festival in Vancouver.
o2Joy
CHOREOGRAPHY: Richard Siegal
MUSIC: Oscar Peterson's Mumbles, Billie Holiday's On the Sunny Side of the Street, Ella Fitzgerald's All of Me, Glenn Miller's Taps Miller, Oscar Peterson's My One and Only
MUSIC EDITING: David Karaganis
COSTUME DESIGN: Rita DiLorenzo and Richard Siegal
LIGHTING DESIGN: Burke Wilmore based on an original design by Kindred Gottlieb
PERFORMERS: Tina Finkelman Berkett, Joseph Davis, Natalie Leibert, Guzmán Rosado, Jamal White
PREMIERE: The Joyce Theater, New York, New York, 2012
 
An exuberant homage to American jazz standards, o2Joy is, as its title suggests, an expression of sheer joy through music and movement.
 
Please Note:
Please turn off all cellphones, photo/video cameras.
Message from Artistic Director
A huge thank you to Banff Centre for generously hosting and supporting our company.  We feel incredibly lucky to be presented by prestigious institutions around the world, who believe in our work and in sharing dance with diverse communities.  To be able to do it in as beautiful a setting as Banff, with such a rich history of supporting the arts is a tremendous honor.
A large part of BODYTRAFFIC's mission is to represent Los Angeles throughout the globe; Banff Centre will play a meaningful role in building BODYTRAFFIC's growing impact and legacy.
Thank you to Janice Price, Emily Molnar, and the entire Banff Centre team for this extraordinary experience!
BODYTRAFFIC, Artistic Directors
-Tina Berkett and Lillian Barbeito
About the Company
BODYTRAFFIC is a world-class contemporary dance company, known throughout the world for its Los Angeles-grown contagious vivacity. BODYTRAFFIC continues to push boundaries and establish Los Angeles as a city known for dance.  Founders and artistic directors Lillian Rose Barbeito and Tina Finkelman Berkett maintain a deep commitment to BODYTRAFFIC being at forefront of the contemporary dance world.
Named "the company of the future" and "one of the most talked-about companies - not just in LA, but nationwide" by the Los Angeles Times, BODYTRAFFIC is internationally recognized for its high caliber work and palpable love of dance. BODYTRAFFIC is home to an exceptionally versatile family of world-renowned dancers who have trained with the likes of Mikhail Baryshnikov, The Juilliard School, Hubbard Street Dance Chicago, and more.
BODYTRAFFIC's diverse repertory includes original works by McArthur Fellow Kyle Abraham, Stijn Celis, Fernando Magadan, Barak Marshall, Ohad Naharin, Matthew Neenan, Arthur Pita, Victor Quijada, Hofesh Shechter, Richard Siegal, Michaela Taylor, Wewolf, and many more incredible choreographers.
BODYTRAFFIC seamlessly pays homage to traditional styles and techniques, while forging the way for contemporary dance of today.
BODYTRAFFIC has performed for sold-out audiences at prestigious theaters and festivals around the world. In 2016, BODYTRAFFIC made its Hollywood Bowl debut with the Los Angeles Philharmonic.  In 2017-2018, the company celebrated its 10th season with an international tour to more than 20 cities, including Moscow and St. Petersburg for the CONTEXT Diana Vishneva Festival, and The Hague, Netherlands for The Holland Dance Festival. The season culminated with performances at the Wallis Annenberg Center for the Performing Arts in Beverly Hills.
BODYTRAFFIC's extensive outreach and education program touches lives at home in Los Angeles and throughout the world.  The company's artistic directors and dancers provide training opportunities for pre-professional and professional dancers, as well as, customized dance experiences for people of all walks of life, with an emphasis on sharing with underserved populations.
In 2015, BODYTRAFFIC was selected by the Obama Administration to be cultural ambassadors of the United States to Israel and Jordan via DanceMotion USA℠, a dynamic cultural diplomacy program that supports United States foreign policy goals by engaging international audiences through educational opportunities, cultural exchange, and performance. Produced by BAM (Brooklyn Academy of Music), DanceMotion USA℠ is a program of the Bureau of Educational and Cultural Affairs of the US Department of State. BODYTRAFFIC has also served as cultural ambassadors of the United States in South Korea (2016), in Algeria (2017-2018), and in Indonesia (2018).
BODYTRAFFIC has received generous support from the New England Foundation for the Arts, Princess Grace Foundation, The Joyce Theater Foundation, The Sydney D. Holland Foundation, Mortimer & Mimi Levitt Foundation, The Jewish Community Foundation of Los Angeles, The Rosalinde and Arthur Gilbert Foundation, Mid Atlantic Arts Foundation, American Jewish University, Loyola Marymount University, and The Agency.
www.BODYTRAFFIC.com