Taalrumiq | Christina King | Tuktuuyaqtuuq, Inuvialuit Settlement Region, Northwest Territories
Inuvialuk Artist, Designer, Educator and Content Creator Taalrumiq | Christina King shares Inuvialuit culture with the world through art, fashion design, social media content creation and education.
Born to an Inuvialuk Mother and Gwich'in father at a segregated Indian Hospital, she originates from Tuktuuyaqtuuq, Inuvialuit Settlement Region, Northwest Territories where she was raised with her Inuvialuit family and community. Gifted an ancestral family name at birth by local Elders, she was named after her great-grandmother Taalrumiq (Mary Gruben).  She currently lives by the Arctic Ocean with her husband, their 5 wonderful children and Bernedoodle Munaqsi.  
With BSc and BEd degrees from the University of Alberta and a Journeyman Red Seal in Hairstyling, Taalrumiq combines her modern education, natural talent and ancestral skills from her matrilineal line of Inuit Seamstresses to create contemporary Inuit adornment, garments and original fine art pieces.  
Her Art is currently in various national exhibits across Canada and her work was published in the Inuit Art Quarterly and Tusaayaksat Magazines. Notable achievements include Governor General's medal for academic excellence, multiple academic awards and scholarships, listed as 1 of 10 Sealskin Designers to watch in Canada by Inuit Art Quarterly in 2021, graduate of the inaugural Tiktok Accelerator for Indigenous Creators Program with the National Screen Institute of Canada.
Noticing a lack of representation on Tiktok, she began creating Inuvialuit specific content, thinking of her children and Inuvialuit Youth. She shares original skits, trends with an Inuvialuit spin, messages of empowerment and pride in Indigenous identity, awareness of Residential Schools and healing of intergenerational trauma.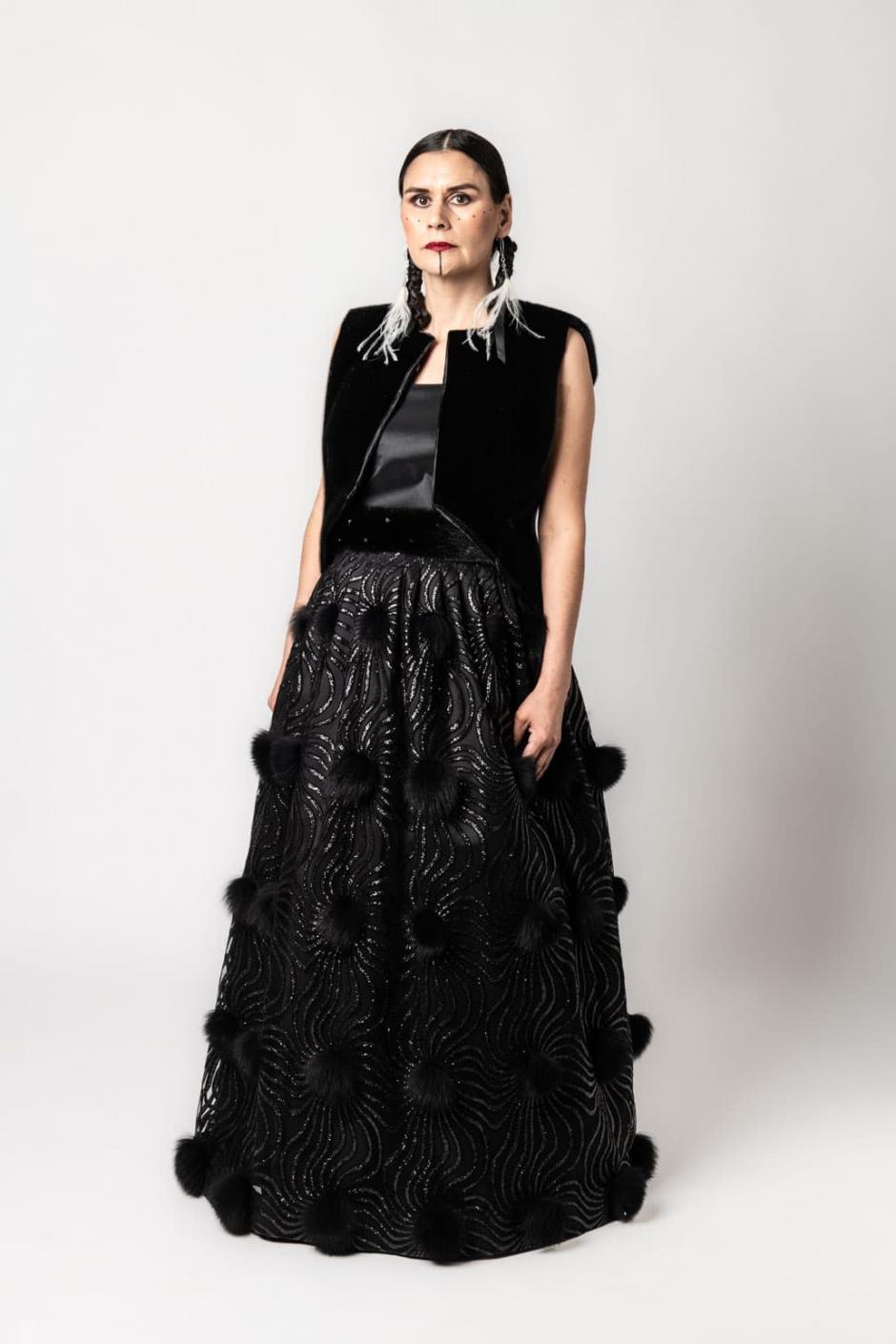 I am ready to show the world who I am as a Fashion Designer and what it means to be Indigenous in modern times.  As I step into who I'm meant to be as a modern Indigenous Woman, Mother, Fashion Designer, Artist, Content Creator and Leader, I value opportunities to share, educate, grow, learn and uplift others.  Through my original Fashion design, Inuit fine art and digital content I share Inuvialuit culture, empower others to take pride in and reclaim Indigenous identity, contribute to cultural preservation and storytelling from our perspective and healing of intergenerational trauma.  My pieces are inspired by our ancestral garments, traditional geometric fur designs and the old way of life transformed with a modern vision: whereas my grandmothers sewed for survival, I have the opportunity to create not only for survival but Indigenous Haute Couture.
Taalrumiq | Christina King