Rebecca Baird, Mary Anne Barkhouse, Rebecca Belmore, Patricia Deadman, Shelley Niro, Ed Poitras, Greg Staats, Jeannie Ziska
Walter Phillips Gallery, Satellite Space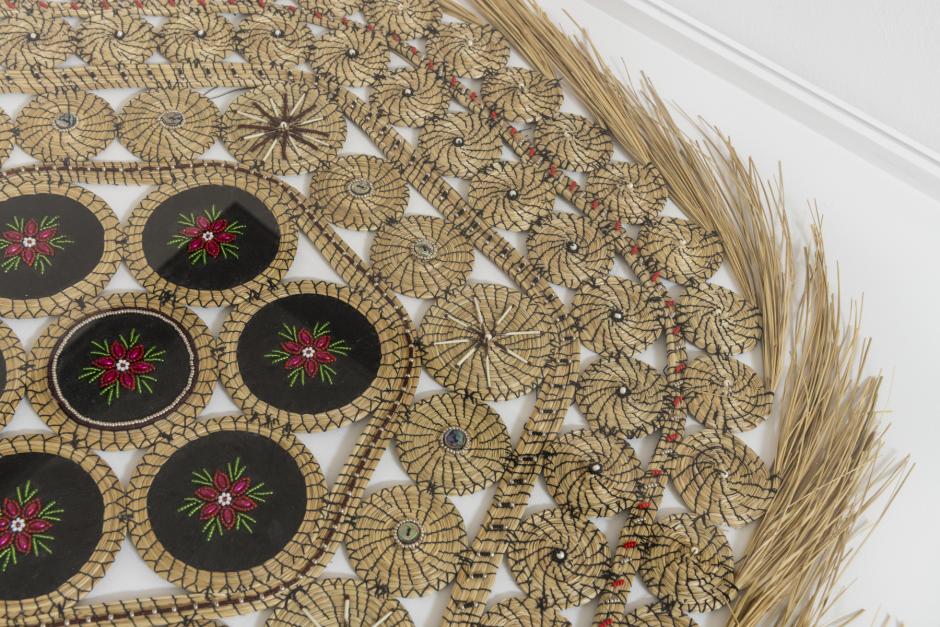 A light left on
Rebecca Baird, Mary Anne Barkhouse, Rebecca Belmore, Patricia Deadman, Shelley Niro, Ed Poitras, Greg Staats, Jeannie Ziska
December 1, 2016 – March 19, 2017

Walter Phillips Gallery, Satellite Space
Eric Harvie West Lobby and Glyde Hall 
Transformation is a part of Indigenous culture, with each generation defining what Indigeneity means through the reworking of material practices and processes. A light left on explores relationships to contemporary art making by Indigenous artists through a selection of works from the permanent collection of Walter Phillips Gallery. The exhibition takes up the question of how materials and objects can, through time, personal experience, and traditional knowledge, "respect the mundane and assert the significance of the everyday," as Helga Pakasaar wrote in the Banff Centre produced publication Re-visions.[1]  This collection of texts on materiality, objecthood and Indigeneity dates from 1992, within a few years of when the selected works were acquired into the collection.
The artists included in the exhibition represent a strong cohort of contemporary practice, illuminating an inter-generational employment of shared mediums and techniques. Highlighting the fluid use of old and new technologies and materials, the works in A light left on include objects of important significance to the artists and their communities. Materials sourced from the land, such as wood, sweet grass and leather, refer to traditional processes of making and being. The artists also employ analogue and digital photography, including cyanotypes, assemblage prints and collage-processes that highlight various approaches to contemporary practice and technology. 
By layering differing material methods alongside one another, the artworks in the exhibition arguably also explore non-linear concepts of time. Through this layering, the very act of making becomes political, as it stresses the importance of retaining traditional methods and materials in contemporary contexts. Further, the exhibition asks how Indigenous artworks might alter, inform, or reroute western understandings of time through this very act of making, helping us to think collectively about present and future practices. In A light left on, traditional knowledge is brightly lit, illuminating current explorations of Indigeneity in an ever evolving contemporary landscape. 
[1] Helga Pakasaar, "Introduction," in Re-visions, (Banff: Banff Centre for The Arts, 1992), 1 - 6.
Curated by Becca Taylor, Indigenous Research and Administration Practicum, Walter Phillips Gallery
Curator's Tour: A light left on
Friday, March 17
1 PM
Eric Harvie West Lobby