September 24 – December 11, 2011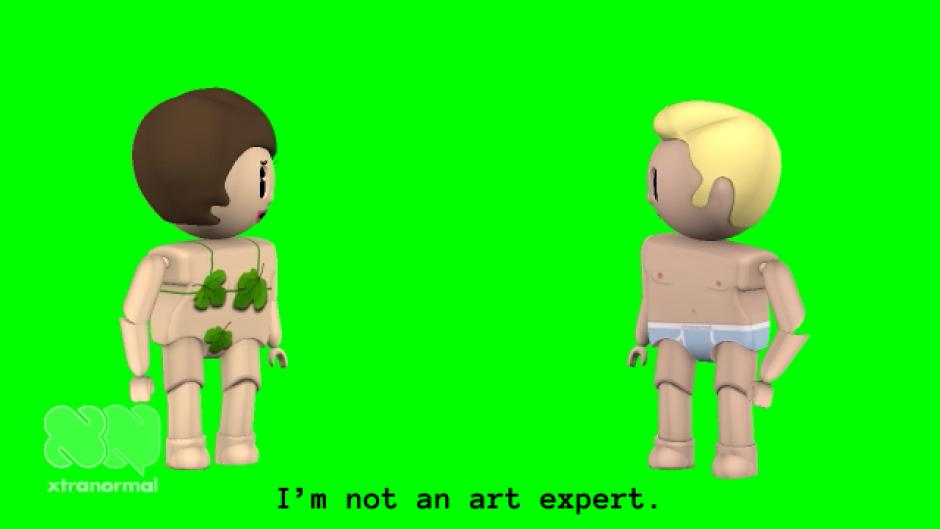 Frances Stark's compelling single-channel video My Best Thing, a feature-length animation, premiered at the 2011 Venice Biennale to widespread critical acclaim. Using free text-to-speech online animation software, Stark employs Playmobil-like avatars to chronicle episodes of random video chat that are at once sexual, philosophical and absurdly funny.
The episodes follow a series of conversations between a woman in the midst of a creative crisis and two men whom she meets in virtual chat rooms. The first is Marcello, an Italian filmmaker. The woman briefly considers collaborating on an artwork with him but, after meeting an unknown fate on account of his "serious rebel period," Marcello disappears and their plans for collaboration are foiled. Shortly thereafter, the woman encounters a man she mistakes for Marcello who turns out to be a spiritually bored son of an auteur director.
Stark is known for her frank and affective work in collage, drawing and performance, which often utilizes language, as both subject and material, to explore epistemological anxieties and the inherent frustrations in our ability (or failure) to communicate.
My Best Thing is a narrative collage of media — animation, dialogue, text, music and film — which examines the shared space of sexual attraction, the creative process, and technological mediation. Like much of Stark's work, the story of these virtual encounters self-reflexively addresses the conditions of creative self-doubt, sources of insight and inspiration within the context of the everyday and the problem of production through the often-difficult process of artistic labour.
A forthcoming catalogue will be co-produced by Walter Phillips Gallery and Contemporary Art Gallery, Vancouver. 
Walter Phillips Gallery gratefully acknowledges the support of the Canada Council for the Arts and the Alberta Foundation for the Arts.
Frances Stark
Frances Stark (1967, Newport Beach) is based in Los Angeles, California. She received her MFA from Art Center College of Art and Design, Pasadena, and is currently an assistant professor at University of Southern California Roski School of Fine Arts, Los Angeles.
Through both writing and visual art, Frances Stark addresses the conditions of creative labor, producing candid and affecting work about the nature of artistic practice and the corresponding yet integral banality of the everyday. The artist's body of work stands as a self reflexive inquiry into the process of artistic production, and the often-elided demands of daily life.
Recent solo exhibitions were presented at the MIT List Visual Arts Center, Cambridge (2010); Centre for Contemporary Arts, Glasgow (2010); Nottingham Contemporary (2009); Portikus, Frankfurt am Main (2008); Wiener Secession, Vienna (2008); greengrassi, London (2008); FRAC Bourgogne, Dijon (2007); Artpace, San Antonio (2006); and at CRG Gallery, New York (2005).
Recent group exhibitions include Restless Empathy (2010), Aspen Art Museum; The Page (2010), Kimmerich, New York; For the blind man in the dark room looking for the black cat that isn't there (2010), Museum of Contemporary Art Detroit; Picturing the Studio (2009), School of the Art Institute of Chicago; Poor. Old. Tired. Horse. (2009) Institute of Contemporary Arts, London; and possibly but not certainly Mark Leckey and Frances Stark (2009), Galerie Daniel Buchholz, Berlin; The Space of Words (2009), MUDAM: Musée d'Art Moderne Grand-Duc Jean, Luxembourg; Pretty Ugly (2008), Gavin Brown's enterprise, New York; Word Event (2008), Kunsthalle Basel; and the Whitney Biennial (2008), Whitney Museum of American Art, New York.