July 13 - September 15, 2013
Francis Alÿs, Raymond Boisjoly, Janet Cardiff and George Bures Miller, Peter Fischli and David Weiss, Hreinn Fridfinnsson, Ragnar Kjartansson, Silke Otto-Knapp, Walter J. Phillips, and Andreas Siqueland and A PAPER A DRAWING A MOUNTAIN Residency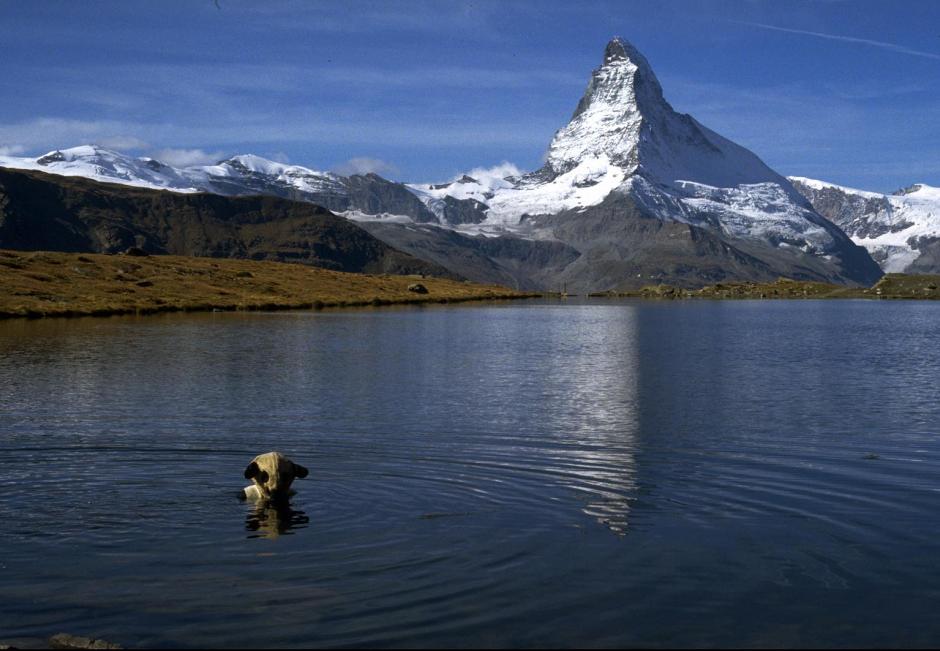 Pleinairism considers how the tradition of working en plein air has evolved in the present day. The technique can be traced back to the 17th century and refers to the practice of painting out of doors: working with a sense of immediacy and freedom, embracing unpredictable elements, and following the natural cycle of light through time. It is the foundation of modern landscape painting. Initially, studies made out of doors were brought back to the studio and contributed to the completion of a painting. The study was eventually accepted as a work of art in its own right. Many contemporary artists continue to make art in a similar way, though with new materials, methods, and very different conceptions of nature.

Pleinairism acknowledges historical precedents and questions what the concept of plein air means to artists at present. How does this traditional way of working figure in relation to the proliferation of new media in the contemporary art world? What artwork might properly be called plein air today?

The international contemporary artists included in Pleinairism are rarely considered pleinairistes, but their approach demonstrates key elements of this phenomenological practice. They may celebrate nature, address our relationship to a rapidly changing environment, or mark in a personal and meditative way the passage and power of light in time and space; other artists' works concern narratives of access, migration and destruction, while others still test the historical weight of the tradition. Whether in the wilderness, city or studio, the idea of nature figures prominently, acknowledging the sheer impossibility of truly capturing a moment outdoors as well as the primacy of the imagination.

The diversity of approaches in the exhibition – drawings, watercolours, prints, paintings, texts, videos, performance, and photographs – attests to the expanded view of landscape for today's artists. Together the various methods both preserve and dismantle the genre, speaking to the continuing importance of nature for artists across geographic and historical distances.

Pleinairism is curated by Kitty Scott, who was assisted by Kari Cwynar and Peta Rake, as well as the staff of The Banff Centre. This is the third iteration of the project, with previous exhibitions having taken place at i8 Gallery, Reykjavik (2008) and the Musée national des beaux-arts du Québec (2012).
Artist Biographies
Andreas Siqueland 
(b. 1973, lives and works in Oslo) investigates the relationship of art to nature through notions of translation, re-enactment, and repetition. Working primarily with landscape imagery, Siqueland utilizes oils, inks and watercolours, playing on the active relationship between the conditions in which a painting is made and the 'what' it depicts. Working both in the studio and outdoors, Siqueland often lets the environment – changing weather conditions or restrictions imposed by architecture – actively participate in the creation of his work.
For the past three years Siqueland has been a research fellow at the Academy of Fine Arts in Oslo with the project A Place for Painting. Siqueland recently participated in a three month residency at Fogo Island, resulting in the exhibition I'm the Ocean at Trøndelag Centre for Contemporary Art, Trondheim (2013). Other recent exhibitions of his work include A Box and Picture, The Academy of Fine Art, Oslo (2012); Winterstudio, Henie Onstad Art Centre, Bærum (2011); Momentum - 6th Nordic Biennial of Contemporary Art, Moss (2011); Practice for a Sunset, Tidens Krav, Oslo (2011); Villa Moderne, GAD, Oslo (2009); and Pleinairisme, i8 Gallery, Reykjavík (2008).



Peter Fischli and David Weiss 
(b. 1952 in Zürich, Switzerland)  (b. 1946 - 2012 in Zürich, Switzerland) collaborated since 1979, consistently charming critics and audiences with their innovative and playful practice. Their work demonstrates a preoccupation with systems of objects around us. Fischli and Weiss act as wanderers, seeking out and looking anew at any number of landscapes, situations and objects. The artists then isolate these scenarios and repurpose their structures to question present circumstances and delight in life's absurdities often taken for granted.
Fischli and Weiss's work has been exhibited in solo and group exhibitions world-wide. A major retrospective of their work, Fischli & Weiss: Flowers & Questions. A Retrospective, was produced by Tate Modern, London (2006) and traveled to the Musée d'Art Moderne de la Ville de Paris, Paris; Kunsthaus Zürich; and Deichtorhallen, Hamburg (between 2006 and 2008). Fischli and Weiss have also exhibited in the most significant international exhibitions and biennials, including Documenta 8 (1987) and 10 (1997) both in Kassel; Skulpturen Projekte, Munster (1987 and 1997), and they have represented Switzerland at the Venice Biennale (1988, 1995, and 2003). They have received numerous prestigious awards for their work, including the Leone d'Oro at the 50th Venice Biennale (2003); the Roswitha Haftmann Prize (2006); the Wolfgang Hahn Prize (2010).



Francis Alӱs
(b. 1959 in Antwerp, Belgium, lives and works in Mexico City) has earned acclaim for his walking performances in which he integrates himself into the urban or rural fabric. Interested in the creation of new social allegories, Alӱs probes and disrupts the realities and fictions of a given place – walking, for example, with a leaking can of paint to demarcate the Green Line in Jerusalem, or pushing a block of ice through Mexico City until it melts. Alӱs's itinerant practice lives on as stories but also in the photographs, videos, paintings, drawings and texts the artist creates during his working process. Like his performances, the resulting objects and documents are primarily relational. Beginning with a simple narrative fragment, and allowing chance to take over, the situations Alӱs creates or highlights are both poetic and politically resonant.
Alӱs has executed projects all over the world, including in Mexico City, Peru, London and Jerusalem, and his work has been collected and exhibited by the foremost art institutions and biennials. A Story of Deception, a major retrospective of Alӱs work opened at the Tate Modern, London (2010) and has since traveled to Wiels, Brussels, 2010; and the Museum of Modern Art/MoMA PS1, New York, 2011. Since 1990, he has been included in many group exhibitions, biennials, triennials and fairs, including the Biennale of Sydney (2004, 2008); the Sao Paulo Biennial (1998, 2004, 2010); the Istanbul Biennial (1999, 2001); Carnegie International (2004); and the Venice Biennale (1999, 2001, and 2007). 



Hreinn Fridfinnsson 
(b. 1943 in Daer Bolum, Iceland) is one of Iceland's most celebrated conceptual artists, with a career spanning more than four decades. Fridfinnsson's work begins with a narrative fragment, taken from folklore, Icelandic mythology, literature, everyday objects, or his upbringing in a stark Nordic landscape. These fragments are then reinitiated as textual and photographic documents, sculptures or installations. Despite his varied output, Fridfinnsson's practice is held together by a sense of lyricism, demonstrating the artist's uniquely emotional approach to conceptualism. Focusing on simple materials and gestures that explore methods of relating to the world, Fridfinnsson has produced a resonant body of work that continues to inspire new audiences.
Fridfinnsson's work has been exhibited in major museums and biennials worldwide since the 1960, including the Centre Georges Pompidou, Paris (1973); Kolnischer Kunstverein, Cologne (1991); Kunsthalle Wien, Vienna (2000); and the State Russian Museum, Marble Palace, St. Petersburg (2004). In 2000, Fridfinnsson was awarded the Ars Fennica Prize and won second place in the prestigious Carnegie Art Award. A career retrospective of Fridfinnsson's work initiated by fellow Icelandic artist Olafur Eliasson was organized by the Serpentine Gallery, London (2007) and traveled to the Bergen Kunstmuseum, Bergen (2008); Malmo Konstall, Malmo (2008); and the Reykjavik Art Museum, Reykjavik (2008).
Janet Cardiff and George Bures Miller
(Cardiff b. 1957 in Brussels, Canada. Miller b. 1960 in Vegreville, Canada) This collaboration emphasizes both aural and visual experiences that transport the viewer to other realms of consciousness. Highly scripted, meticulously detailed, and often cinematic in scope Cardiff and Miller's work's break down distinctions between fiction and reality. Through various levels of engagement, the viewer becomes a participant, either witnessing a phenomenon or becoming immersed in a scenario and vitally activating it. Both Cardiff and Bures-Miller live and work in Berlin and Grindrod, Canada.
Cardiff and Miller represented Canada at the 49th Venice Biennale with Paradise Institute (2001), receiving both La Biennale di Venezia Special Award and the Benesse Prize. In 2011, they received the Käthe Kollwitz Prize and in 2012 their work Alter Bahnhof Video Walk was commissioned and produced by dOCUMENTA (13) with the support of The Banff Centre. Cardiff and Miller were included in the 16th Biennale of Sydney (2008) and have had numerous solo exhibitions that include the AGO in Toronto (2013); Hamburger Bahnhof, Berlin (2009); MACBA, Barcelona (2007); and the Miami Art Museum (2007).
Ragnar Kjartansson 
(b. 1976, lives and works in Reykjavik, Iceland) Kjartansson is well-known for his durational performances that take form as tableaux vivants. . Drawing on personal relationships, Icelandic stories and family history, as well as cultural referents from opera, theatre, music, art history and literature, Kjartansson often works in collaboration with a roster of friends and family to explore themes of love, camaraderie, despair, and loneliness in performances that can extend for days or months. While drawing out the seductive tensions of human nature, Kjartansson's work as artist, painter and performer draws attention to our identities and how we perform them.
Recent solo exhibitions include the Migros Museum fur Gegenwartskunst, Zurich (2012); the Fondazione Sandretto Re Rebaudengo, Turino (2012); BAWAG Contemporary, Vienna(2011); the Carnegie Art Museum, Pittsburgh(2011); Frankfurter Kunstverein, Frankfurt (2011); Moderna Museet, Stockholm (2010); Walter Phillips Gallery, Banff (2010); The Living Art Museum, Iceland (2007); and Galerie Adler, Frankfurt, Germany (2006). Kjartansson has participated in several international biennials and fairs, including Performa, New York (2011 and 2009); the 2nd Turin Triennial (2008); Manifesta 8, Rovereto, Italy (2008). In 2009, he was the youngest artist to represent Iceland at the 53rd Venice Biennale. 



Raymond Boisjoly 
(b. 1981, Chilliwack, Canada) is an artist of Haida and Québécois descent, living and working in Vancouver. Boisjoly's practice operates as active speculation, engaging issues of aboriginality, language as cultural practice, and the experiential aspects of materiality. Boisjoly's mediated processes consider not only the nature of technology, but also of transmission - the distance and space between sender and receiver. Through text and graphic presentation Boisjoly's work reveals the provisional character of knowledge.
Recent solo exhibitions include Raymond Boisjoly, Catriona Jeffries Gallery, (And) Other Echoes, Simon Fraser University (2013), and The Spirit of Inconstancy, Lawrimore Project, Seattle (2012). Selected group exhi¬bi¬tions include Tools for Conviviality, The Power Plant Contemporary Art Gallery, Toronto (2012); Phantasmagoria, Presentation House Gallery, Vancouver (2012); Ray-mond Boisjoly, Jordy Hamil¬ton, Laura Piasta: Stud¬ies in Decay, Or Gallery, Van¬cou¬ver (2012); House Sys¬tems: Fort Club, The Hedreen Gallery at Seat¬tle Uni¬ver¬sity, Seat¬tle (2010); and How Soon Is Now, Van¬cou¬ver Art Gallery (2009). Boisjoly has participated in two thematic residencies at The Banff Centre "La Commune. The Asylum. Die Buhne." and "The Retreat: A Position on dOCUMENTA (13)". He was also awarded a Fleck Fellowship by The Banff Centre in 2010. Boisjoly is the inaugural resident of the Burrard Marina Field House Residency facilitated by the Contemporary Art Gallery, Vancouver. 



Silke Otto-Knapp 
(born 1970 in Osnabrück, Germany. Lives and works in Vienna and London) takes an innovative approach to watercolour painting. Working on canvas allows Otto-Knapp to layer each detailed yet atmospheric image, subverting the difficulties of watercolour by producing substantial paintings that accentuate the imperfections of the medium, such as the drips where the paint fails to absorb. She came to prominence in the 1990s with coloured landscapes, cityscapes and gardens ─ subjects she continues to paint today. Playing with pictorial space of the canvas – often closing in on her subject – Otto-Knapp creates a visual language that oscillates between the abstract and the figurative, reflecting the movement she captures in paint.
Otto-Knapp's work has also been included in many group exhibitions: Watercolour, Tate Britain, London (2011); The Artist's Institute, New York (2011); I must say that at first it was difficult work, Kunstall, Oslo (2010); Strange and Close, Van Abbe Museum, Eindhoven, 2009; and the 9th International Istanbul Biennial, 2005.Otto-Knapp's recent solo exhibitions include Seascapes, Overduin and Kite, Los Angeles (2013); A light in the moon, Berkeley Art Museum, Berkeley (2011); Voyage Out, greengrassi, London (2011); Many many women, Kunstverein Munich (2010); Present Time Exercise, Modern Art Oxford (2009); Standing anywhere in the space in a relaxed position, Walter Phillips Gallery, Banff (2009); Love in a void (with Jutta Koether), Academy of Fine Arts, Vienna (2006); 50 ft Queenie, Tate Britain, London (2005); and Orange View, Kunstverein Dusseldorf (2003). In 2012, Otto-Knapp led the thematic residency at The Banff Centre, A PAPER A DRAWING A MOUNTAIN, with critic Jan Verwoert and guest artists Mark Leckey and Karl Holmqvist. 
Walter J. Phillips 
(1884 - 1963) was a celebrated and prolific watercolour painter and printmaker, contemporary to the Group of Seven artists. Phillips was influenced by Japanese landscape painting and woodcut style ukiyo-e – which translates as 'floating worlds' – evidenced in the flattened depth and bright colours of his work from the 1920s onward. His process primarily involved plein-air watercolor paintings, which he would later revision as woodcut prints in the studio. Studying with master print maker Yoshirigi Urushibara in England in 1924, Phillips learned to refine his technique and process, while adapting the Japanese style to the Western landscape. A prolific artist, Phillips produced over 200 prints and numerous watercolours with subjects ranging from landscapes and still-life to portraiture. He has also illustrated several books.
Born in Barton-upon-Humber, England in 1884, Phillips immigrated to Winnipeg in 1913. Beginning in the 1940s, he taught at the Provincial Institute of Technology and Art, Calgary and spent summers at The Banff Centre teaching painting classes. From the 1930s to the 1950s, Phillips played a seminal role in the development of the Visual Arts program at The Banff Centre, the location of his namesake gallery. The flowering of printmaking on the western prairies can be attributed to Phillips's presence at both these schools.