Banff Musicians in Residence Winter 2023
Performing Arts - Music | In-Person
Program Information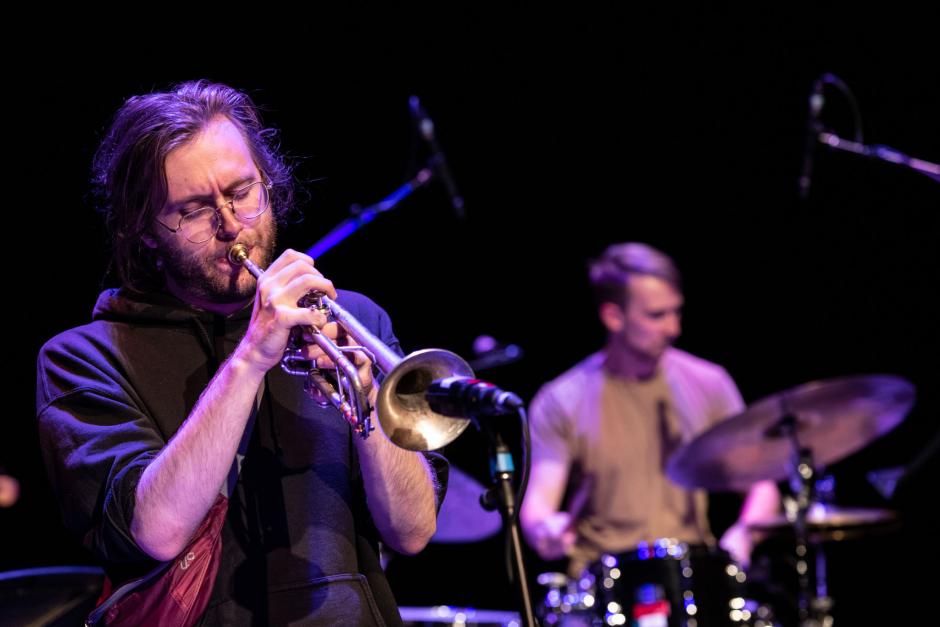 Overview  
This program provides space and focused time for an extremely limited number of musicians of all genres to concentrate on artistic development while working on projects that can be either individually or group/ensemble based. You may be working in your established genre(s), or exploring a new one.
Along with the freedom to structure your time around the needs of your project, you will receive artistic inspiration and career advice from well-established faculty. You will have access to a range of artistic influences across the 3 weeks with the opportunity for interaction and collaboration to produce outstanding, creative results. 
What does the program offer?
While this program is largely self-directed, there will be opportunities to gather as a group for lectures, seminars, and collaborative jam sessions. Faculty will be present to assist and mentor you throughout the program for group and/or one-on-one consultations. As well, a personal studio space is provided, accessible 24 hours per day, while production spaces are shared among all participants in the residency.
Culminating in a series of public concerts in an intimate Banff Centre venue for receptive and casual local audience, you will have opportunities to explore new material, perform repertoire, and share the stage with fellow artists and faculty. These concerts are also recorded for your archival use.
We regret that demo and commercial recordings will not be available during this time period. Any additional technical requests for lighting, projections, sound amplification for your project may be limited and require review to confirm availability.
Who should apply?
The program is ideal for individual musicians, ensembles, bands, composers, and music researchers, to spend focused time working on a specific project; creating new works; preparing for concerts, auditions or competitions; or exploring and researching innovative ideas. Please note that spaces are extremely limited.
Participants should be comfortable working autonomously in an unstructured environment to benefit the most from the program. Musicians at all levels are encouraged to apply.
Participants must attend all three weeks of the residency. 
For full details on vaccination requirements, masking, safety protocols, and COVID related policies please visit: www.banffcentre.ca/covid-19-measures   
What's Included
Using a credit-based system to dine on campus, our flexible meal plans allow you to select meals according to your own needs during your stay. Banff Centre can respond to most dietary requests. 
The Full Flex meal plan is equivalent to $58 credit per day, equivalent to breakfast, lunch and dinner at our Buffet service.
Your program fee includes a single bedroom on the Banff Centre campus for the duration of your program.
Get connected with other artists on campus and focus on your projects in a creative environment while we take care of the day-to-day essentials.
Create in the privacy of one of our specialized studios.
Group seminars and workshops with faculty.
Limited access to the Paul D. Fleck Library and Archives.
Although the doors remain temporarily closed, you can still access a wide range of books, periodicals, recordings and scores through our digital databases available on the digital resources page, and physical items through our curbside pick-up service. 
Enrich your experience and get to know other artists on campus by taking advantage of the activities and support provided by our Participant Resources team.
Enjoy special artist rates for ticketed performances or complimentary access to events.
Fees & Financial Assistance
Application Fees: $65 for individuals or groups. ($35 for applicants who identify as Indigenous)
Individual group members must pay an additional registration fee of $35 on acceptance. 
*Financial Aid of 100% is available to cover tuition, and Financial Aid of 50% is available to offset food and accommodation costs
All accepted participants will receive the above financial aid package. Application fees are not refundable.
Please note the above fees are per person per residency.
Help fund your experience at Banff Centre. View a compiled list of national and international opportunities here. 
Banff Centre will issue official tax receipts for eligible tuition fees and financial assistance and awards as required by the Income Tax Act. You will receive a T2202 (Tuition and Enrolment Certificate) for eligible tuition fees paid and a T4A (Statement of Pension, Retirement, Annuity, and Other Income) for applicable financial assistance and awards.
How to Apply
Additional Information
If you are applying as an individual, you must complete both the online application form (including $65 processing fee) and a SlideRoom application.
If you are applying as an ensemble, the ensemble leader must complete both the online application form (including $65 processing fee) and a SlideRoom application. Please submit only one SlideRoom application per group. There will be a $35 registration fee of each member upon acceptance to the program.
Adjudication
Adjudication is based on artistic merit, the potential impact of the program on artists' practice and careers, project feasibility and the capacity of Banff Centre to help realize the project, and the project's fit with Banff Centre's values and strategic directions as described in its strategic plan. Adjudication is carried out by impartial disciplinary experts on the basis of applicants' submitted material.
Banff Centre respects the need for artists to plan ahead for their visit; applicants will be notified as soon as adjudication is complete.
Eligibility
International Applicants
Banff Centre welcomes domestic and international applicants for this program. Please note, Banff Centre programs do not meet Canadian Student Visa eligibility requirements, you must obtain a Visitor Visa to enter Canada. Accepted individuals are responsible for identifying and complying with the immigration requirements to enter Canada as a visitor from their country of origin. Current wait times to receive a visa are much longer than normal, so applicants who require a Visitor Visa should check the current expected processing times prior to applying.
All programs, faculty, dates, fees, and offers of financial assistance are subject to change. Program fee is subject to applicable taxes. Non-refundable fees and deposits will be retained upon cancellation. Any other fees are refunded at the discretion of the Banff Centre. The application deadline is 11:59 p.m. Mountain Standard Time.