Applications are now open for Spring/Summer 2024 programs. For Fall 2024 progams onwards you can sign up to the Newsletter to receive an alert when applications open.
The Application and Payment systems will be closed from the 20th December to 3rd January as part of the Institutional Holiday Closure. SlideRoom will remain open for portfolio submissions.
Questions please contact the Admissions Office or call 403 762 6180.
Hide Tanning and Parfleche Residency
Program Information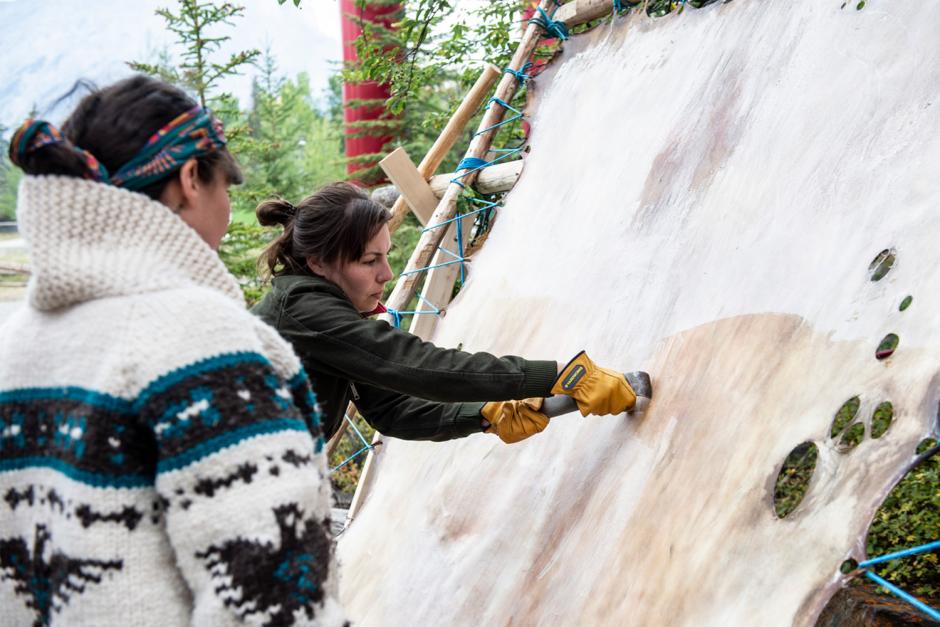 Overview
This three-week visual arts residency focuses on hide scraping, bone tool making, and working with parfleche. Visual artists who work with hide and parfleche will learn more about how scrape a hide, and work with parfleche with the support of faculty, elders, and knowledge keepers. Participants are invited to engage with faculty, community and peers while having self-directed studio time in Glyde Hall. Participants will come together with the community and have the opportunity for one-on-one sessions. The participants and faculty will have a chance to share their works in progress in Open Studios.
What does the program offer?
Participants will deepen their artistry and technical application with hide scraping, bone tool making, and working with parfleche. The program will foster peer relationships with the opportunity for self-directed studio time. Participants will also be engaged with community in storytelling/knowledge sharing sessions in the hide tanning process.
 
Who should apply?
This program welcomes Indigenous visual artists with traditional and/or contemporary arts practices interested in hide-tanning processes and working with parfleche.
Itinerary
This three week residency is a balance of self-directed time intermixed with support fom faculty offering insight into the creative processes, and the opportunity for participants to workshop and present their work in a public event (film or reading), if desired. Peers are encouraged to collaborate through sharing their work. 
Week One: 
Participants will engage in on campus orientation and be welcome by Faculty, Banff Centre Staff and an Elder. This week will include Faculty presentations and a chance to sign up for one-on-one sessions with faculty. 
Week Two: 
Participants will begin with morning gatherings to welcome and say thank you to visiting faculty, as well as check in with needs and questions. This week will include participant presentations and one-on-one sessions. 
Week Three: 
Participants will begin with a welcome to new faculty, say thank you to guest faculty, and check in with needs and questions for the week. Faculty will offer one-on-one review sessions. Open Studios. 
Fees & Financial Assistance
Application fee: $35 
Application Fees are non-refundable.
Individual group members must pay an additional registration fee of $35 on acceptance.
*Scholarship of 100% is available and will be applied to cover tuition, meals and accommodation costs.
If you would like to be considered, please complete the Financial Aid section when uploading your supporting materials.
Banff Centre will issue official tax receipts for eligible tuition fees and financial assistance and awards as required by the Income Tax Act. You will receive a T2202 (Tuition and Enrolment Certificate) for eligible tuition fees paid and a T4A (Statement of Pension, Retirement, Annuity, and Other Income) for applicable financial assistance and awards.
Help fund your experience at Banff Centre. View a compiled list of national and international opportunities here.
How to Apply
Adjudication
Participants are selected by impartial adjudicators on the basis of their submitted material. In addition to artistic merit, consideration will be given to the likelihood that the artist's work will benefit from the program. 
Applicants will be notified of their status as soon as adjudication is complete.
All programs, faculty, dates, fees, and offers of financial assistance are subject to change. Program fee is subject to applicable taxes. Non-refundable fees and deposits will be retained upon cancellation. Any other fees are refunded at the discretion of the Banff Centre. The application deadline is 11:59 p.m. Mountain Standard Time.