Flex Meal Plan and Dietary Concerns
Upon registering for a program, you will be assigned a Flex Meal Plan. Plans are based upon an overall declining balance of a lump sum, divided by the number of days you are in a program. The cost of meals and food purchases is deducted from this balance until the credits are depleted.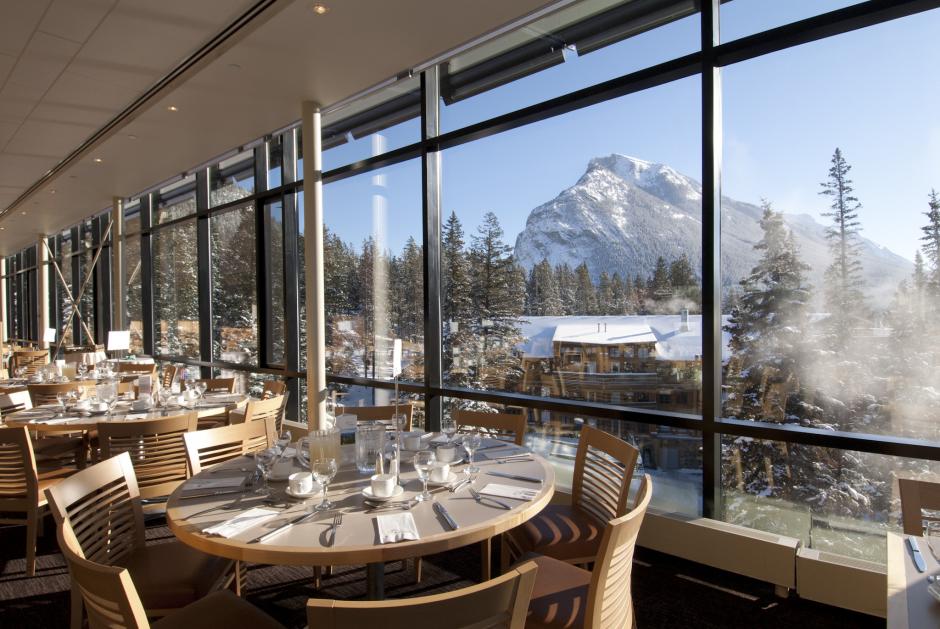 Banff Centre offers three types of Flex Meal Plans:
Light plan: breakfast and lunch
Regular Plan: lunch and dinner
Full Plan: breakfast, lunch, and dinner
Each plan is based on having all meals in Vistas Dining Room, but you are free to use your plan at any of the food outlets on campus. 
Meal plans allow participants (excluding practicum program participants) the flexibility to select meals according to individual needs and schedules. You can select any meal that best fits your schedule on any given day - for example, all three meals one day and only one meal the following day. It is really about what works best for you and your budget.
The Flex Meal Plan allows for wholesome, nutritious meals; however, if you use the meal plan to purchase specialty coffees, sodas, and other snack foods in addition to dining room meals, your account will be depleted before the end of your program.
If your account is depleted during a program, you can purchase additional meal credits by contacting the Office of the Registrar. You can avoid any unexpected surprises by monitoring your account regularly. Check your Flex Meal Plan balance by swiping your ID card at the terminal in the lobby of Vistas Dining Room. The balance remaining on your account will be printed on the receipts you receive from any of the outlets when you purchase a meal. Any balance owing as a result of insufficient credits will be billed to you directly. An explanation of the Flex Meal Plan and how to monitor your account will be reviewed with you at orientation.
The Flex Meal Plan can never be used for tips, room service meals, or the purchase of alcoholic beverages. In addition, the Flex Meal Plan cannot be used for other individuals or any non-food items. Dining venues include Vistas Dining Room, Le Café, and Maclab Bistro, where gratuities are always welcome. 
In our fine dining restaurant, Three Ravens Restaurant & Wine Bar, you can charge meals to your ID card and receive a 10% discount.
Reservations are a must for Three Ravens. Reserve online.
Banff Centre can respond to most dietary requests. In advance of your arrival, please contact Participant Resources if you have special dietary needs. 
A medical report from your doctor is required prior to arrival for any medical condition that warrants opting out of the Flex Meal Plan.
Contact Us
For questions about meal plans at Banff Centre, please contact:

Email:
registrars_office@banffcentre.ca

Phone:
403.762.6180

Address:
Banff Centre for Arts and Creativity
107 Tunnel Mountain Drive
Box 1020
Banff, Alberta
Canada
T1L 1H5